Last Minute Food-Themed Gift Ideas
There's still time to pick up these magazines, books, kitchen gadgets and food stuffs for your Christmas shopping needs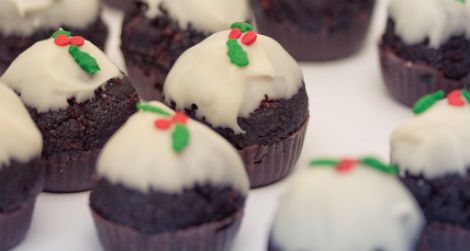 This year, I made an extra effort to knock out my Christmas shopping as soon as I could. I enjoy gift exchanges—at least to the extent that it's a way to show I appreciate the people nearest and dearest to me and that I'm keeping them in my thoughts. Frankly, I'd much rather spend the month of December baking (and sharing the resultant wealth of goodies) and being social. But some years, I'm completely strapped for ideas and find myself—days before Christmas—manically browsing shopping websites or, as a last-ditch effort when sanity has completely escaped me, venture out to the shopping malls in hopes that I'll find the perfect gift. For those of you finding yourselves in said situation, here are a few last minute gift ideas for the foodie who made it onto your "nice" list this year.
Books: The Village Voice's Fork in the Road blog recently pointed out 18 books released in 2012. On that list, I'll personally vouch for two titles. In Vintage Cakes, author Julie Richardson takes a trove of classic recipes—some dating back to the 1920s—and updates them for the modern American palate. Keeping in mind that the tools and techniques of previous generations are not the same as our own, the amount of sleuthing it took to reconstruct these cakes is amazing. Paired with tips and techniques, historical backgrounds on each of the cakes and fabulous photography, it's a book that works well in your kitchen and on the coffee table. I need to try her version of Texas Sheet Cake to see how well it stacks up against my grandmother's.
I'd also heartily recommend giving a gift subscription to Lucky Peach, a cross between a literary journal and food magazine that, wrapped together, makes for a magnificent piece of candy for the eye and the mind. Launched in July 2011, each themed issue pairs photography lush illustrations with fabulous writing in delectable ways. (Contributors have included the likes of Ruth Reichl and Anthony Bourdain.) If you subscribe now, the person you're giving this to won't receive their first issue in the mail until February 2013; however, you can also buy the current issue on newsstands so you can have something under the tree.
There are also the old standbys that always make for good gifts. I'm a big fan of The Better Homes and Gardens New Cookbook, which is a great cookbook for someone to learn on and contains recipes that are easy to pull together. One year for Christmas I received a copy of The New Basics, and this book has since become my go-to resource for those occasions when I'm having company over and need to lay my table with something a little more impressive than my everyday cooking.
Music: I'm a big fan of the husband and wife duo that writes Turntable Kitchen, a blog that, in addition to expanding your culinary horizons, cultivates your sonic palate. Kasey writes about food, Matthew tackles music—using the language of food and flavor to describe sounds—and together they find tunes and nibbles that complement each other. What's more is that these internet-based explorations of new flavors and sounds can be taken into our humble, analog realm by way of the Pairings Box. Each month, you get a bundle of music, recipes, suggested pairings and a few ingredients to play with. Unfortunately, the Pairings Box ships out mid-month, so unless you're OK giving someone a nice card letting them know what goodies will soon be arriving—or do holiday visiting in January— you'll need a more immediate option. In this situation, try The Recipe Project, which takes recipes from today's most famous chefs and turns them into songs. (E.g., Mario Batali's recipe for spaghetti with sweet tomatoes.) This book/CD package can be found at your local bookseller.
Toys: If you know someone culinary aspirations, encourage them to build up the relationship they have with their kitchen. If they are just starting out, giving the gift of standard pieces of equipment are always great. I was thrilled to get a good set of pots and pans when I was in college. Another year I received a slow cooker and a food processor, and for the single working professional, those pieces of equipment made my life in the kitchen so much easier. In the event that you have the budget to splurge on knives, your budding chef will be eternally grateful. There's nothing worse than bad cutlery. When I finally came into a set of really good knives, it made a world of difference in how I work in the kitchen.
For the established chef, you can add to their collection of kitchen gadgetry. Personally, I'm not a fan of uni-tasker appliances, but if you know someone who enjoys specific foods, find the toys to let them indulge their interests. I highly recommend browsing America's Test Kitchen Feed's gadget reviews for handy tools—and whether or not the latest kitchen toys are really the greatest. While not the most aesthetically pleasing, their review of this heavy-duty steel nutcracker has me contemplating a splurge purchase. When you consider how much less expensive nuts are when bought in the shell, it's a great gift—especially if you give it with a bag of oh, say, chestnuts to roast over an open fire. For sheer whimsy, check out the Foodigity blog's online shop where you can find dinosaur-shaped tea infusers, unicorn corn holders and ice cream sandwich body pillows. You need to place orders by Friday, December 21 to ensure delivery by the 24th.
Food: Giving the gift of food itself is always a good idea. I've yet to hear complaints from anyone who is well-fed. There are a few ways to work within this idea, perhaps the most obvious tack to take being a food basket, be it one you cobbled together yourself or one you purchased prefab. Or if there are seasonal goodies you like to make, attractively package them and give them as gifts. This year a friend gave me some of her homemade fudge, which she wrapped in cellophane and topped with a felt Christmas ornament she also made herself. The presentation—and the food—were equally delightful.
Another tack to take on this theme is to look to your local food bank. These charitable organizations do what they can to ease hunger in the community, and they rely on monetary and edible donations to continue their mission. Some food banks will also let you donate on behalf of another person—so for someone who would rather see money go to charity than to buying them a gift, this is a great way to go. Contact your local food bank to ask if you can give in this way.