Inviting Writing: Lefse Lessons With Grandma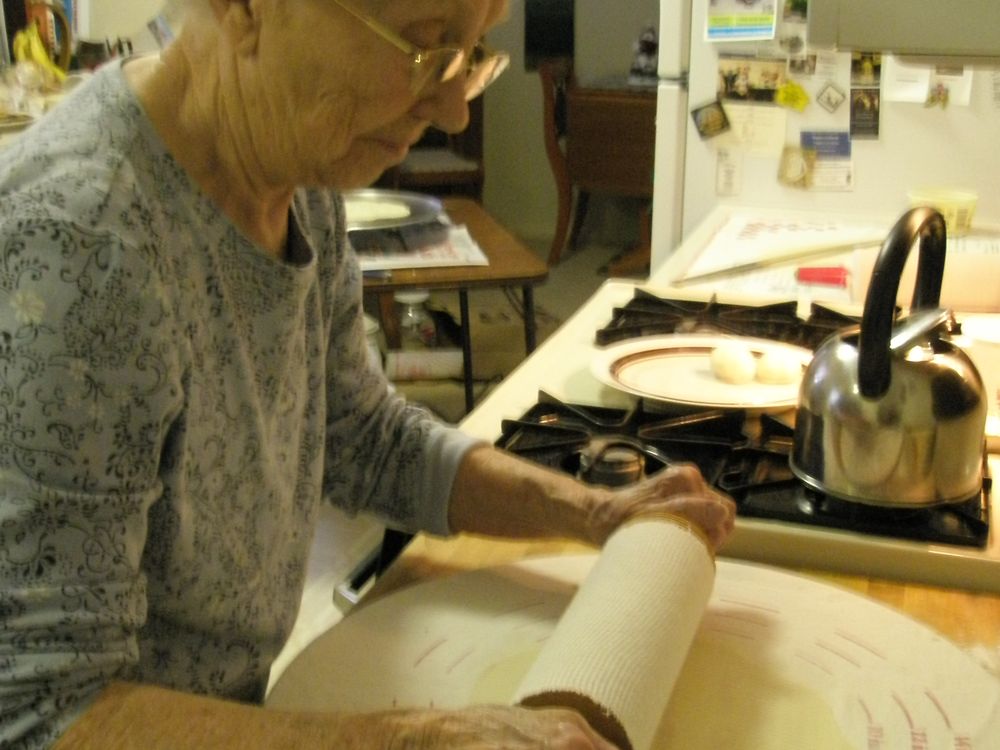 Continuing our Inviting Writing theme about "eating at Grandma's house," today's story celebrates another Bestemor. Author Jenny Holm is a freelance writer who grew up in Minnesota, but has been all over the place since, from Russia to D.C. to an organic farm in Vermont. Currently, she's teaching English in Georgia (the country). She chronicles her adventures in a wonderful food blog called Gusto: Eating With Pleasure.
Lefse Lessons By Jenny Holm
"You can roll lefse for forty years and still it won't always behave for you. Humdinger!"
My grandmother, Eunice Sylvester, bunches the dough she's just been rolling back into a ball and spreads her pastry cloth with an additional dusting of flour. "Now don't you dare stick to that board, stinkerpot!"
Chided into submission, the dough behaves this time. Grandma swiftly rolls out a 12-inch round so thin you can see through it, flips its edge over a flat wooden stick and peels it from her pastry cloth. It hangs precariously there for only a second or two before she unfurls it onto the hot electric griddle sitting atop her kitchen table.
She has spent holiday seasons laboring over these delicate potato-based crepes, called lefse, since 1967, when her husband, Arvid, (my grandfather) presented her with this very griddle as a Christmas present. "Some gift!" she quips as she jabs Grandpa with the end of her rolling pin. "I haven't been able to escape it since!"
Lefse was one of the recipes that Grandma's grandparents, Norwegian farmers, brought with them to the western Minnesota prairie where they settled in the late 1800s. While our dough chills in the fridge, Grandma tells me how her mother Sophie used to prepare this winter treat. A few technological upgrades notwithstanding, the process has remained essentially unchanged.
She would mix pounds upon pounds of minced potatoes with butter, milk, and salt, adding flour and working it in with her powerful hands until the mixture reached the desired consistency—too much flour and the lefse would come out dense and tough; too little and the paper-thin rounds would tear. After forming balls of dough and chilling them in the frigid outdoor air, Sophie would roll out circles two feet in diameter and cook them directly on her flat iron stovetop, feeding the fire with spent corncobs. The resulting pancakes came out light and chewy, a warm and filling treat that Sophie's 16 children (of whom my grandmother was the youngest) enjoyed slathering with butter, sprinkling with sugar, and rolling like cigars before devouring.
My family has abandoned many of the other "old country" dishes our ancestors cooked, like lutefisk (cod soaked in lye to preserve it) and rolle pulse (beef and pork pressed into a roll with ginger and onions, sliced, and served cold), but lefse remains beloved. Demand for it at our holiday table consistently exceeds supply. However, the labor-intensive nature of its preparation and the necessity of an experienced hand to judge the quality of the dough by its texture mean that only dedicated disciples are likely to carry on the craft for future generations.
That's why I asked Grandma to let me shadow her as she prepares the first batch of the year. My lefses come out crisper than hers do (because I spread the rolling board with more flour than necessary, she says). They are not always round, and take me at least three times as long to roll out, but I'm starting to get the hang of it.
"Don't worry," Grandma assures me over my shoulder. The first time she tried to make lefse on her own, she used red potatoes instead of the requisite russets, and ended up in tears over a wet, gloppy mess. "It's nice to have an assistant. Eighty was alright, but 81—goll!"
My grandfather is no longer strong enough to help out the way he used to, but he still joins us for the company. He sits at the kitchen table over his coffee and cookies, snatching the occasional lefse still hot from the griddle while Grandma is turned toward her rolling board. Sixty years of marriage have attuned her to his every move, and without turning her head nor slowing the rhythm of her rolling she warns, "Arvid, you better stop stealing those or we won't have any left for your grandchildren to eat!" Grandpa sheepishly finishes the mouthful he's been chewing, takes a sip of his coffee, and launches into a jazzy, syncopated version of "Jingle Bells," his tenor voice wavering slightly but still clear and merry.
As the small kitchen warms with the familiar, comforting aroma of boiled potatoes and the heat emanating from the two grills set up at opposite ends of the room, flour settles onto our hair and clothes like first snowflakes. My mother, who has been monitoring the grills while Grandma and I roll the dough, tears a just-cooked lefse in half, spreads it with butter and sprinkles sugar on top, then rolls it up and thrusts it into my mouth.
The first sweet, chewy bite floods me with memories of all the holiday celebrations that begun and ended with this very taste, and reminds me that so much more than butter and sugar are tucked into this delicate pancake.