Holiday Gift Guide: New Children's Books About Food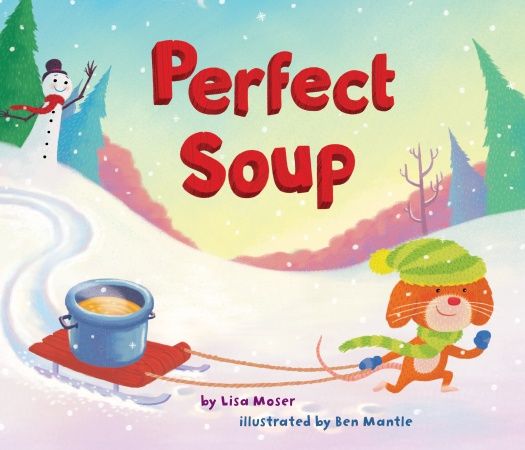 Know a kid who's interested in food—eating, growing, or cooking it—or who you wish would be? With the holidays coming up, one of these food-related children's books could be the perfect gift idea.
Unless otherwise noted, all titles were published this year. If I've missed something great, please add it in the comments!
Picture Books (Elementary Readers)
1. Perfect Soup, by Lisa Moser, illustrated by Ben Mantle (Random House). This engaging, colorful story about a mouse's quest to find a carrot so he can make "the perfect soup" is a creative way to teach kids the classic maxim that it's better to give than to receive—and that you don't always have to follow recipes exactly.
2. Don't Let Auntie Mabel Bless the Table, by Vanessa Brantley Newton (Blue Apple Books). Lively illustrations and simple rhymes celebrate a mixed-race family's Sunday dinner by poking gentle fun at the relative whose "grace" drags on forever.
3. Three Scoops and a Fig, by Sara Laux Akin, illustrated by Susan Kathleen Hartung (Peachtree). A sweet story about a girl who wants to help prepare a feast for her visiting Nonno and Nonna, this gives young readers a taste of Italian words and foods.
4. Oscar and the Very Hungry Dragon, by Ute Krause (NorthSouth). With wonderfully wry lines like: "The dragon, who had only eaten princesses so far, was amazed when he tasted Oscar's cooking," this fairy tale offers a lesson about the power of shared meals to turn enemies into friends.
5. Wolf Pie, by Brenda Seabrooke, illustrated by Liz Callen (Clarion). An impish spin on the classic fairy tale about three little pigs and a hungry wolf, this early chapter book will delight kids who love jokes and wordplay.
6. You Are What You Eat, and Other Mealtime Hazards, by Serge Bloch (Sterling). Award-winning illustrator Serge Bloch plays with food idioms. His creative combination of photography and cartoon sketches will make young readers "pleased as punch."
7. The Gigantic Sweet Potato, by Dianne de Las Casas, illustrated by Marita Gentry (Pelican Publishing). Adapted from a Russian folktale called The Giant Turnip, the cute cast of human and animal characters in this watercolor-illustrated version work together to harvest a huge sweet potato from Ma Farmer's garden. Includes a recipe for sweet potato pie.
8. Too Pickley! by Jean Reidy, illustrated by Genevieve Leloup (Bloomsbury). From the very first line ("I AM HUNGRY!"), this book takes the voice and perspective of a pint-sized picky eater. The silly rhymes and bright, playful illustrations encourage kids to experience food with all their senses.
9. Little Mouse and the Big Cupcake, by Thomas Taylor, illustrated by Jill Barton (Boxer Books). When a little mouse discovers a tasty treat that's even bigger than he is, he must learn the importance of sharing and appropriate portion sizes.
10. A Garden for Pig, by Kathryn K. Thurman, illustrated by Lindsay Ward (Kane Miller Books). This whimsically illustrated story about a pig who craves vegetables also includes tips for kids to plant their own organic gardens.
Chapter Books (Middle & Teen Readers)
1. Noodle Pie, by Ruth Starke (fiction, Kane Miller). This pre-teen novel follows an 11-year-old boy raised in Australia on a trip to Vietnam, where his father takes him to explore his roots. Food becomes his touchstone for learning about Vietnamese culture, and the book includes several recipes.
2. When Molly Was a Harvey Girl, by Frances M. Wood (fiction, Kane Miller). A historically based story about the hardships and adventures faced by an orphaned 13-year-old girl in the 19th-century Wild West. In her job as a New Mexico railroad station waitress, she serves up American classics like chicken salad and peach pie, but also forms friendships that introduce her to Mexican food.
3. Sugar Changed the World: A Story of Magic, Spice, Slavery, Freedom and Science, by Marc Aronson and Marina Budhos (nonfiction, Clarion). A dense but engaging book that ties together many important and complex historical issues.
4. Candy Bomber: The Story of the Berlin Airlift's "Chocolate Pilot," by Michael O. Tunnell (nonfiction, Charlesbridge). This true story about an American pilot who started dropping candy for kids during the 1948 airlift in West Berlin teaches both World War II history and a deeper lesson about putting "principle before pleasure," as its subject, Gail Halvorsen, writes in the preface.
5. The Omnivore's Dilemma for Kids, by Michael Pollan (nonfiction, Dial, 2009). An easier-to-read, yet not oversimplified version of Pollan's popular manifesto about sustainable eating, the young readers' edition looks at the American food chain from four perspectives—Industrial, Industrial Organic, Local Sustainable, and Hunter-Gatherer—and offers plenty to chew on.
Cookbooks and Activity Books
1. The Children's Baking Book, by Denise Smart (DK Publishing, 2009). Ages 7 to 12. With plenty of pictures, step-by-step instructions and a glossary, this book makes baking look both exciting and accessible to young novices.
2. My Lunch Box: 50 Recipes to Take to School, by Hilary Shevlin Karmilowicz (Chronicle Books, 2009). Ages 3 and up. This isn't a book, technically—it's a box full of recipe cards with colorfully illustrated ideas to get children excited about packing their own simple, healthy lunches.
3. Sam Stern's Get Cooking, by Sam Stern (Candlewick). Teenage British cook Sam Stern aims this book at his "mates," with simple recipes like My-Style Chicken Parmigiana ("a classic tomato sauce with the coolest chicken dish") and Cheese and Potato Pizza, although he does sneak in more sophisticated dishes as well (Korma and Cucumber Salad; Chocolate Soufflé).
4. Kitchen Science Experiments: How Does Your Mold Garden Grow? by Sudipta Bardhan-Quallen, illustrated by Edward Miller (Sterling). Ages 9 to 12. Bright, curious young minds will enjoy experimenting with food to answer questions like "How do temperature and time affect the growth of microbes in milk?" and "What happens when you heat a marshmallow?" (Their parents might be slightly less grateful.)
5. I'm a Scientist: Kitchen, by Lisa Burke (DK Publishing). Ages 5 to 9. With sturdy, colorful pages and simple experiments such as mixing oil and water to understand density, this will whet kids' appetite for science by encouraging them to play with their food.
Editor's Note: For more holiday shopping ideas, check out our guide to crafty gifts made from recycled food packaging.