Five Ways to Eat Tomatoes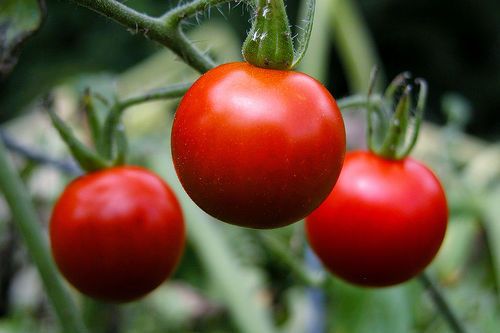 If you have a garden, a seasonal CSA share, or a generous friend with either of those things—and if your region escaped the blight—then I bet you've got a lot of tomatoes on your hands right now. (Maybe they're even heirloom tomatoes, which some swear are superior, though others disagree.) Here are a few suggestions about how to enjoy them while they last.
1. Stuffed. The latest issue of Bon Appetit has a great recipe for this, which I adapted slightly by adding a layer of Brie cheese at the top and bottom of the scooped-out tomato. It's delicious, and surprisingly easy. (Of course, we know some of you will want to skip the cilantro!)
2. Nearly naked. The Atlantic's food channel offers a bare-bones recipe for Insalata di Pomodoro: Terrific tomatoes tossed with olive oil and salt, and maybe some slabs of mozzarella. Summertime bliss.
3. Quinoa salad. This is my favorite packed lunch; it can be made ahead and chilled. If you don't have quinoa or time to cook it, try couscous or cooked pasta. The basic concept stays the same: Mix a base grain/starch with chunks of fresh tomato, cucumber (or another crunchy vegetable, like celery or peppers), and semi-firm cheese (I like ricotta salata; feta would also work). Season to taste with olive oil, fresh herbs, salt and pepper, or just toss with Italian salad dressing.
4. BLT sandwich. I don't think this one needs much explaining: Bacon + Lettuce + Tomato + Bread = Yum. If you're feeling ambitious, join Michael Ruhlman's BLT from scratch challenge, which is also pretty self-explanatory: you must make all the ingredients yourself. (He recently extended the deadline to enter.)
5. Fried tomatoes. I found a simple recipe for fried tomatoes in an old cookbook that belonged to my great-grandma, called "The Fine Art of Cookery." Sprinkle tomato slices with salt, pepper and flour and brown them lightly in butter (1 Tbsp per whole tomato). Serve drizzled with cream sauce, which you can easily make by adding a little flour, milk and salt to the melted butter remaining in the pan. For a modern twist that adds a nice crunch, try breading the tomato slices with panko crumbs (dip slices in flour, then beaten egg, then crumbs) before frying.
For more ideas, check out the results of the Washington Post's recent Top Tomato recipe contest.
What's your favorite way to eat tomatoes?