Five Ways to Eat Cucumbers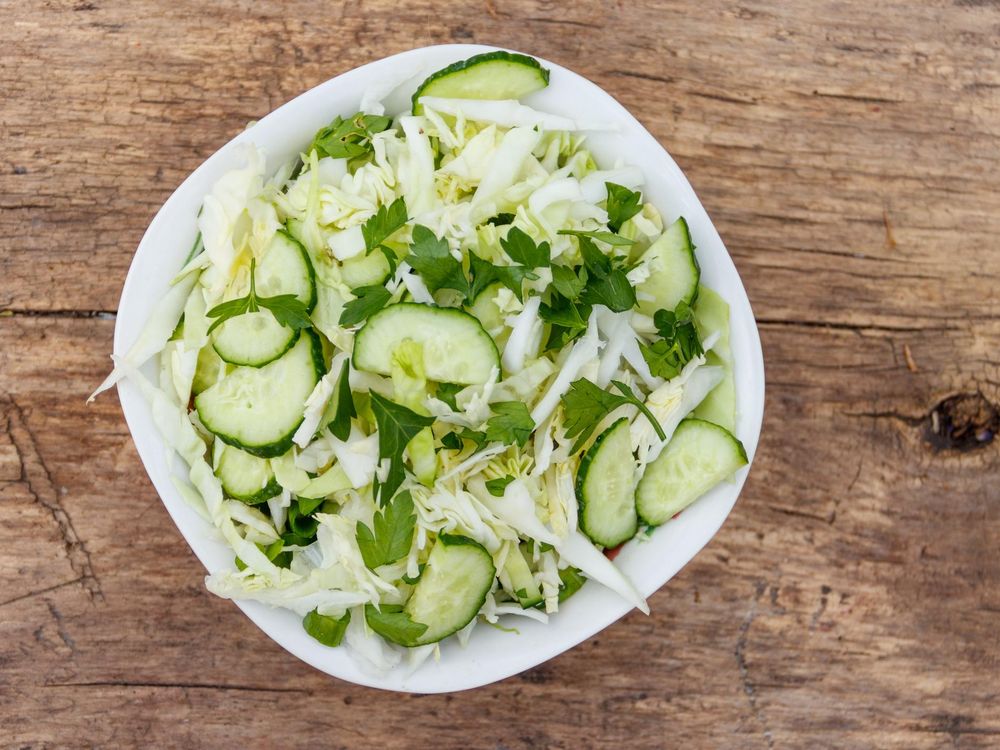 Lately I have acquired a troop of cucumbers from various friends and acquaintances trying to unload their late-summer garden bounties. I like to toss a few cucumber slices in salads or on sandwiches, but I would have to eat them morning, noon and night to use them all up that way. What else can be done with these ubiquitous gourds?
1. Mix with yogurt. Cucumbers are believed to have originated in India before spreading to Europe thousands of years ago, so let's start there. Indian cooks do a great job of balancing complex flavors, and one of the best examples is the use of a condiment called cucumber raita to "cool" a spicy dish: mix grated cucumber with spices and plain yogurt (some recipes call for thick, strained, Greek-style yogurt, although I've noticed that the raita served in Indian restaurants is often saucier). Speaking of Greek yogurt, one of my favorite uses of cucumbers is the Greek dip or sauce called tzatziki (the spelling varies). It's similar to raita, but with different seasonings—usually minced fresh garlic, lemon juice and olive oil, and sometimes dill or mint. In neighboring Turkey, a thinner version called cacik is served as a soup.
2. Stuff them. Halved and with the seeds scooped out, cucumbers look like little canoes. The possibilities for loading them with cargo (i.e. stuffing) are endless: Koreans stuff and marinate them in a spicy chili paste, such as in this Oi-sobagi Kimchi recipe at Chow. Crabmeat, as in this Bon Appétit recipe, is a classic filling. Feta blended with walnuts, as vegetarian-cooking impresario Mollie Katzen suggests, might be making an appearance in my lunch box next week.
3. Cook them. It never would have occurred to me to cook cucumbers, but other cultures are more adventurous with their cukes. From Kerala, India, this recipe for Cucumber with Black-Eyed Peas in Saveur magazine cooks them in coconut milk and chilies. Gourmet magazine julienned and sautéed them to make cucumber noodles. And, as the movie Julie & Julia helped remind people, Julia Child championed cucumbers baked with butter (which the Julie Powell character describes as "a revelation"), based on a French recipe.
4. Drink them. Cucumbers contain a high percentage of water already, so they are naturally refreshing. Slices added to water will make you feel like you're having a spa day. A few years ago cucumber cocktails popped up everywhere—in margaritas, as a basil-cucumber martini and in cucumber sake shots served in little hollowed-out cucumber bowls. But it's really nothing new: the English drink the Pimm's Cup, as traditional at Wimbledon as the mint julep is for the Kentucky Derby, has been served with cucumber (either as a garnish or floating like fruit in sangria) for nearly two centuries.
5. Pickle them. If you've eaten as many as you can and still haven't exhausted your supply of cucumbers before they go bad, it's pickling time. If you want to go beyond the usual dill or bread-and-butter varieties, try these Japanese wasabi-flavored pickles, cucumber-apple pickles or, if you want something really different, cinnamon-flavored candied pickles.