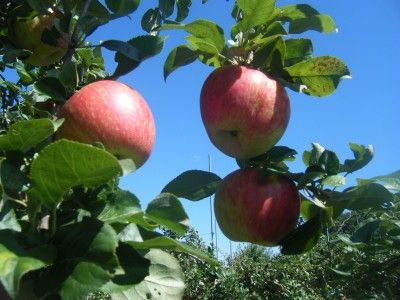 Honeycrisp, Gala, Macoun, Gingergold, Cortland, Macintosh... our fridge was full of apples after a recent trip to visit friends on the north shore of Massachusetts. We went to one of my favorite old haunts there, Russell Orchards in Ipswich, where the smell of fresh cider donuts is even stronger than I remembered.  Turns out, that's because they now fuel their tractors—which pull tourist-heavy haywagons out to the orchards—with their used donut oil! Nifty.
On the drive home, I daydreamed about all the delicious recipes we could make, but somehow our main ingredient evaporated within a week (is there any better snack than a cold, crisp, fresh apple?). Here are some ideas for those of you with more self-control (or simply more apples):
1) Savory Apple Salads. Most people think of baking apples into desserts, but combining their sweet crunch with savory or salty flavors also makes a terrific salad. I know I'll like curried apples with couscous or spiced apple quinoa salad. (I'm not as sure about kohlrabi-apple salad with mustard, but that's just because I've never had kohlrabi.) And don't forget the classic Waldorf, of course!
2) Apple Crisp. I practically lived on this during my junior year abroad in England, when my food budget was frequently consumed by my entertainment and travel budget. Our student housing included a small backyard with an abundantly producing apple tree, and my roommates and I took turns cooking up crisps almost daily. Recipes vary—here's a good one—but the basic idea is to make a crumbly topping that combines butter, brown sugar, flour and/or oats. Fill a baking dish with sliced apples and a few pats of butter, sprinkle on cinnamon and maybe a little sugar, and add your topping. Bake for 45 minutes or so, until golden and starting to bubble with juice. Serve it warm for dessert, and eat the leftovers for breakfast. (Or, in the case of my roommates and me, leave it unattended overnight and later have a rousing fight over who finished it off...)
3) Apple Omelet. When I spotted recipes for this on Epicurious and Serious Eats, I initially thought it was some quirky new idea—but then I found it in a recipe from 1914 on the Apple Journal site, so I guess it's stood the test of time. The Feasting on Art blogger was inspired by a Gauguin still-life to create a caramelized apple omelet with dulce de leche and goat cheese, which sounds amazing. Have any of you tried something like this?
4) Apple Pastries. This Bon Appetit recipe for cheddar-apple turnovers with dried cranberries, by the talented Dorie Greenspan, makes me drool, and it sounds temptingly easy. I hope it works in my toaster oven. And in response to my own question, yes, there is a better snack than a cold, crisp, fresh apple: It's called apple strudel. And I ate waaaay too much of it when I lived in Austria, and later in Germany, for a few months. I've never considered making it myself—pastry dough intimidates me—but Paula Deen's recipe, which uses frozen phyllo dough, looks doable. (And it adds bourbon, never a bad thing in my book.)
5) Apples and Peanut Butter. Yeah, I know, it's a kindergartner's snack. But it's delicious.
As always, I'd love to hear your ideas, too!