Farmers Market Finds: Purple Long Beans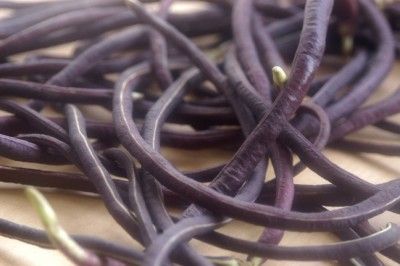 Walking past a farmers market on my lunch break last week, I did a doubletake at what looked like a basket of baby snakes for sale.
Getting closer, I was relieved to see that the tangle of dark and sinuous shapes was in fact a lone quart of unusually long beans. I picked one up and held it up to the sunlight. It felt like a thinner, more flexible version of a green bean, but was at least a foot long. The skin was a magical-looking shade of deep purple. Were these the sort of beans that Jack grew?
"Wow! I've never seen these before! How do you cook them?" I asked the two guys behind the table, who seemed quietly amused by my curiosity. They looked at each other and shrugged.
"Not like normal beans," one said.
That was about all the advice I could extract, but I couldn't walk away from such wonderfully weird produce (and at only two bucks a quart, it would be a cheap experiment).
After posing for glamour shots---thanks to a kind coworker in the magazine's art department---the beans came over to my place for dinner.
I cleaned and trimmed them like ordinary green beans, then reluctantly cut them in half so they would fit in the skillet, where some chopped garlic and red chilies were already sizzling in grapeseed oil. After a minute, I added a splash of water and put the lid on the pan so the beans would steam. I turned the heat off after about three minutes---since it seemed to me that any longer would be venturing into "normal bean" territory---and added a handful of fresh basil towards the end. To my delight, the color didn't fade with cooking, though it did take on a maroon tinge.
The first night, we ate the beans just like that, as a side dish with leftovers from my favorite Indian restaurant. They were good; chewier than green beans and a better match for spice (almost like mushrooms). I liked them even better the next day, tossed into a cold salad of soba noodles with sesame oil, soy sauce and strips of red and yellow pepper.
From what I can find on the Internet, such beans can be called "yardlong beans," "long beans," "asparagus beans," or---hey! I'm not crazy!---snake beans. They're native to southeast Asia and, botanically speaking, are more closely related to cowpeas than to string beans. Both green and purple varieties are used in southern Chinese, Filipino and other types of Asian cuisine.
For long bean recipes, see these ideas from Steamy Kitchen, Red Cook and Epicurious. As always, please feel free to suggest more in the comments!