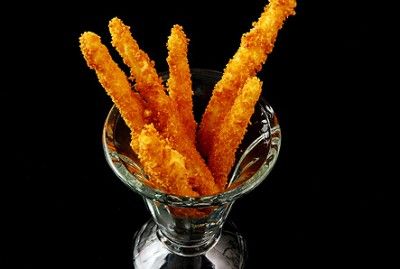 Hi, my name is Amanda, and I'm addicted to asparagus. In all forms, really, but my latest obsession is a little embarrassing, since I like to think of myself as a healthy eater: Asparagus Fries. Or in other words...Fried Asparagus.
I blame an old friend for getting me hooked. A few months ago, she took me to Isabella's, a tapas restaurant in Frederick, Maryland, and practically forced me to order their "Esparragos Fritos con Salsa Alioli Tomate," aka "Crispy Panko Crusted Asparagus 'Fries' with Smoked Tomato Aioli."
The asparagus was still bright green beneath the crispy batter, cooked enough to be tender without getting mushy, and the aioli had a powerful zing. The presentation was nice, too: Thick, golden-coated stalks arranged like a minimalist bouquet in a champagne flute, their bases bathed in creamy pink sauce. I ordered seconds.
Now, every time I visit that friend, she goes through the motions of asking where I'd like to go for dinner. I pretend to think about it, then, as nonchalantly as I can, suggest Isabella's. "I think I remember eating something there I liked...was it asparagus, maybe?" (Because, you know, I can quit anytime I want.)
I've searched all over the Internet, and although I see many sites where diners sing the praises of Isabella's asparagus fries (some with pictures), the closest recipe I can find is this one for "Asparagus Fries with Smoky Chipotle Mayonnaise Dipping Sauce" on Recipezaar. (It even mentions the champagne flute; could this be THE recipe?)
Here's hoping we get more asparagus in our CSA share this weekend...