Seven Perfect Summer Spots for Tubing in the United States
From Hawaii to Michigan, these waterways offer slow floats with loads of nature and scenery to take in along the way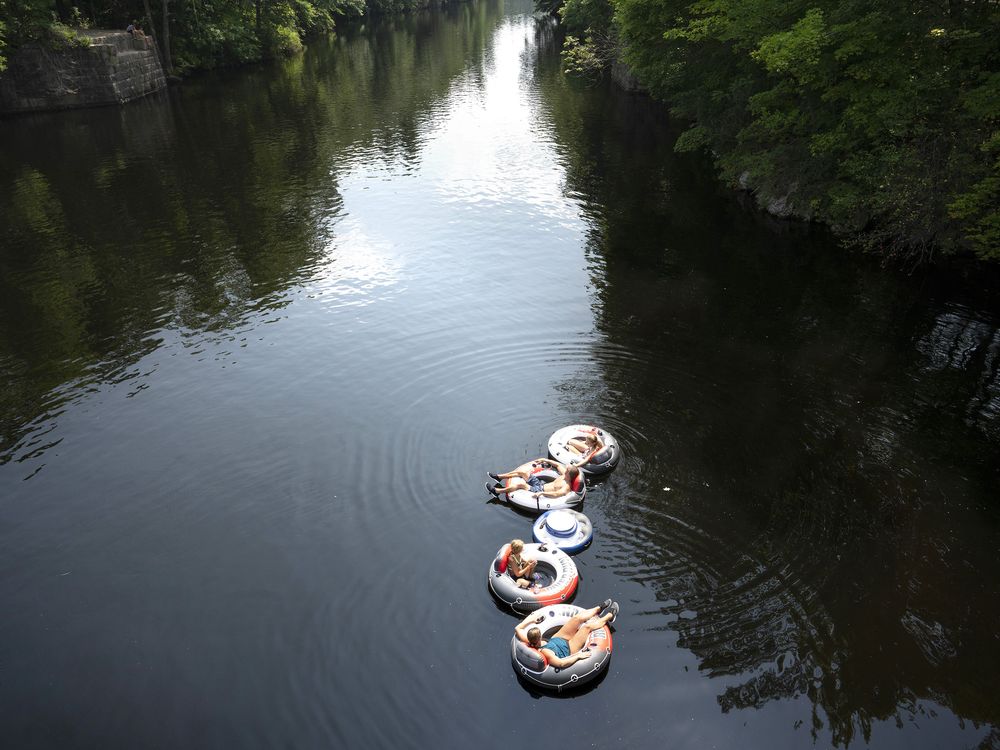 Late last summer, a couple of friends and I decided to go tubing along the lower American River, a spring-fed body of water in Northern California that runs right through Sacramento. For nearly four hours we floated along, each of us in our own heavy-duty, mesh-bottom inner tube with our feet dangling over the sides, twisting and turning with the slow-moving current as we went. At one point our group encountered some easy-to-maneuver rapids, but otherwise we mostly just sat back, sipped on sparkling water, snacked on trail mix and simply watched the world pass by.
River tubing requires nothing more than an inflatable inner tube (or something similar) and some water. By most accounts, this recreational activity—letting the river carry you downstream—first gained popularity in the 20th century, alongside the rise of automobiles. "It goes back to the basic idea of people trying to beat the summer heat," says John Bevell, resident manager of Arizona's family-owned Saguaro Lake Ranch, which runs tubing excursions along the banks of the Salt River. "If you go back far enough, most car tires had inflatable tubes inside," he says, "and there was inevitably a spare or miscellaneous tube lying about that people could use to go down, sit in the water and cool off. It just kind of evolved from there."
While the official history of tubing remains murky, a Life magazine article from July 1941 credits Wisconsin's David Breault with being one of America's tubing pioneers. Earlier that year, Breault had invited about 200 people to join in a 45-minute float along the Apple River, near the town of Somerset, where he owned a nightclub, supplying them with free tubes and transport. It was strictly promotional, but the endeavor was such a hit it helped triple his business.
Whatever the origins, river tubing has morphed into a bona fide summer pastime, with hundreds of thousands of tubers taking to U.S. rivers each year. Arizona's Lower Salt River is especially popular among tubers thanks to its cool spring-fed waters and easy proximity to the Phoenix metro area (about a 50-mile drive east of downtown). The slow-moving current also makes it a good starter river for tubers who may not be especially comfortable in water.
Egrets and great blue herons are regular sights along the banks of the Lower Salt River, and you might even spot a bighorn sheep or two, grazing along the nearby hillsides. Saguaro cacti—synonymous with the Sonoran Desert, which surrounds the river—are also part of the scenery. But what really sets this particular tubing experience apart are the area's wild horses. "You've got a good chance of seeing them most every trip," says Bevell. "Especially when the desert grass dies and they come down to the river to feed. They'll stick their heads right under the water and come up with a mouth full of river grass, just like a moose."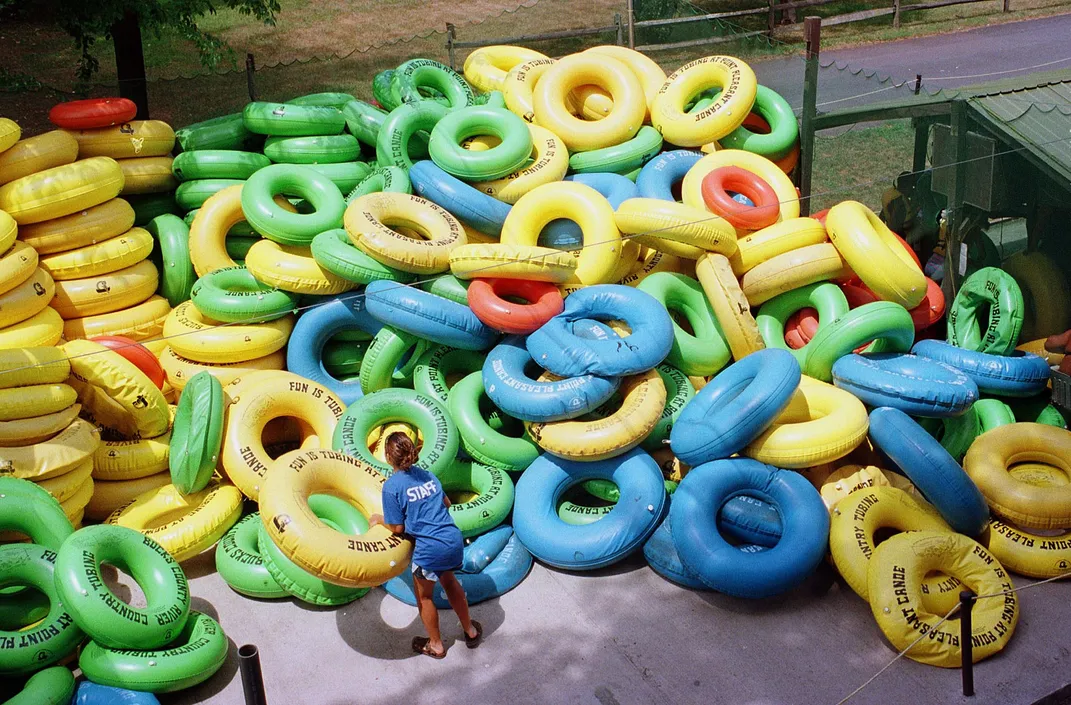 River tubing has come a long way since its early days, when tubers like Bevell would buy their tubes at a Circle K convenience store, park their cars and go. After floating their way down the river, they'd make the long walk back upstream and then do it all over again. These days, most tubing outfitters provide parking lots and shuttle buses for both starting and finishing points. Dry bags keep cellphones safe, and tubes are made to fit food-and-drink coolers, transforming a simple run down the river into a full-on experience.
But while tubing may be an incredibly fun activity, it's also a way to help conserve nature. "More people using and enjoying our rivers is crucial to inspiring a sense of stewardship and growing a network of advocates to protect them," says Cheryl Nenn, a riverkeeper with the science-based advocacy organization Milwaukee Riverkeeper. "Connecting physically with these waters can be transformational on so many different levels and almost always results in increased stewardship, care and protection of our waterways."
Other places ripe for tubing
While river tubing is prominent from coast to coast, some spots stand out for their scenery, serenity and uniqueness. Here are some of our favorites. (Remember: personal floatation devices can be lifesaving and are always recommended.)
Frio River; Texas Hill Country, Texas
While many tubers in central Texas head to the Guadalupe and San Marcos Rivers for cooling off, it's the clear waters of the Frio River in the heart of Texas Hill Country that provide the perfect float on the state's hottest days. Frio means "cold," in Spanish, and the spring-fed river lives up to its name. Its crisp and shallow waters wind beneath lofty cypress trees and among limestone bluffs—a remote 47-mile stretch of stunning natural scenery that includes loads of birdlife, such as wood ducks, anhinga (also known as "water turkeys" for their turkey-like tail) and vermilion flycatchers.
Companies such as Happy Hollow Frio River Outfitters and Frio River Cabins provide rental tubes and transport, and the river has multiple access points. You can also rent tubes at Garner State Park, home to 2.9 Frio River miles, as well as nightly summer dance parties complete with jukebox tunes—a tradition dating back to the 1940s.
Rainbow River; Dunnellon, Florida
Just two hours north of Tampa is Florida's Rainbow River, 5.7 miles of gently meandering waters brimming with fish like largemouth bass and shad, river otters, and even the occasional alligator. However, the latter doesn't ward off tubers who come for the river's crystal-clear waters, tucked among stands of tupelo and cypress trees.
The headwaters of the river, which features numerous vents that release millions of gallons of water daily, sit within Rainbow Springs State Park, a former tourist attraction that featured everything from glass-bottomed boat rides to submarine tours during the 1960s.
For a longer run, most tubers rent tubes at KP Hole County Park and meander downriver to Tuber's Exit, an approximately four-hour journey. Those looking for a shorter, two-hour float should head to Rainbow Springs for a tram that will take you a couple of miles upstream. (Tubing isn't allowed in the parks' headwaters area.)
Colorado River; Grand Junction, Colorado
Opened in 2020, Grand Junction's 140-acre River Park at Las Colonias diverts water from the Colorado River to create a half-mile lazy river for tubers and floaters. Scenic and slow moving, this downtown waterway passes alongside river islands intended for habitat restoration on one side, and the Colorado Riverfront Trail—24 miles of paved paths that make combining water activities with cycling and rollerblading easy—on the other. Make the most of this newly created stretch by renting tubes from Grand Junction Adventures (located right onsite), floating down to an artificial water wave, then walking back up a dirt path for a repeat performance. Or you can book one of Grand Junction Adventures' shuttles for a DIY tubing run on the main river, depending on water levels.
Middle Loup River; Nebraska Sandhills, Nebraska
With spring-fed waters that wind through the Nebraska Sandhills—nearly 20,000 miles of grass-covered sand dunes that turn verdant green during summer months and are alive with wildlife, including mule deer, turtles and plenty of bird species—the Middle Loup River makes for some great tubing. It's also ideal for testing out the region's own ingenious watersport: tanking, or floating down the river in tanks intended for nourishing livestock. These tanks can fit anywhere from four to eight people, depending on the outfitter, and often come fitted with seats, perfect for taking in the scenery without getting your feet wet. Thedford's Sandhill River Trips runs tubing and tanking trips from inside a grocery store, so you can load up on snacks and book your adventure all in one fell swoop.
Lower Platte River; Sleeping Bear Dunes National Lakeshore, Michigan
Combine your tubing adventure with a visit to a national lakeshore—one known for its enormous (and climbable) sand dunes and miles of Lake Michigan shoreline. The Lower Platte River itself is smooth-flowing and clear, and often lined with an incredible array of wildflowers during summer months. Look for bursts of bright blue harebell and purple beach pea in June, with the spectacular yellow of St. John's wort later in the season.
Riverside Canoes offers tubing trips ranging from one to three hours, with the added option of hanging out at the mouth of the river for a bit before catching the shuttle back. On the leisurely float, keep your eyes peeled for great blue herons, swallows and wood ducks.
Mountain Tubing Adventure; Kauai, Hawaii
Tubing takes on a different form on this Hawaiian island, thanks to Kauaʻi Backcountry Adventures. Rather than floating along a traditional river, tubers head deep into the lands of a former sugar plantation for a three-hour trip along open canals, through a handful of tunnels, and even down a few flumes—all hand-dug by plantation workers in the late 19th century. You'll be treated to views of Mount Waialeale, one of the wettest spots on Earth, as well as the island's spectacular coastline. Headlamps are provided for illuminating the tunnels as you pass through, and the trip ends with a picnic lunch and a dip in a natural watering hole.