The first thing visitors to the central Texas city of San Marcos notice are the mermaids. They're everywhere, in some form. At the playground, one of the city's fiberglass mermaid statues stands seven feet tall, her tail and hair painted in a rainbow of neon colors. At the library, a costumed interpreter named Mermaid Cypress often reads to kids in a salmon-colored fin. And at a local restaurant, a mural depicts a blue-tailed mermaid swimming below a lake's sunlit surface in the company of fish, salamanders and cranes. "Keep San Marcos beautiful," the lettering reads.
"The mermaid has become a muse for San Marcos—a kind of inspiration," says Daniel Guerrero, who served as the city's mayor from 2010 to 2016.
The city of 68,500 people, situated between Austin and San Antonio, is the official "Mermaid Capital of Texas." Formerly most recognized for its Texas State University campus and outlet mall, San Marcos is "back on the map when it comes to creative, innovative cultural events," Guerrero says, thanks to its annual Mermaid Capital of Texas Fest that has been drawing thousands each September since 2016.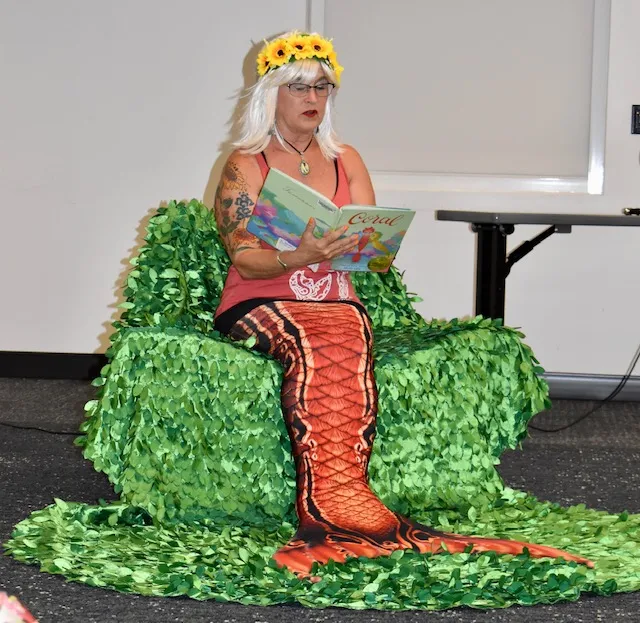 So how did the mermaid become the icon of a landlocked city 160 miles from the closest beach? That's a question July Moreno-Holbrook loves to answer.
"I always get excited when people say, 'Mermaids in San Marcos? I don't get it. It's not a coastal town,'" says Moreno-Holbrook, founder of the nonprofit group the Mermaid Society of Texas, and the champion of the mermaid's revival in San Marcos. "Well, that's the perfect opportunity for us to talk about our river."
Conservation efforts around the San Marcos River, which runs through the heart of the city, are key to the Mermaid Society's mission. The river's headwaters at Spring Lake are fed by 200 underwater artesian springs originating from the Edwards Aquifer, a 3,600-square-mile natural groundwater system that's a crucial water source in south-central Texas, providing drinking water to more than two million people. At 72 degrees Fahrenheit year-round, the San Marcos River is popular with tubers and kayakers.
The river and Spring Lake, now home to the Meadows Center for Water and the Environment at Texas State University, are also a paradise for wildlife. Eight endangered and threatened aquatic species call the headwaters and upper San Marcos River home, like the slender, reddish-brown San Marcos salamander and Texas wild rice, a flowing green river grass. The area around the springs is one of the oldest persistently inhabited places in North America, with artifacts indicating human activity dating back 13,000 years. For local Indigenous people, the springs are sacred, a portal from which human life first emerged from the spirit world.
"You can't find anything like the San Marcos River anywhere else in the world," Guerrero says. "It definitely is a unique place."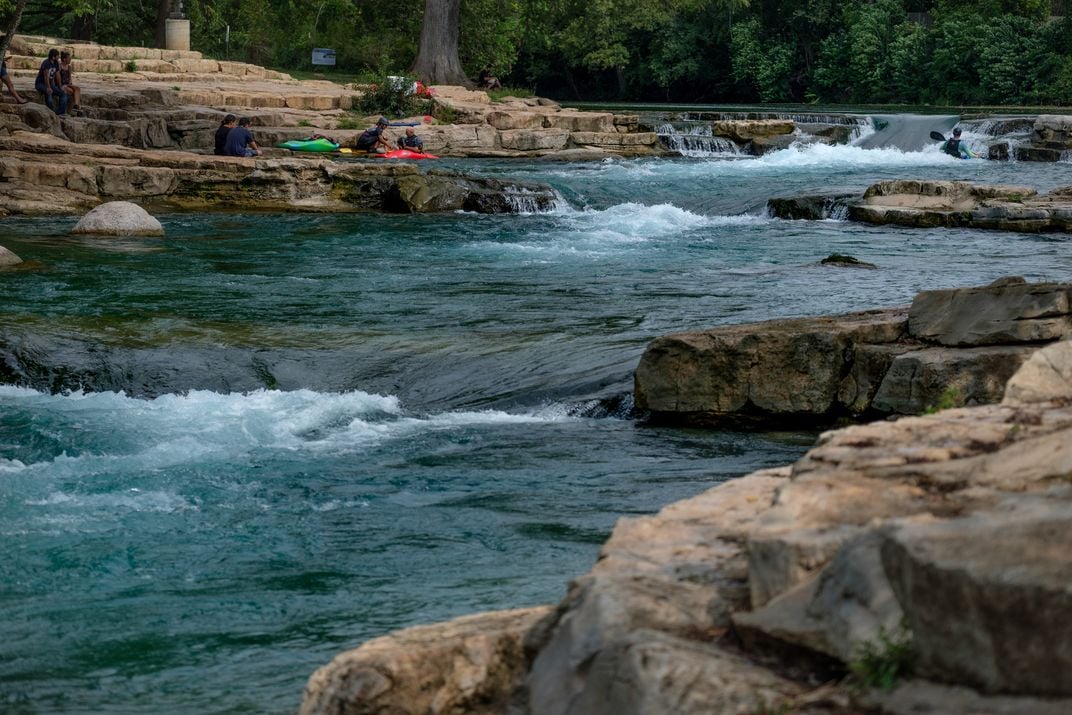 Like many others born and raised in San Marcos, Moreno-Holbrook, 56, grew up on the San Marcos River. As a child, she picnicked with her family on its shores, and as a teen, she hoisted a black inner tube onto her bike and rode to the water to float with friends.
"It was definitely a very big part of my life growing up," Moreno-Holbrook says. "I had a super awesome childhood just because of the experience."
As a treat, her family visited Aquarena Springs, an amusement park that operated from the 1950s to the 1990s and featured a submarine theater beneath the waters of Spring Lake. There, women known as "aquamaids" performed aquatic routines—like synchronized swimming and underwater "picnics"—as the audience watched from behind a glass window. The quirky lineup also featured a clown named Glurpo who "smoked" a pipe filled with milk powder underwater and a pig named Ralph who performed his signature "swine dive" into the water to drink from a baby bottle.
Its campy underwater shows, glass-bottom boat tours and skyride were draws for tourists from around the state and even the globe. But it was the aquamaids, who performed in full mermaid tails in the later years of the park's operation, who would give rise to the mermaid as a kind of local celebrity.
"Being in San Marcos, I grew up with that—I got to see these amazing underwater shows with these beautiful women swimming underwater," Moreno-Holbrook says.
Shirley Rogers, 91, an original aquamaid whose family operated Aquarena Springs, says she dreamed of swimming in the show as a teen and eventually convinced her father to let her perform. Rogers recalls training to stay underwater for the 45-minute shows by sharing "sips" of compressed air from a tube with her fellow aquamaids. Her grandfather A.B. Rogers, a local mortician, had opened a hotel on the property in 1929, and her father opened the submarine theater in 1950 after the family saw a similar underwater performance at an amusement park in Florida.
"It started with my grandfather's dream, and it was all possible because of the clear spring river," Rogers says. "It was about sharing what was so beautiful. My grandfather called it a playland."
With the rise of bigger amusement parks like SeaWorld and Six Flags diminishing business, Aquarena Springs closed in 1996. Texas State University, which had purchased the property two years earlier, revamped it into the Meadows Center for Water and the Environment, which focuses on water research, education and stewardship. Some vestiges of the former amusement park remain, like the Spring Lake glass-bottom boat tours operated by the Meadows Center.
For locals like Moreno-Holbrook, the aquatic theme park remains a beloved part of San Marcos history. But in 2014, a few years after Moreno-Holbrook moved home to San Marcos from San Antonio, she noticed her hometown was changing. An influx of new residents had never heard of Aquarena Springs. There was talk of major new construction—housing developments and big-box commercial projects like an Amazon facility that would draw more people to San Marcos.
Development is one of a variety of threats to the Edwards Aquifer, Spring Lake and the San Marcos River, according to Miranda Wait, deputy director of Spring Lake education at the Meadows Center. Runoff from roads and development cause pollutants to drain into the water, and over-pumping of the Edwards Aquifer due to demand from increasing population and industry can lower water levels. In addition, endangered wildlife that lives in the river can be affected by trash and sunscreen left behind from people who use it for recreation, Wait says.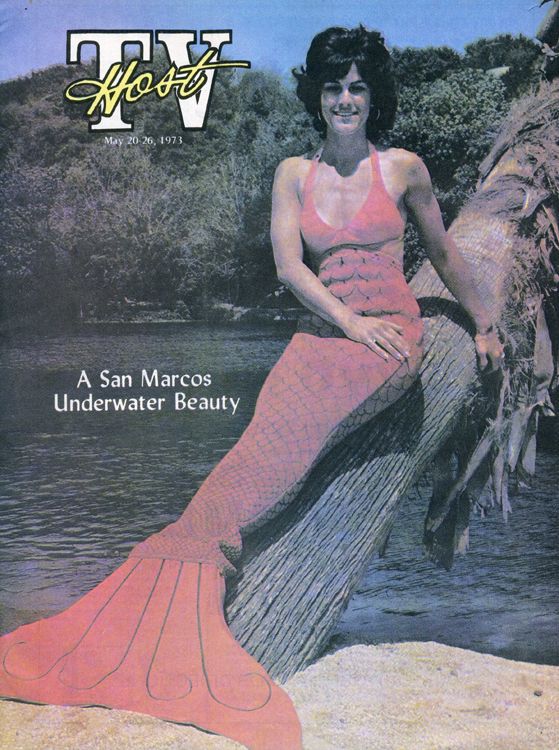 Moreno-Holbrook feared a special chapter in her hometown's heritage was fading from memory, and she worried about the environmental impact of more people on the river. That's when she got an idea.
"We could have the mermaid make a comeback for San Marcos, in a way that would be powerful, useful, impactful and celebratory," Moreno-Holbrook says. "It just made sense, because the mermaid for San Marcos was already established, but had not been talked about since the early 1990s. It was time."
Moreno-Holbrook's vision was to revive the San Marcos mermaid, but to give her a new role—an icon for the city who was also a messenger, educating the public about keeping the river healthy. Moreno-Holbrook envisioned the revamped mermaid as a superhero who protects the river and the endangered wildlife that call it home. She hoped the creative platform of the mermaid would engage kids in conservation more than a straightforward science lesson could.
"And of course, we needed a festival," she says.
Moreno-Holbrook says following her passion and founding the Mermaid Society was a "huge leap of faith." But when she approached community members and funders, she found resounding support.
"When you sit with her, she radiates—there is a warmth, there is a brightness, there is this overwhelming sense of fortitude from July," says Guerrero. "Even during the events, when other people might be exhausted or stressed, she's still this vibrant, happy person, and that just draws you in to say, 'Hey, where can I help? I want to be a part of this.'"
In January 2016, Moreno-Holbrook officially launched the Mermaid Society. She used social media to promote the first mermaid parade and art ball, a mermaid-themed ticketed event, in September of that year. The art ball sold out three weeks in advance, and the parade was the largest San Marcos had ever had.
Since then, the Mermaid Society has seen huge growth and success. Guerrero and Moreno-Holbrook worked with state legislators to secure San Marcos' official designation as the Mermaid Capital of Texas in 2021. The Mermaid Capital of Texas Fest is now a two-week event each September, drawing thousands of mermaid-inspired revelers who also provide an economic boost for local businesses. Local restaurants offer mermaid-themed menu items, and the annual "Mertini Shakedown" competition draws local bartenders to compete for the best mermaid-themed cocktail.
"It's an amazing event for a lot of reasons, not only just the local tie-in to the community, but from a straight business perspective it does great for downtown businesses," says Cody Taylor, co-owner of San Marcos restaurants Industry and Valentino's. "We all get a boost during the time of year when business is typically a little bit slower."
Industry won the Mertini Shakedown competition in 2019, when a panel of judges deemed its bright blue cocktail "The Hiser"—vodka, vermouth, white peach cranberry juice and luster dust with a rainbow sugar rim—to be the best mermaid-themed drink in the city. The cocktail was named for Doug Hiser, a professional wildlife artist whose colorful interpretations of local fish adorn the mermaid statue that stands outside of the restaurant.
Beyond the festival, the Mermaid Society works year-round alongside other local river conservation groups like the San Marcos River Foundation to get the word out about protecting the river, albeit in a much different way. Costumed interpreters in full mermaid regalia go to libraries, schools and community events to talk with kids, teaching them about ways they can minimize their own impacts on the river—like by picking up trash and dog waste, and by recycling. Today, the Mermaid Society has worked with more than 2,250 children through programming in all seven of San Marcos' elementary schools.
Youth education and stewardship is a key part of the Mermaid Society's mission—one that Moreno-Holbrook is working to expand. The group already organizes youth field trips to the Meadows Center for kids to learn about the local environment, and this year, funds raised through the festival will benefit a Meadows Center half-day field trip for all San Marcos fifth graders in 2024.
Eventually, Moreno-Holbrook hopes the Mermaid Society will expand with chapters across the country.
"I believe that when you give people the opportunity to learn about something and create a bond with that, they're going to naturally pay more attention to it and hopefully care more for it," Moreno-Holbrook says. "While it sounds very simple, I think we're on to something. I know more people are listening."
Mary O'Hara, who volunteers as an "AquaReina," or costumed mermaid messenger with the Mermaid Society, says kids are "absolutely in awe" when they approach her dressed as her character, Mermaid Cypress.
"They're delighted," says O'Hara, who also volunteers as a master naturalist for the state of Texas. "It's a fantasy to them. It's like seeing a unicorn."
O'Hara says she assures kids that she is a real mermaid, and she teaches them about ways they can keep the river clean for her and her aquatic friends who live there.
"Just by sitting in my tail and not saying a word, I can draw people in to ask questions," O'Hara says. "I can take those questions and deliver a message of conservation. Most importantly, what can you do to keep our waters clean?"
The image of the mermaid is inspiring in part because it offers a "why" behind conservation messaging, Guerrero says.
"As the mermaid thrives, so does our river, so does our community, so do our families, so do our businesses," Guerrero says. "But in order to be sure the mermaid is safe … we have to play a role, we've got to take action to ensure we're being mindful of how we use our resources."
Guerrero credits Moreno-Holbrook for galvanizing mermaid culture and redefining how San Marcos sees itself.
"The history has always been here, and I think it just took July to say, 'Hey, don't forget—this has always been a part of us, and let's continue to celebrate it,'" Guerrero says. "Even though what originally brought the mermaid to San Marcos is no longer here, the spirit of the mermaid continues to live here."