Find Out Why Boudin Is Louisiana's Most Famous Sausage
The state is studded with shrines to the rice-filled pork treat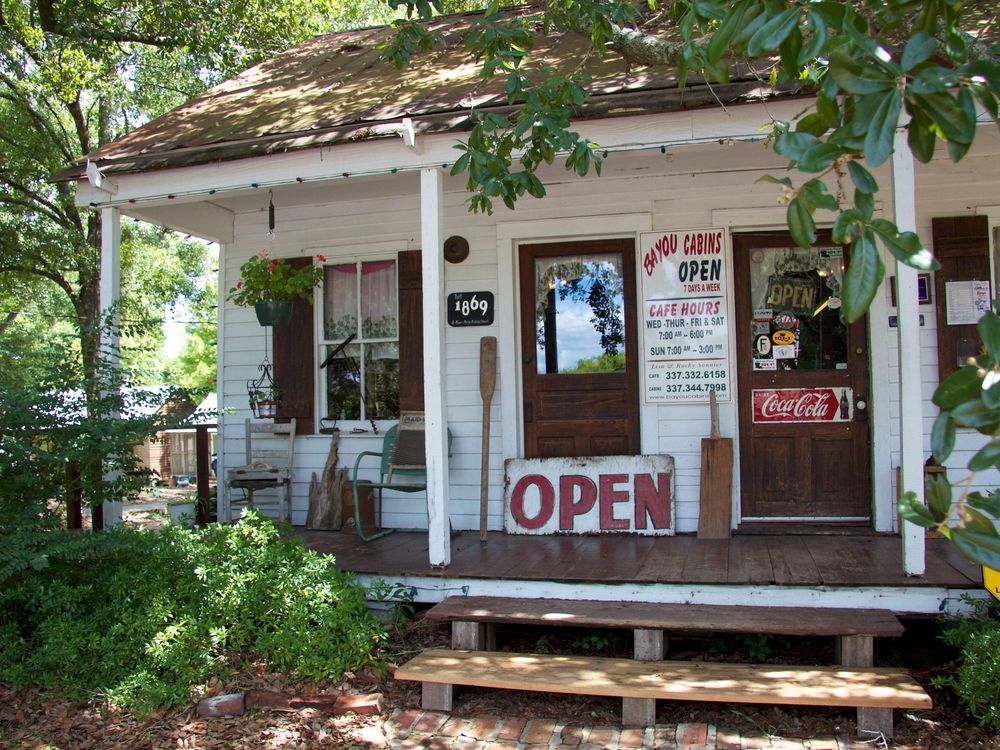 Walk into any party in southwest Louisiana—from birthdays to weddings to baby showers—and you'll find a culinary staple central to the region: boudin sausage. Actually, you don't even need to go to a party to find it. It's all over, in restaurants, gas stations, grocery stores, and convenience shops. Billboards advertising the creation line highways and streets. Boudin could just be the most iconic thing about the region—and at the very least, it's a local obsession.
But the Cajun Country hot link is anything but a typical sausage: It's a food in which history and flavor collide. Simply put, boudin is an animal-based casing stuffed with a pork and rice mixture and a blend of spices specific to the maker. Some cooks use every part of the pig, including liver, heart, and gizzard—a tradition that originates with the historical "boucherie," a Cajun event where families and neighbors gathered to slaughter pigs for the winter and needed to use the whole hog. Other boudin is pure pork without the other bits. Some people even add bell peppers or onion to the mix. Regardless of what's in the case, making boudin is a community affair.
"Boucheries were overnight or multi-day gatherings that included food, drink, storytelling, music, and dancing, as well as hard work," Mary Beth Lasseter, associate director of the Southern Foodways Alliance, tells Smithsonian.com. She said each community takes great pride in the boudin they offer, and that local towns have some not-so-subtle competition with one another to be the best around. "The food is understood as a real reflection of the community—from ingredients used in the recipes to the small gatherings or large festivals that celebrate boudin," says Lasseter. "Loading up a cooler with frozen links to share with friends back home is understood as a high compliment."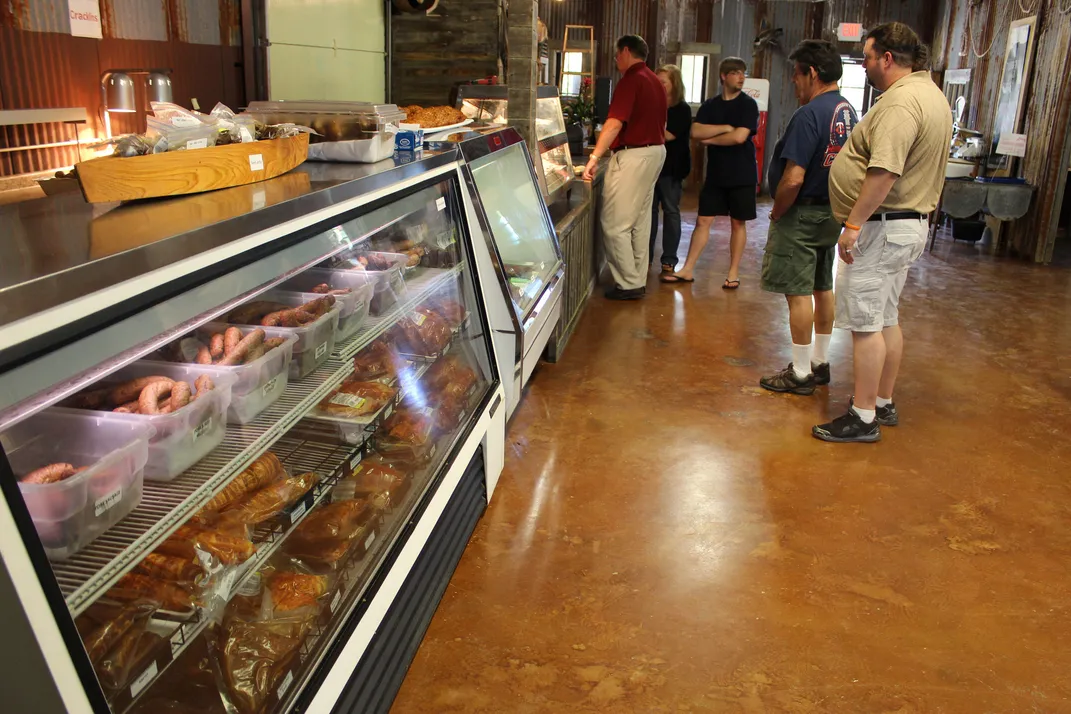 Boudin as a meal can be a bit confusing. Though it comes in linked form, it's traditionally eaten without the casing. Pop that sucker open and pull out the filling. Lasseter suggests spreading it on a saltine or white bread with yellow mustard or hot sauce. Of course, you can also eat it with the casing if you prefer. Or try a boudin ball in which the filling is formed into a meatball shape and deep-fried.
Want to try boudin? You can take a preplanned tour from the Southern Foodways Alliance or the Southwest Louisiana Boudin Trail. Or get your start yourself with these five spots:
The Sausage Link, Sulphur
This Cajun restaurant comes with a gift shop, meat market, and viewing window to watch boudin production behind the scenes. Try your links either mild or hot, but be warned—the mild has a kick all its own. The boudin here is often praised for its snappy casing. As a bonus, get your favorite boudin products shipped to your house so you can enjoy it no matter where you are.
Rabideaux's Sausage Kitchen, Iowa
Rabideaux's is known for specialty meats, deli meats, cracklins, and of course, boudin. Get the sausage smoked or try it as a boudin ball burger. Aside from the boudin, try Rabideaux's quirky selection of fried foods—like deep-fried kabobs and deep-fried corn on the cob.
B&O Kitchen and Grocery, Sulphur
Locals love this part specialty grocery, part take-out shop for its food quality and spectacularly friendly owners. As a special treat, order the stuffed boudin balls—all the boudin ball goodness but filled with various types of cheese. The pepperjack ones get great reviews.
Guillory's Famous Foods, Lake Charles
Known for both its traditional boudin and smoked cracklins, Famous Foods also sells a unique spin on Louisiana's revered sausage. Cornbread boudin trades in rice for cornbread, so it's more like a stuffing sausage than anything else. All the other ingredients remain the same, though.
Johnson's Boucaniere, Lafayette
Go beyond the sausage here—Johnson's offers a sandwich called the Parrain Special. It's a grilled cheese sandwich stuffed with a boudin ball (like the sausage but shaped like a meatball) and the shop's homemade barbeque sauce, then smashed and grilled in a press.