How Puerto Rico Became One of the Caribbean's Top Agritourism Destinations
Across the island, certified sites invite both travelers and local residents to experience farming practices and traditions firsthand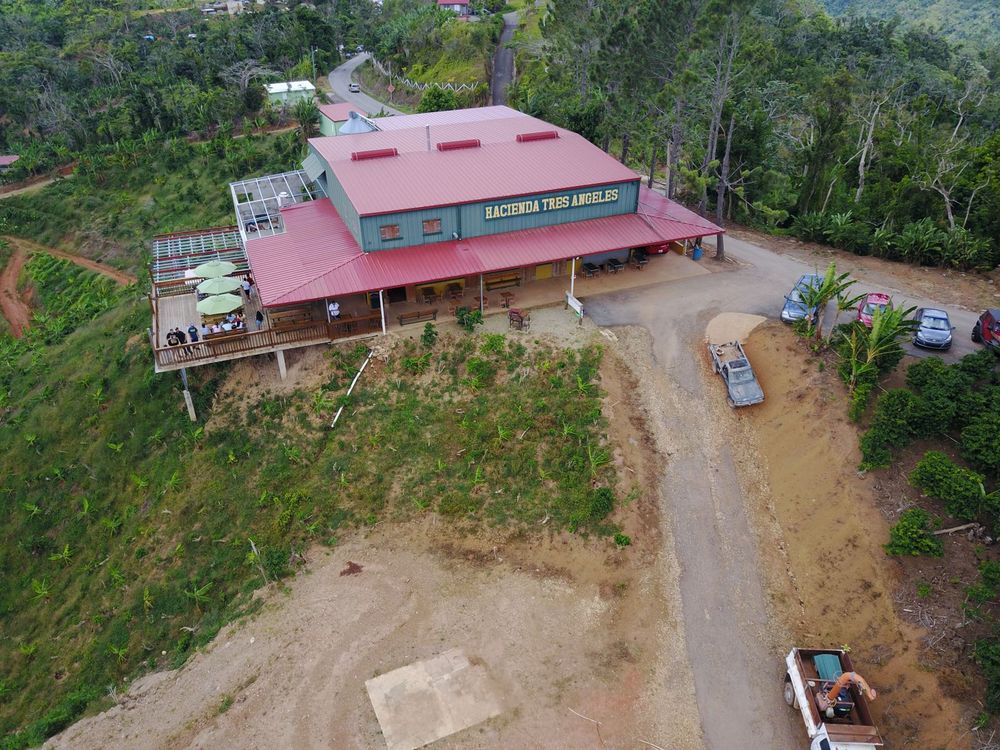 Coffee trees blanket the mountainsides around Puerto Rico's Adjuntas, an inland municipality known for its cool climate, meandering rivers and rolling terrain. The area is home to nearly one third of Puerto Rico's locally consumed coffee.
It's also where you'll find Hacienda Tres Ángeles, a family-owned coffee farm that teaches visitors about the coffee making process from "crop-to-cup." The hacienda's owners, Juan Luis Meléndez Mulero and his wife, Naomi Gomez, run weekly tours of the property, bringing visitors to the fields to teach them about their agricultural practices, and then later offering samples of the finished product. In 2014, Hacienda Tres Ángeles became the island's very first farm certified under what was then Puerto Rico Tourism Company's (PRTC) new agritourism program, an initiative designed not only to introduce Puerto Rico's farming culture and traditions to the outside world, but also to improve farmers' economic stability in the process.
The use of the word "agritourism" can be traced back to Italy's agriturismos—working farms that have been adapted to accommodate guests, whether it's through meals, activites, overnight stays, or a combination of each—that first became popular during the 1970s and '80s. Today, agritourism has become an increasingly popular way for farmers to make ends meet across places like the Philippines, France and the contiguous United States—in many cases, even during the pandemic.
Hacienda Tres Ángeles is one of 32 certified agritourism projects that currently exist throughout Puerto Rico,​​ inviting both travelers and local residents to experience the island's agricultural practices and traditions firsthand through everything from harvesting their own salads to touring a breadfruit processing plant. Not only do these programs (part of the PRTC's larger sustainable tourism initiatives) boast the island's tourism opportunities, but they allow properties to get creative with their offerings and earn some extra income along the way. The agricultural certification program has been especially poignant in the wake of 2017's Hurricane Maria, a Category 4 storm that destroyed 80 percent of the island's agricultural infrastructure and production, according to the Puerto Rico Department of Agriculture.
"We personally lost 85 percent of our harvest and about 40 percent of our coffee bushes," says Meléndez Mulero, "and in the region where we are located, there was no power for almost a year."
Since the hurricane, the PRTC has worked increasingly hard to promote the island's existing agritourism companies. For example, they launched a "One Island, 78 Destinations" campaign to promote internal tourism to island residents, highlighting agritourism-certified spots like Hacienda Tres Ángeles and Cabo Rojo's dragon fruit-growing Hacienda Verde Tahiti, in summer 2021. The tourism company also awarded eight new properties with agritourism certification in October 2021. Among them are the guava-growing El Paraíso Agrícola de Aguas Buenas, and Finca Gaia, which educates guests on the island's native and endemic fauna.
For a property to become certified, it must meet a certain set of qualifications. This includes properly disposing of waste and toxic substances, using efficient means of energy, and finding ways to engage and benefit its local community. Once approved, the company or property can then enjoy the perks that come with accreditation, such as promotion among PRTC's official publications and marketing campaigns, and financial incentives to use toward agritourism offerings, whether it's training local tour guides or purchasing new materials for workshops. A recertification process takes place every two years. "The program opened so many doors for us," says Meléndez Mulero, who saw a sharp increase in tourism once Hacienda Tres Ángeles began appearing on various media platforms and in magazines.
One thing is certain: agritourism allows visitors to take part in Puerto Rican culture in unique and exciting ways. Here's just a sampling of opportunities.
Puerto Rico's equestrian heritage and traditions are alive and well at Hacienda Don Carmelo, a breeding and training facility for Paso Fino horses that offers monthly tours. "I was inspired by the agritourism activities of the equestrian world in Kentucky," says Melba Figueroa, the hacienda's manager and daughter of its founder, Don Carmelo Figueroa Rodriguez, who began building its facilities in the 1980s.
The hacienda occupies 60 acres of rolling hills, ocean views and blooming jasmine on the island's north coast. Each first Saturday of the month, visitors are invited to enjoy a two-hour guided tour of the venue, including its stables and training area, as well as see how the horses, "live, feel, and communicate," says Figueroa. Along the way you'll learn about grooming, horseshoeing and horse nutrition, along with the unique characteristics of different horse breeds. Paso fino horses are known for their light gait. "Being a member of the agritourism industry has been very good for us," says Figueroa. "It's an excellent tool to showcase our culture."
Located 25 miles outside of Old San Juan in the beachside Vega Alta, San Juan Artisan Distillers is the island's first and only artisanal distillery that both grows its own sugarcane and makes rum from that sugarcane, all in one place. Tours offer a front-row seat to the rum-making process, from the extraction of juice to the aging of rums in a bodega. They run twice daily, six days a week, and conclude with a tasting of San Juan's nine distinct labels. These include TresClavos, a rum made with local fresh fruits that are sourced within 50 miles of the estate. "This way we help promote local farmers," says Pepe Alvarez, the distillers' founder and president. "Everything is handcrafted by our crew," he adds, "and we use no added colors, flavors or any kinds of preservatives."
Juan Echevarria and his wife, Maria Mendez, launched Puerto Rico's first commercial cocoa farm in 2009, and a year later they began offering tours and workshops. "Sometimes, only three or five people would show up," says Echevarria, who'd been advertising the events on the company's own social media. Finding it increasingly difficult to turn a profit, the couple applied for PRTC's agritourism certification. Once they became accredited in 2019, "everything changed," Echevarria says. "We were getting many more calls for reservations, not just from locals but from visitors coming from other countries as well."
Visitors can tour the permaculture property​​—a sustainably run plot that mimics natural ecosystems—and learn about Puerto Rico's own cocoa industry, as well as how conservation, climate change and natural habitat can affect it, before indulging in a chocolate tasting. "We are always changing or adding something different to our tours," says Echevarria.
The couple also uses their farm as an example for other Puerto Rico farmers who want to specialize in cacao. Through their "Projecto País," they allow anyone to donate a grafted cacao tree to a farmer in Puerto Rico through a nominal donation. "This initiative will help to develop new cocoa farms across the island," says Echevarria. So far, they've successfully "planted" more than 400,000 trees.
Tucked away in the north coast hamlet of Hatillo, the hub of the island's dairy industry, Vaca Negra has been a game changer in the world of Puerto Rican cheese. Here, microbiologist-turned-cheesemaker Wanda Otero crafts European-inspired, aged cheeses (the island is best known for fresh varieties like queso fresco) made from 100 percent whole milk. The company's six artisan cheeses include the intensely flavorful and aromatic Montebello and the Swiss-like Ausubal.
Vaca Negra hosts public tours each Saturday that teach visitors about the local dairy process and provide a walk-through of the facility, followed by a tasting of both their cheeses and their European-style yogurts, which come in flavors like guava and coconut. The highlight of each tour is the opportunity to make a cheese of your own. Add a mix of spices and herbs, like parsley and garlic powder, stamp it with your initials, and then leave the cheese for aging—a two-month process that takes place in Vaca Negra's cheese cellar. Afterwards, you can have it shipped to enjoy.
Named for the couple's three daughters, Hacienda Tres Ángeles (which means "three angels") hosts reservation-only tours every Saturday of the coffee plantation that delve into the history of Puerto Rican coffee, as well as the hacienda's own agricultural process. The tour offers a look at both the coffee fields and the processing mill, and concludes at the hacienda's own cafe, where participants can sample Tres Ángeles' own freshly roasted coffees, including its Arabica/Caturra—a medium-roast single-origin coffee with flavors of chocolate and honey. "It's a farm-to-cup experience," says Meléndez Mulero.