England's 'Well Dressing' Tradition Features Striking, Elaborate Floral Murals
Also made with other natural materials, the artworks are used to decorate wells and water features around the Peak District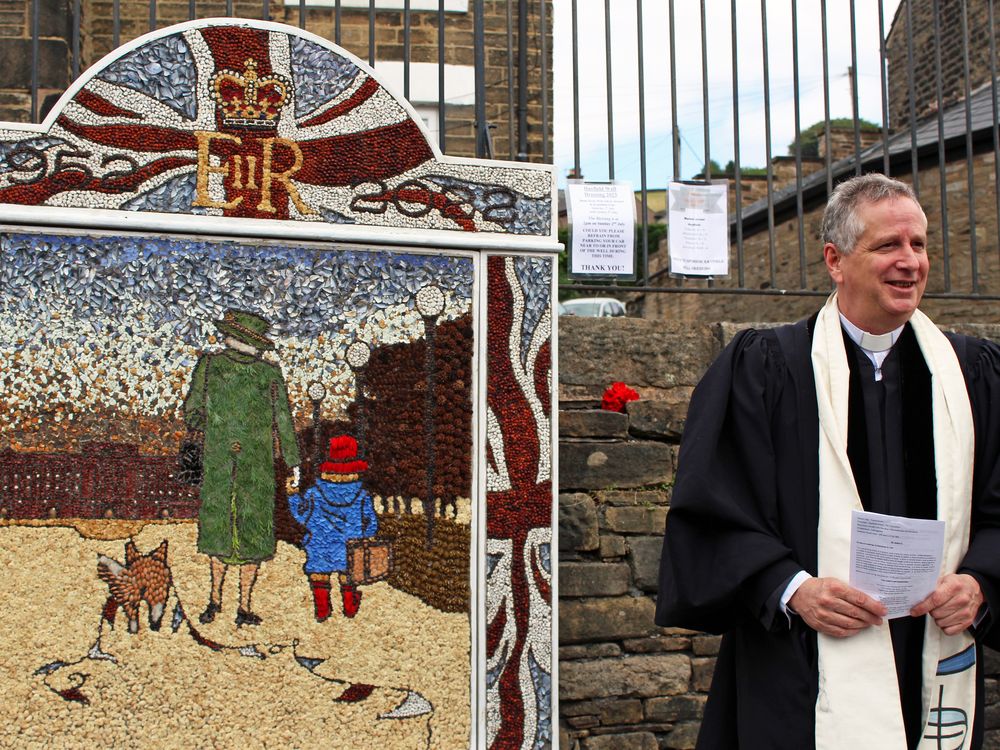 Her hair is a wad of sheep's wool, like the tail of the corgi at her heel, and she wears a long emerald coat made of leylandii, an evergreen that makes for a common hedge in the United Kingdom. A petaled Paddington Bear holds her hand—his hat and wellies made of vibrant red gerbera, his coat blue hydrangea—and they walk along a path of dried chamomile flowers.
If this portrayal of the late Queen Elizabeth II sounds unusual, that's because it's a well dressing. From May to September, over 80 communities across England's Peak District (and a little beyond) create these spectacular natural pictures before placing them by wells and water features.
The mysterious tradition is often linked to the village of Tissington in Derbyshire, where it's thought residents first started decorating their wells to give thanks for fresh water—either in 1348, when they believed their pure source saved them from the Plague, or during a drought in 1615, when the trusty font continued to run. The origins can't be traced any earlier, art historian Rosemary Shirley at the University of Leicester points out in an essay in the journal Landscape Research, though "some commentators speculate on possible Roman or pagan beginnings."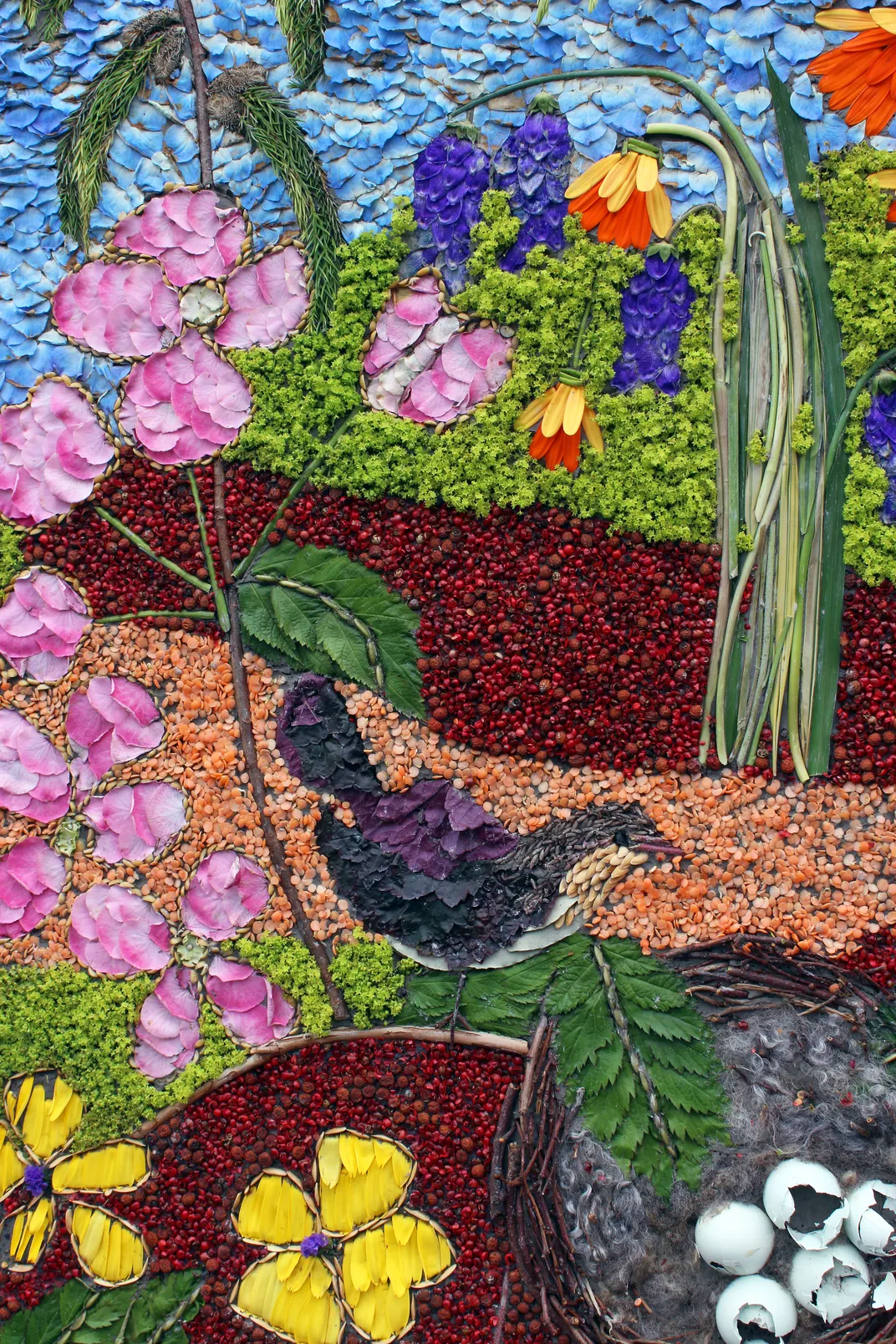 Once simple garlands and wreaths, dressings later became the intricate artworks we see today. In an evocative description of how these are made, Shirley writes:
"Each spring, a week or so before Ascension Day [a Christian holiday commemorating Jesus Christ's ascension into heaven, celebrated 39 days after Easter Sunday], large timber boards, shaped like Gothic church windows, their surface knobbled with the heads of large nails, are dropped into the village pond, where they float, soaking up the brown water until their grain is saturated. Clay, dug from a seam in one of the local fields, is pounded with feet until it is sticky and malleable enough to push into the boards, the nail heads giving some purchase for the slippery mixture of earth and water. The surface is worked until it resembles a wax tablet, smooth and even.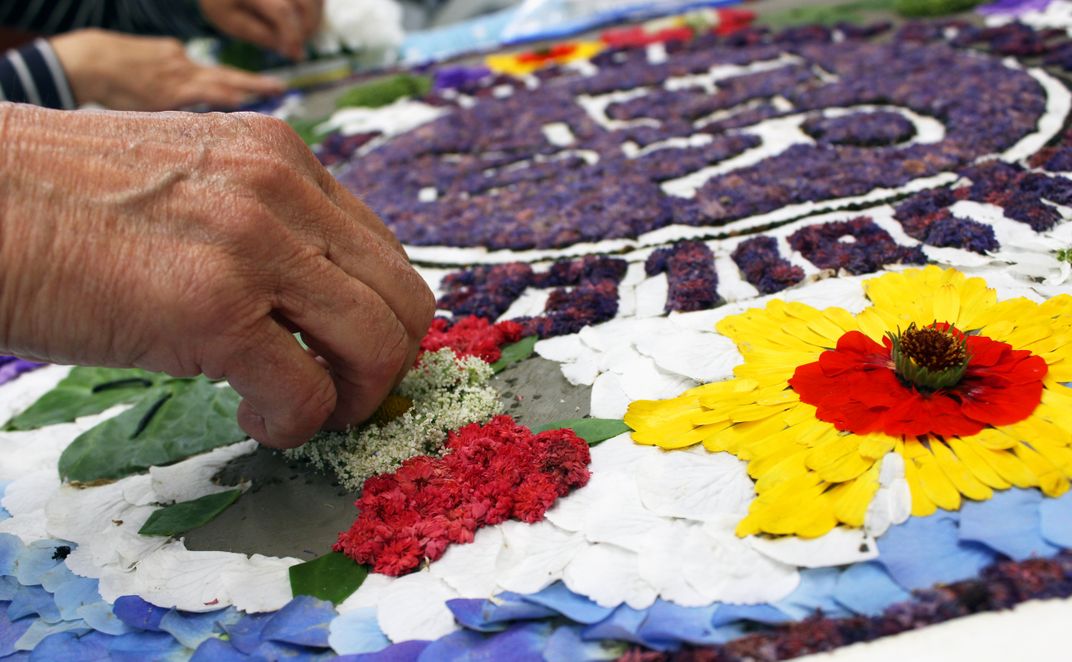 "In stables, sheds and a marquee tent, teams of mainly female workers spend three intense days, fueled by tea and biscuits, preparing the dressings for display. … The design is traced into the clay from original drawings, pricked through the paper in a series of tiny dots. Coffee beans or alder cones are then pushed into these outlines to form the foundation of the design—a process called 'black knobbing.'"
Shirley is describing what happens in Tissington specifically, but the method of using wooden boards packed with clay is found across the well dressing region (now not only much of Derbyshire, but many neighboring counties too). After black knobbing, the picture is filled with a variety of natural materials; watching a well dressing underway in Bollington, Cheshire, last year, I saw everything from sweet corn to sorrel seeds and even dog fur being used. Petals often take pride of place, overlapped and usually pointing downward to allow rain to run off.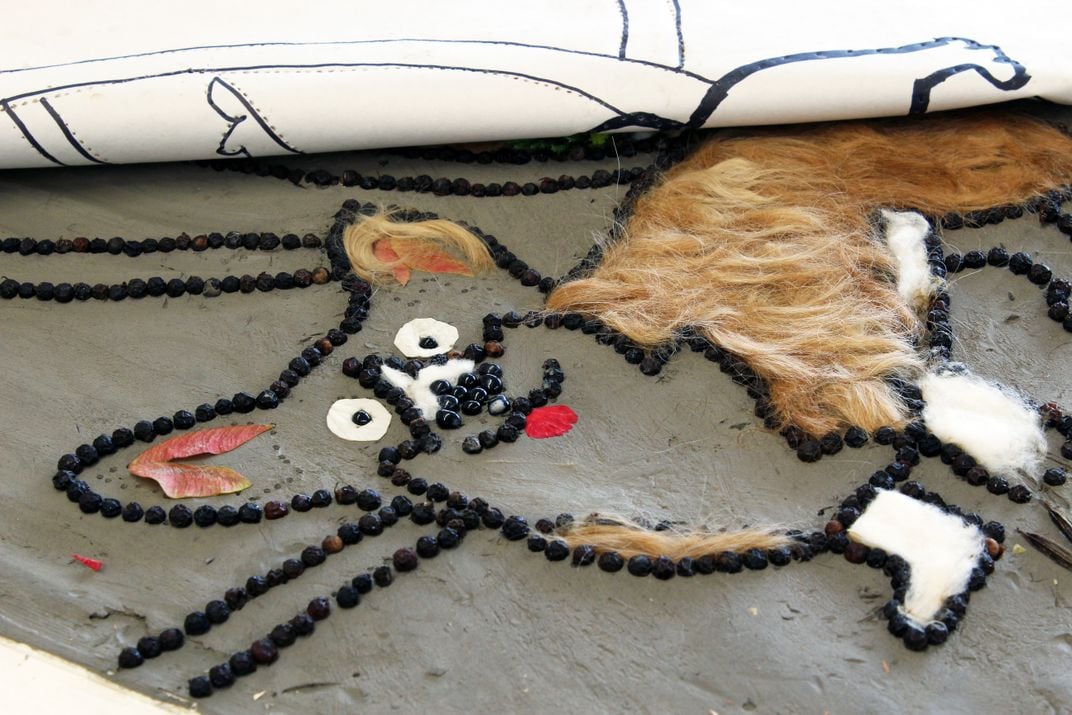 The process is painstaking, so I'm unsurprised when Lynne Bagshaw, secretary of Hayfield Well Dressing, tells me the aforementioned Elizabeth II dressing took eight people over 35 hours to create during my visit in late June; it was then displayed for the first week of July. As the perishable displays are so short-lived, I wonder if—besides preserving a unique custom and briefly exhibiting something beautiful—there's another motivation for the volunteers who make them?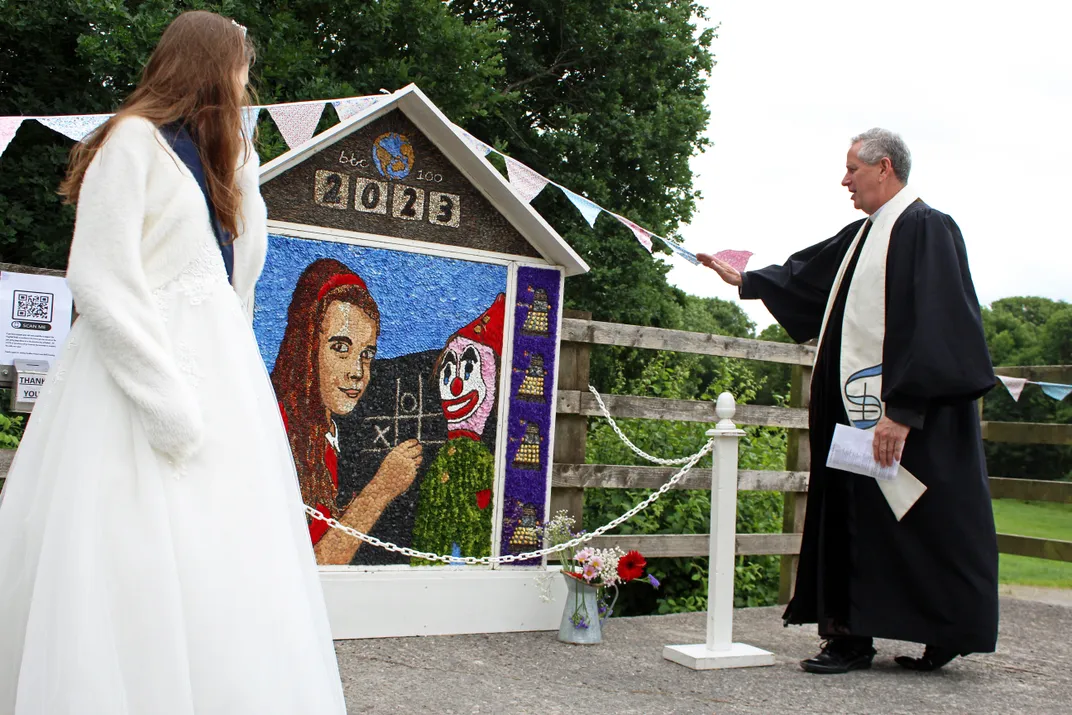 "It's a nice way to get together and meet new people," says Bagshaw's colleague Lorna Young. And she adds that, while some perceive it as cliquey, that's not the case at all. "We've had quite a few new people join this year, and the ladies [referring to the event's longstanding volunteers] have been great at passing on their skills."
Young is well dressing chair in the pretty Derbyshire parish of Hayfield, where I'm attending the annual well blessing: an accompanying practice that began when well dressing was Christianized. As Shirley writes, referencing historian Ronald Hutton, this happened as "the church sought to increase its influence through adopting older pagan festivities." Though the tradition has since become more secular—not least in its designs, which were once mainly biblical and can now range from cultural icons to current events—she adds that it's often still "conceptualized as a Christian celebration and [in villages such as Tissington] linked to the church calendar by Ascension Day." In the same vein, blessings remain part of proceedings in many places, as much about community and heritage as any religious beliefs.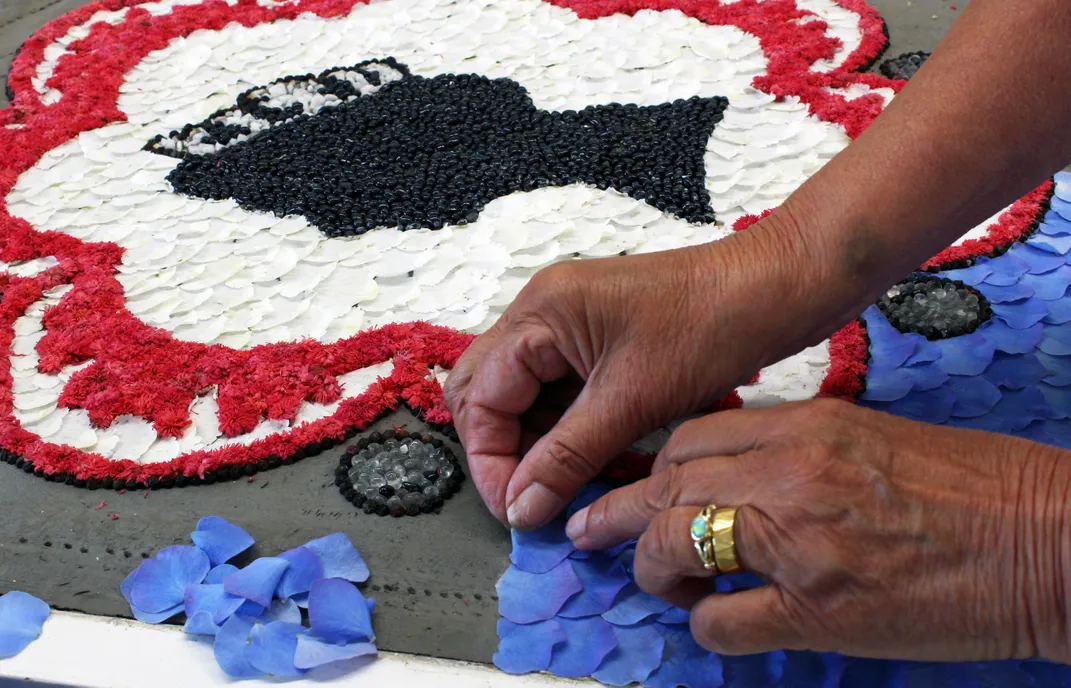 Despite its beauty, this part of north-central England can fall below the radar. So I was intrigued, on first attending the blessing last year, to find out that local reverend Keith Sandow is originally from Atlanta; among our small gathering this year, meanwhile, are two Hong Kong tourists. Also joining the group is 2023 Hayfield May Queen Ava-Grace Ebbrell.
Starting and ending with a hymn, accompanied by a brass band in poppy-red suits, the occasion sees us walk to each of the village's eight dressings, all themed around historical milestones, from the queen's reign to 100 years of the BBC to the Great Fire of London. Hugely imaginative, they span "Doctor Who" Daleks made from mussel and limpet shells to Manchester suffragists set against an evocative purple backdrop of statice.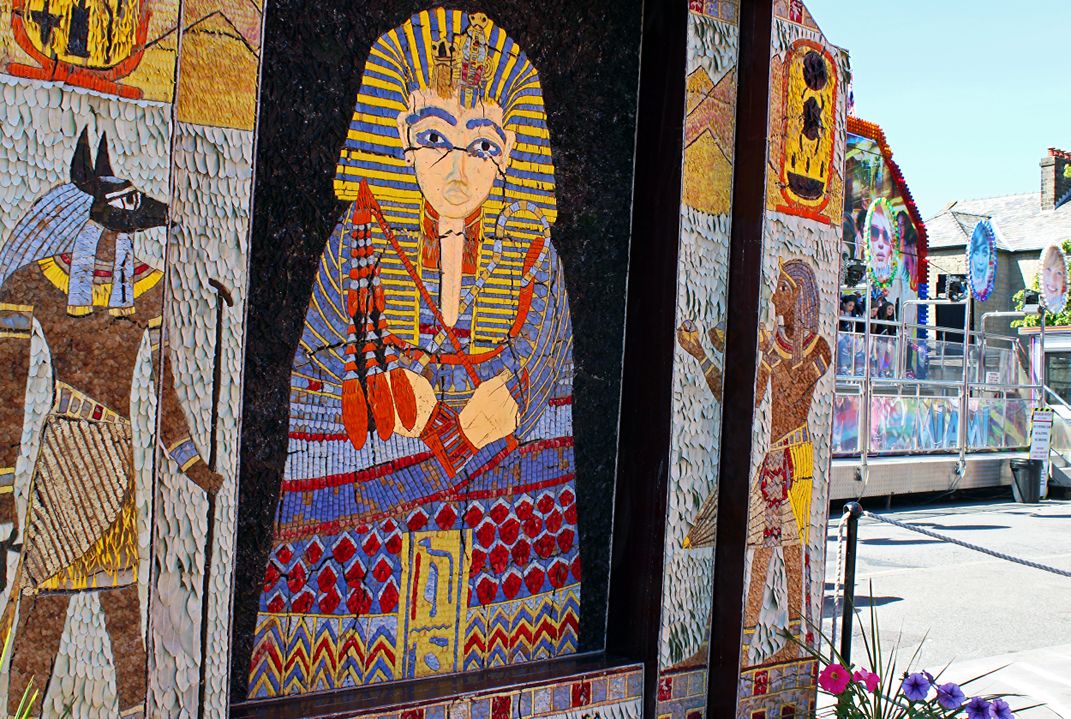 Clearly passionate about his adopted home, Sandow begins by praising each artwork and putting it in context before offering a short benediction.
"Our community spirit knocks it out of the park," he comments at one point, and I'm reminded that togetherness is what it's all about. I think back to the well dressing festival I visited last summer in Buxton, a Peak District spa town that's been famed for its thermal springs since pre-Roman times. The event is now among the biggest of its kind, even including parade floats and a carnival. Initially concerned that the attractions were a distraction from the town's gorgeous dressings, I soon realized they shared the same ideas of camaraderie and coming together.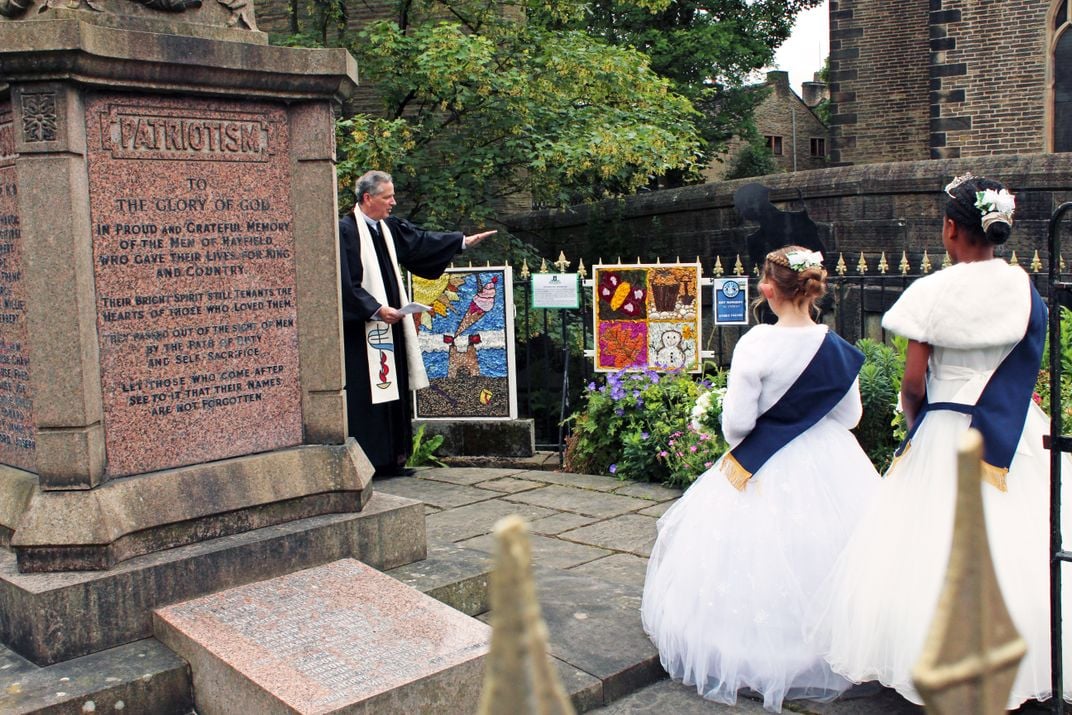 My only worry (besides, perhaps, the lack of male participants) is that well dressing could die out. Schools often get involved by creating a board, but it's undeniable that a majority of the volunteers are retirement age.
Yet, while she admits there are challenges, Shirley is positive when I call to ask her thoughts. "It's spread to so many communities, and remained quite a popular thing for tourists to come and see," she says. "I work on a well alongside a mother and daughter, so sometimes there's a nice intergenerational element too."
Her verdict? "I think it has a bright future," she says.