A Culinary Renaissance in the Israeli Countryside
Beyond Tel Aviv, towns are adopting enticing new approaches to cuisine that celebrate the history of the region and and the diversity of its people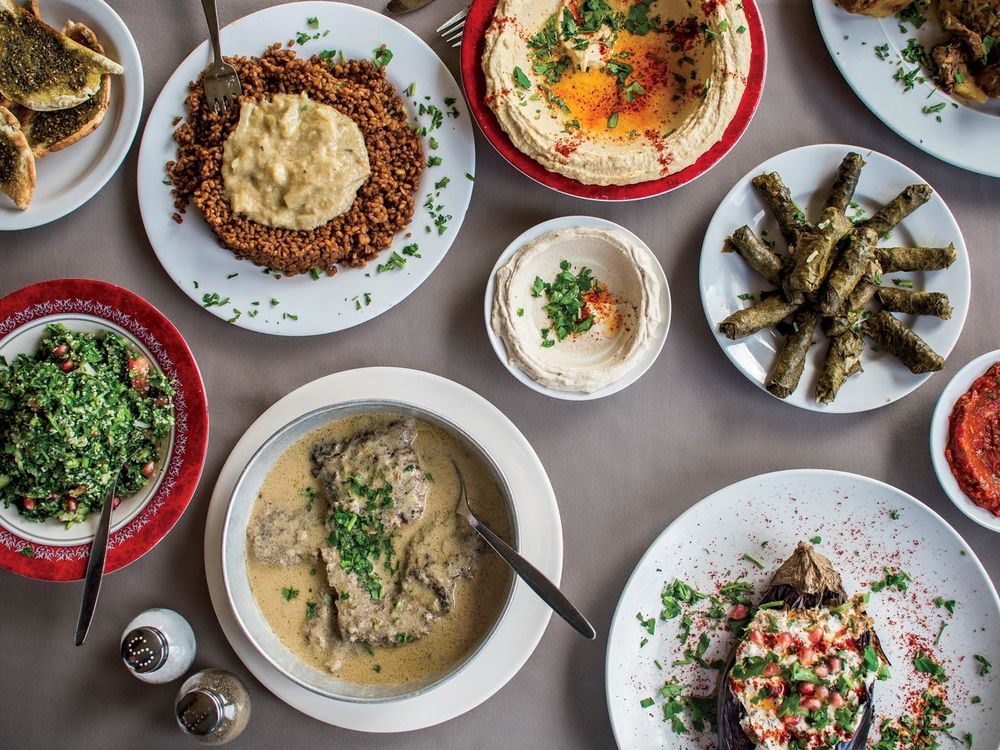 This story originally appeared on Travel + Leisure.
The menu described them as falafel balls. They were shaped like falafel balls. But they were not falafel balls. At least, they weren't like any falafel balls I'd ever tasted, and I've tasted many. During my 30 years of visiting Israel, I have become something of an expert on falafel, and I can tell you that it is a quintessentially humble food. For generations, the people of the Fertile Crescent have been dropping clumps of mashed chickpeas into vats of sizzling oil, and while the recipes vary, they don't vary much. What you don't expect, when you order falafel, is to bite into a rose-gold sphere of succulent shrimp dusted ever so lightly in panko. But that is what you get when you order the falafel at Majda, an acclaimed restaurant in the hills outside Jerusalem. My wife, Lila, and I spent a lovely afternoon on the terrace there last summer, taking the first of many bites on a trip across a country that is in the process of joyfully reinventing its cuisine.
When I visited Israel as a kid in the 1980s, the food was nothing special. My dad grew up on a kibbutz where oranges grew in sprawling groves, but most of the fruit ended up in crates bound for Europe. In the dining hall, the orange farmers stirred orange-flavored syrup into cups of seltzer. Before the tech boom, Israel had no restaurant culture to speak of. The only restaurant I can remember was a grill at a gas station where the no-nonsense servers slapped down steaks tough enough to patch a tire. By then Israeli Jews had developed an infatuation with Arab street food (falafel, hummus, cucumber-and-tomato salat) but hadn't yet become hip to their neighbors' more complex dishes, which weren't commonly served outside the home, like shurbat freekeh, a soup of green wheat, and maqluba, a many-layered casserole of rice, eggplant, potatoes, cauliflower, and sometimes meat. Most Jews were still getting to know the land and what it offered. How was a kibbutznik raised by Polish or Moroccan immigrants supposed to understand what to do with the plumes of sumac that grow wild in the Judean Hills? What did the children of the diaspora know about the mixture of local wild herbs called za'atar?
A generation later, Israeli chefs receive glowing coverage in the world's top food magazines. Most gastronomes worth their Maldon sea salt have heard of Meir Adoni, who helped put Tel Aviv on the international fine-dining map when he opened the celebrated Catit in 2002. Though Adoni closed it and its more playful sibling, Mizlala, last December to concentrate on opening his first New York City restaurant, Nur, he still has two other establishments in Tel Aviv, Blue Sky and Lumina. But while much has been written about Tel Aviv's new culinary temples, the fine cooking of the countryside, where the ties to the land are strongest, is less well known. So when I took Lila to Israel for the first time, we planned a side excursion from Jerusalem to the desert in the south, then to the hills in the north, skirting the urban sprawl in the middle, eating wherever we went.
Religion doesn't interest Lila; I couldn't see her getting excited about a hike up Masada. Fortunately, though, she is fond of the work of Yotam Ottolenghi, the pioneering Israeli-born chef whose 2011 cookbook Jerusalem contributed further to the surge of excitement over modern Israeli cuisine. Thanks to Ottolenghi's brilliant and distinctive way with the multiethnic flavors of his native land, Lila associates Israel not just with God and the Conflict but also with the sultry appeal of smoked eggplant, mashed with a fork and bejeweled with pomegranate seeds. I promised her that there was more where that came from.
**********
In Jerusalem, the sun burned hot and bright, and only the shady maze of the Old City offered an escape. We walked the stone streets, fending off the shopkeepers with their stockpiles of oil lamps and wooden camels. At last it was time to eat. Rather than cede a few shekels to vendors hawking sesame-encrusted Jerusalem bagels (bigger holes, lighter dough), we left the commotion of the city behind.
Olive and pine trees dotted the brown fields. We turned off the highway onto a narrow road and began our crawl through the Arab village of Ein Rafa. We got lost a few times but eventually found it: Majda, a surf shack of a restaurant painted the same shade as the sky, with accents of pistachio green and pomegranate red. Ottolenghi had proclaimed it one of his favorite restaurants in Israel, which seemed to bode well. We sat in the leafy, overgrown garden, where wild herbs and flowers spiced the air and the mismatched tables were topped with salvaged mosaic tiles. Sunlight filtered through the canopy of branches.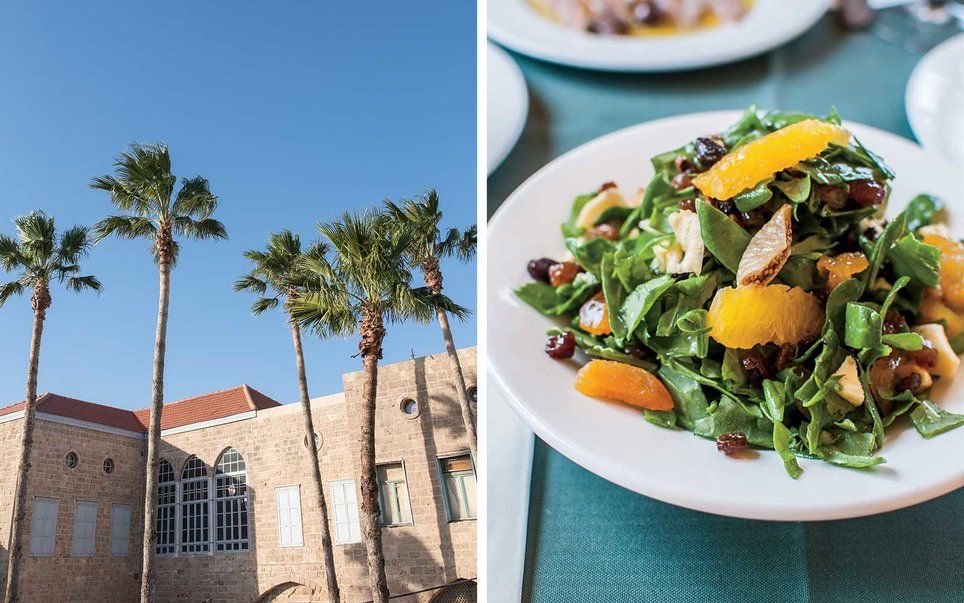 Majda's husband-and-wife owners, Yaakov Barhum and Michal Baranes, are central to its appeal. Barhum is Muslim; Baranes is Jewish. Stories of thriving Arab-Israeli couples are so rare that if the restaurant served only schnitzel, it would be a remarkable place. Suffice it to say, the restaurant doesn't serve schnitzel. We began with that surprising "falafel," then moved on to a flaky white fish crammed gills to tail with woody stalks of herbs. It arrived in a parcel of burnt parchment paper twisted at the ends, with a puffy white blossom for decoration. The cast-iron pan of peppery tomato sauce and fresh sardines was a fishy riff on shakshuka, the beloved Middle Eastern dish of eggs poached in a vegetable ragoût.
After the meal, we wandered into the kitchen, where Barhum greeted us with an easy smile, put down the bowl of harissa he was mixing, and told us about the origins of the restaurant. He and Baranes—who was juggling four or five pans on the stove—met some 30 years ago while working together at a guesthouse at a nearby kibbutz. They fell in love, and she moved to Ein Rafa to live with him. There she began learning traditional cooking from his sisters and mother. Eventually she started to channel their recipes into something new. The restaurant attracted a following in Israel, but its reputation didn't explode until 2013, when Anthony Bourdain featured it on Parts Unknown. Majda is now famous in Israel both for what it serves and for what it symbolizes, and Barhum seemed well aware of his role as an ambassador for cultural harmony both inside the kitchen and out. "When you look at history, Muslims, Jews, Christians always fighting—why?" he asked us. "Why not be gentle?"
**********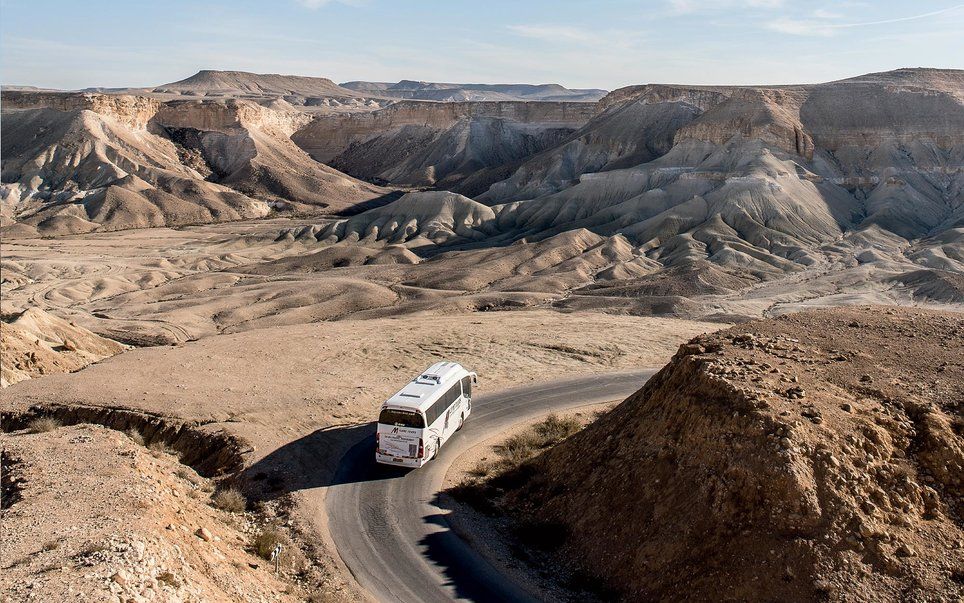 The next day, we drove south into the Negev desert, through scrubby hills that gave way to stubbly wheat fields, which then turned to canyons slashing through barren expanses of rock. The grape vines appeared out of nowhere, tucked into a fold between two parched slopes. Hannah and Eyal Izrael, the founders of Carmey Avdat, built their vineyard 18 years ago on the remains of an ancient Nabatean settlement. Evidently, the Nabateans had figured out how to grow grapes there 1,500 years earlier: the land had been terraced to capture water from the flash floods that sweep across the desert in winter. We stayed in one of the guest huts, in a kind of glamping setup complete with pebble floors and a stone plunge pool just outside the door. Hopping between the pool and a hammock in the shade of a fig tree was a relaxing way to wait out the heat. When the immobilizing sun finally began to sink behind the rocky outcrop overlooking the farm, we ventured down to the winery for a tasting.
Most Americans' ideas about Israeli wine don't go beyond the syrupy stuff you might knock back at Passover. But over the past two decades, acclaimed boutique vintners have sprung up throughout the country. A decade ago, Robert Parker, the high priest of wine critics, gave top marks to two Israeli wines, including the 2003 Yatir Forest, a red from a winery an hour north of Carmey Avdat. I'm no Robert Parker, but the Chenin Blanc from Shvo Vineyards I had with dinner one night in Tel Aviv was light and floral and, all in all, pretty damn good. Though Carmey Avdat helped launch the wine trend in Israel, it isn't at the level of some of the country's newer labels. But it gets the job done. We grabbed a carafe and hiked up a sandy slope scattered with boulders and scrub grass that overlooked the vineyard. Previous travelers—Nabateans, bedouins—had scratched inscrutable symbols onto the stones. Night was approaching, and the desert, stretching as far as the eye could see, was turning gold.
**********
At the shuk in Jerusalem, we had stocked up on snacks for the road trip: dried pineapple, salty- sweet banana chips glazed with date juice, and dried hibiscus growers, garnet-colored and just tart enough to summon memories of the Sour Patch–fueled road trips of our youth. Our route passed through the ruins of infrastructure built for much earlier road-trippers. We stopped to tour what was left of Avdat, a city founded in the third century B.C. by Nabatean incense traders passing through the Negev on camels.
From there, we drove up the coast, past Tel Aviv, toward Habait Be'EinHud, a showcase of traditional Palestinian cooking in the Arab village of Ein Hawd, near Haifa. There are two things that are challenging about eating at Habait. The first is getting there. Google Maps guided us only as far as a town in the valley below. As the road thinned and the pines and cedars thickened, the nice lady in my phone instructed us to "take a right at missing name." Locals directed us to the restaurant, a two-story block of concrete and glass with a sweeping view of the hills and the sparkling Mediterranean beyond. Our server, wearing a T-shirt that said #GIRLBOSS, announced that there was no menu. Then the marathon began.
First came cold salads and dips—hummus, baba ghanoush, pickled cauliflower and carrots and olives, tabbouleh that consisted almost entirely of parsley, spicy red mahoumarra. Then lentil soup, bright and complex, its broth so fresh I would not have been surprised to find the head of a chicken still blinking at the bottom of the bowl.
I glanced at the bread basket and saw that our server had provided only a single pita. Naively, I asked for more. #GIRLBOSS gave us a sideways look before retreating to the kitchen. I would soon understand why.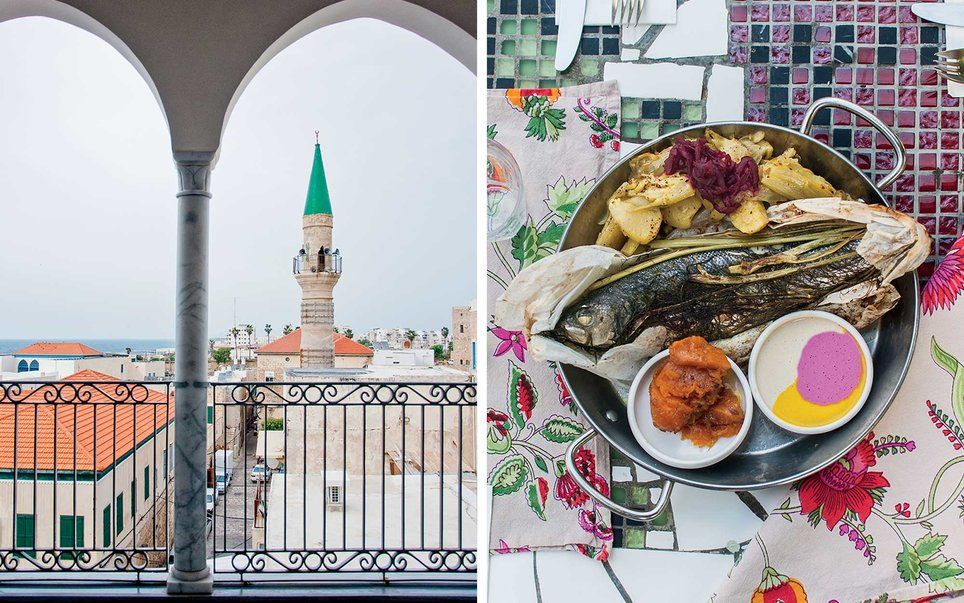 The hot appetizers included cigars of rice rolled in vine leaves as delicate as nori and stuffed peppers bathed in tomato sauce. Then came the roast chicken with a dipping sauce of piney herbs. And the chunks of slow-cooked lamb snuggled against a golden cupola of rice. And the misshapen, nutty lamb cakes drowned in tahini-thickened gravy.
By now, you can probably guess the second thing that is challenging about eating at Habait.
"I think there is no more," our server announced after we confessed that we were feeling full.
Oh, but there was. Despite her promise, she set down four more plates before finally leaving us. By the end of two hours, we had somehow vanquished most of 30 dishes.
As we staggered out of the restaurant, an Israeli tour bus pulled up. Israelis—Jewish Israelis—love Arab cooking. Maybe it has something to do with a hunger for a certain kind of authenticity, a visceral connection to the land that the Jewish people only dreamed of during all those years in exile eating matzo ball soup. Whatever the reason, Ein Hawd has benefited from Habait's popularity in at least one unexpected way. The village got connected to the electrical grid only 10 years ago, after an executive from the national power company came to the restaurant for lunch and learned that her amazing meal had been cooked on a stove powered by a generator.
**********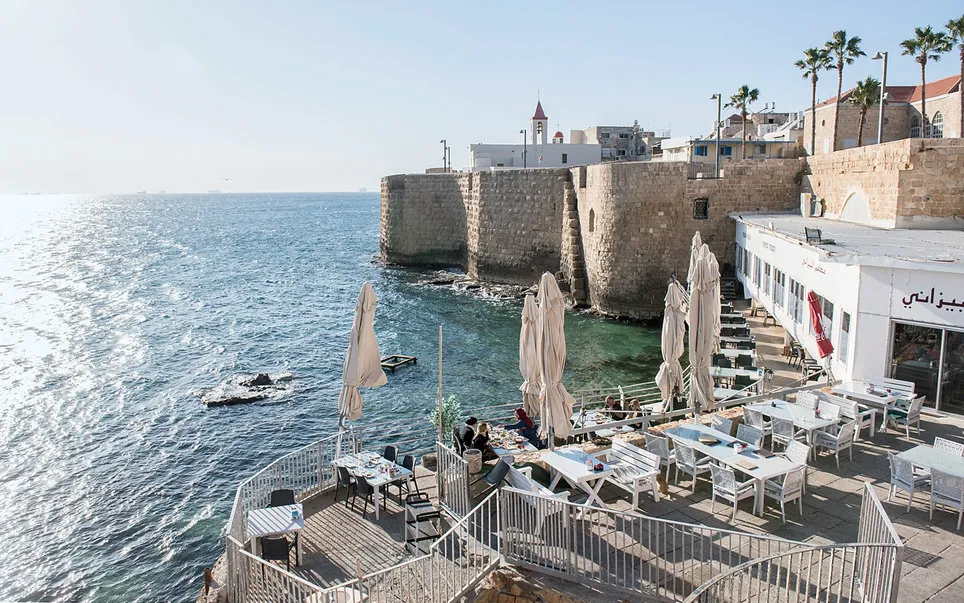 We continued on to Akko, also known as Acre, an ancient walled city on the sea near the Lebanese border. The route followed the dips and curves of the Mediterranean coast before plunging into a tunnel bored through Mount Carmel, the ridge that lies just below Haifa, Israel's third-largest city. We stopped at a lively beach nestled in the hammock of shoreline between Haifa and Akko, where locals snacked on watermelon and puffed on hookahs. Sitting there, listening to the competing streams of techno surging from the sound systems of multiple cafés, we could see the medieval contours of Akko in the distance, the old clock tower and the pine-green minaret rising above the rough stone houses and the famous seawall. The city is known for an unusual coming-of-age tradition: boys become men in the eyes of their friends by diving 30 feet from that wall into the sea. As we strolled along the top of the wall that evening, we saw a young man take a running leap and plunge head-first into the waves.
Come morning, fishmongers would set out plastic crates of their gleaming catch in the snaking stone alleyways of the shuk, and in the little dens built into the walls, hummus maestros would dole out bowls of the famous Akko version—chunky, with a topping of whole boiled chickpeas and minced parsley. Akko is what is known in Israel as a "mixed city," home to Muslims, Christians, and Jews. During the Crusades, it served as the main port for traders bearing goods bound for Jerusalem, and it retains the relatively open-minded sensibility of port cities everywhere. That spirit of inclusivity is what inspired the chef Uri Jeremias to make it his home. "We should live together," he explained after our meal, "because there is no other choice."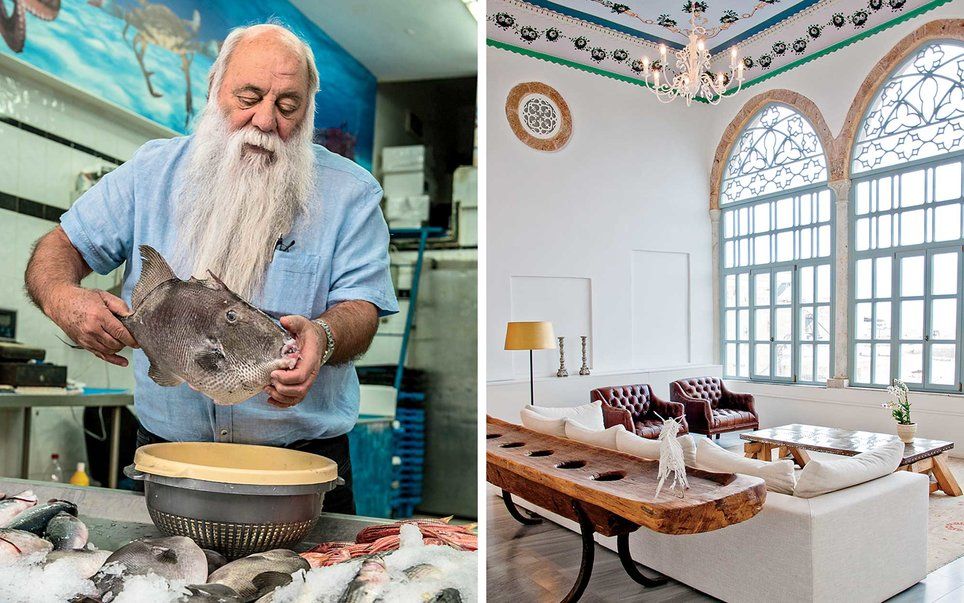 Jeremias, a Buddha with a Moses beard, had never worked in the food industry before opening Uri Buri in 1989. The restaurant has since become renowned for unpretentious seafood that defies categorization, ethnic or otherwise. As Jeremias explained, "What the dishes have in common is that I like to eat them." We agreed to let the kitchen choose our dishes, omakase-style. Each featured a surprising combination of the freshest ingredients, simply prepared. We had the sense that Jeremias was toying with our assumptions about what Israeli food should be. How else to explain the flash-seared nuggets of tuna in a creamy sea of olive oil and yogurt? Who but a trickster deity of the kitchen would have looked at a plate of thinly sliced salmon, soy sauce pooling in the gentle folds, and thought, What this needs is a scoop of wasabi ice cream?
In 2012, Jeremias opened a hotel near Uri Buri called the Efendi: 12 airy rooms in a painstakingly refurbished Ottoman palace. Nearby, he has an ice cream shop, Endomela. He took us there the morning after our dinner to sample flavors like cardamom and guava. I had never tried cardamom ice cream before, not in Israel, not anywhere, and like so many of the things I'd tasted on the trip, it made me think about how much the country's cuisine had evolved since the days of orange syrup on my father's kibbutz. Later, in the marble lobby of the Efendi, I asked Jeremias if he had changed his own cooking since opening Uri Buri back in that era. Frowning and placing his hands on his belly, he invoked an ancient Hebrew expression: "God forbid if not."
**********
The Details: What to Do in Today's Israel
Hotels
Akkotel: This 16-room boutique hotel is embedded within Akko's old city wall. The rooftop café offers a superb view of the skyline and the Mediterranean. akkotel.com; doubles from $200.
Carmey Avdat Farm: Built on the site of a 1,500-year-old Nabatean settlement on the historic spice route through the Negev desert, this working farm near Sde Boker includes a winery and six modest but comfortable cabins with stunning desert views. carmeyavdat.com; doubles from $174.
Efendi Hotel: A hotel situated within a pair of renovated Ottoman-era mansions in Akko run by restaurateur Uri Jeremias. It has 12 rooms with preserved trompe l'oeil ceilings, a restored 400-year-old hammam, and a 900-year-old cellar turned wine bar. efendi-hotel.co.il; doubles from $330.
Restaurants
Endomela: Jeremias's ice cream shop in Akko, up the street from his restaurant, Uri Buri, is a showcase for flavors native to Israel—including cardamom, rose water, and halvah. Ha-Hagana St.; 972-4-955-0481.
Habait Be'EinHud: Inside this hidden gem in Ein Hawd with sweeping views of the Mount Carmel range and the sea, there is no menu, only an endless parade of deliciously authentic Palestinian meze and meat dishes. 972-53- 809-4937; $31 per person.
Majda: This diminutive, unpretentious restaurant in Ein Rafa, in the hills outside Jerusalem, has earned an outsize reputation thanks to its playful way of turning regional staples—from falafel to kebabs—on their heads. majda.co.il; entrées $21–$35.
Uri Buri: The Uri is for owner Uri Jeremias, while the Buri is for fish. And fish—along with a choice of more than 80 Israeli wines—is what you'll get at this spot in Akko overlooking the Mediterranean. It's prepared in creative ways that reflect the sensibilities of the chef. Ha-Hagana St.; 972-4-955-2212; entrées $18–$35.
Other articles from Travel + Leisure: