A Brief History of Ireland's Fortune-Telling Mashed Potato Dish (Recipe)
Try your luck with this side, traditionally served on Halloween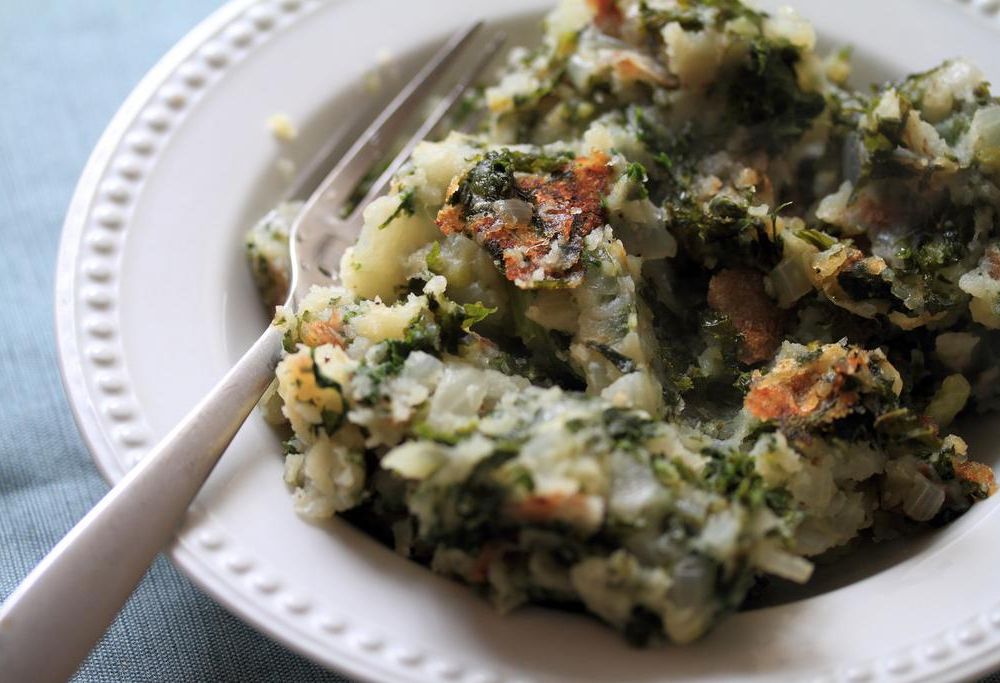 The humble potato's introduction to Ireland is pretty murky, even though we now know it as a staple of Irish cuisine. Two theories exist regarding its origin, according to Chef Noel McMeel, from Lough Erne Resort in Northern Ireland. One is that Sir Walter Raleigh planted Ireland's first potato in Youghal, County Cork, in the 17th century. But, McMeel tells Smithsonian.com, that's impossible—Raleigh was already deceased when the planting was supposed to have happened. The other theory sees the potato arriving to Ireland by accident in 1588, crashing onto the western shore aboard a wrecked Spanish armada ship.
However the potato might have come to Ireland, though, by the 1700s it was an integral part of meals for at least a third of Ireland's population. By the mid-18th century—as lecturer and chef Dr. Máirtín Mac Con Iomaire from the Dublin Institute of Technology, tells Smithsonian.com—colcannon, a side dish of mashed potatoes mixed with garden-grown kale or cabbage, had emerged as a staple food. The ingredients joined ancient and modern Ireland; the ancestral diet in the country was heavy on kale and cabbage, and colcannon combined them with the more modern potato to create something hearty and filling that would keep the workingman satiated for a decent stretch of time.
The dish became such an adored part of Irish cuisine that children's songs have been written about it. The lyrics vary depending on who's singing, but Mac Con Iomaire shared this version:
Excerpt from "The Auld Skillet Pot":
Well, did you ever make colcannon made with lovely pickled cream
With the greens and scallions mingled like a picture in a dream
Did you ever make a hole on top to hold the 'melting' flake
Of the creamy flavoured butter that our mothers used to make
Oh you did, so you did, so did he and so did I
And the more I think about it, sure the nearer I'm to cry
Oh weren't them the happy days when troubles we knew not
And our mother made colcannon in the little skillet pot
Colcannon was first referenced in Irish history in a 1735 diary entry of William Bulkely, a traveler from Wales who had the dish on Halloween night in Dublin: "Dined at Cos. Wm. Parry, and also supped there upon a shoulder of mutton roasted and what they call there Coel Callen, which is cabbage boiled, potatoes and parsnips, all this mixed together. They eat well enough, and is a Dish always had in this Kingdom on this night."
Colcannon is indeed a traditional dish for Halloween, a holiday which has ancient Celtic and Irish origins. The food joins a litany of fortune-telling snacks always served that day. For colcannon in particular, a coin, rag, stick or other item was cooked inside, and whatever "trinket" you found in your potatoes predicted your future. A coin meant wealth in the coming year, a rag meant poverty and a stick meant your spouse was going to beat you, Mac Con Iomaire said. Trickets and interpretations varied by area.
Try your hand at some fortune telling of your own this Halloween with one of these two recipes from McMeel and Mac Con Iomaire.
Colcannon Cakes
Recipe provided by Chef Noel McMeel; Lough Erne Resort in Enniskillen, Northern Ireland
Ingredients
1 pound potatoes, washed
5 tablespoons butter
1/3 pound spring cabbage or curly kale from the garden, finely chopped
1 egg, beaten
3 tablespoons plain flour
1 pinch salt and fresh ground black pepper
3 tablespoons water
Method
Cook the potatoes for about 25 minutes in boiling salted water, until soft. Peel while they are still warm. Mash and add 1.5 tablespoons butter.
Bring saucepan to a medium heat, add the cabbage with 3 tablespoons of water and remaining butter, cook until tender. Using so little water keeps the vitamins contained, as cabbage is 90 percent water.
Fold the cabbage through the potatoes; bind the mixture together with a beaten egg and season with salt and freshly ground black pepper.
Shape into one-inch round potato cakes, dip in flour and shake off any excess.
Heat the butter in a frying pan and fry the cakes until golden. Drain on a paper towel and serve straight away.
Kale Colcannon
Recipe provided by Dr. Máirtín Mac Con Iomaire; Dublin Institute of Technology

Ingredients
2 pounds floury potatoes
1 pound chopped kale
4 scallions
1/2 cup butter
1 cup milk
Salt and pepper to taste
Method
Steam or boil the potatoes until tender. Drain well and let them dry out for a few minutes.
Melt half the butter in a pan and sweat the kale for a few minutes.
Boil the milk and the remaining butter. Add in the chopped scallions and the sweated kale, then mix in on top of the potatoes and mash the lot together.
Season with salt and pepper and serve like the song suggests by making a well on top and adding a flake of creamy butter to it and watching it melt.