The Uniquely Texan Origins of the Frozen Margarita
A Dallas restaurant owner blended tequila, ice and automation. America has been hungover ever since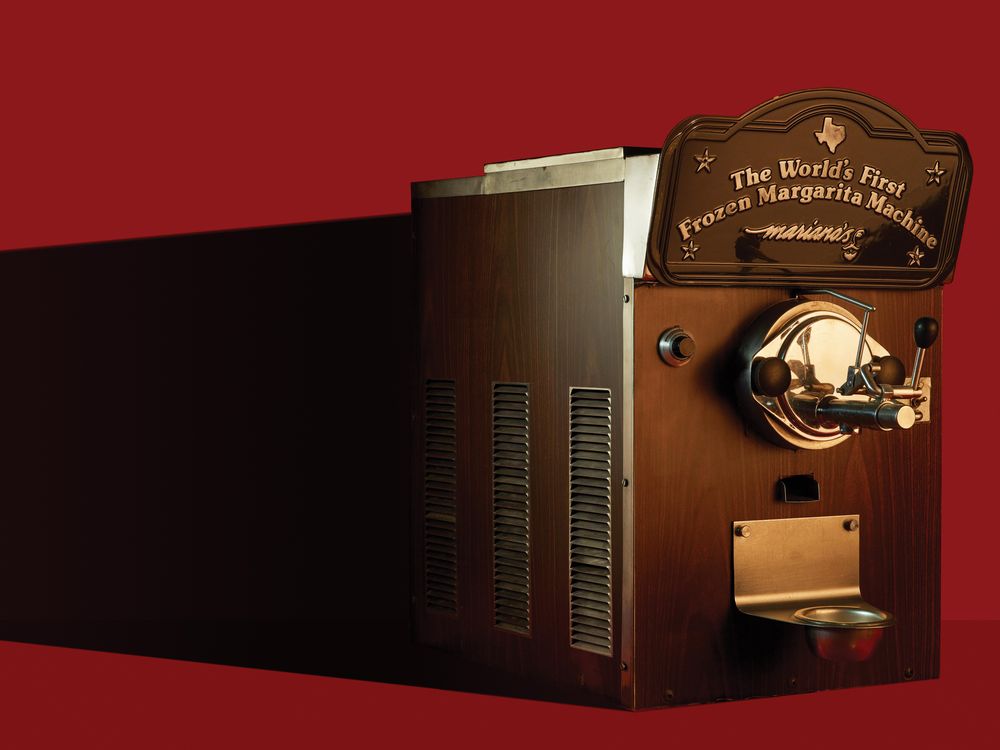 The way Mariano Martinez tells it, accounts of the margarita's beginnings should be taken with a grain of salt—and a wedge of lime. Martinez is the creator of what is arguably the 20th century's most epochal invention—the frozen margarita machine—and, at the age of 73, the Dallas restaurateur is an indisputable authority on the cocktail in the salt-rimmed glass.
The origin stories date to the '30s and tend to feature a Mexican showgirl or a Texas socialite and a bartender determined to impress her. One of Martinez's favorites involves a teenage dancer named Margarita Carmen Cansino who performed at nightclubs in Tijuana. "After Margarita got a contract from a Hollywood studio, she changed her name to Rita Hayworth," he says. "Supposedly, the drink was named in her honor."
When it comes to margarita lore, about the only thing for certain is that on May 11, 1971, Martinez pulled the lever on a repurposed soft-serve ice cream dispenser and filled a glass with a coil of pale green sherbet—history's first prefab frozen margarita. The beverage was teeth-chatteringly cold with a proper tequila face-slap. Happy hour (and hangovers) would never be the same.
By adapting mass-production methods to blender drinks, Martinez elevated the frozen margarita from a border-cantina curiosity to America's most popular cocktail. The innovation forever changed the Tex-Mex restaurant business (placing bars front and center) and triggered the craze for Tex-Mex food.
Befitting a musician who once recorded three versions of "La Bamba" on an EP titled Lotta Bamba, the convivial Martinez has a fresh, boyish manner and a beaming smile. He grew up in East Dallas, where at age 9 he started bussing tables at El Charo, his father's Mexican eatery. "The customers were mostly Anglos who often had no idea what tequila was," he recalls. "They'd show up with a souvenir bottle a friend had brought back from a vacation in Mexico, and ask my dad, 'What do we do with this?'"
Though at the time liquor couldn't be sold by the drink in Texas restaurants, the elder Martinez occasionally would whip up frozen margaritas in a blender for his patrons. (Introduced at a 1937 restaurant show in Chicago and bankrolled by bandleader Fred Waring, the humble Waring Blendor revolutionized bar drinks.) The elder Martinez used a recipe gleaned while working at a San Antonio speak-easy in 1938: ice, triple sec, hand-muddled limes and 100 percent blue agave tequila. The secret ingredient was a splash of simple syrup.
In 1970 an amendment to the state constitution made liquor by the drink legal, in cities or counties when approved in local-option elections. Shortly after Dallas voted yes, the younger Martinez launched Mariano's Mexican Cuisine in a shopping center near the campus of Southern Methodist University. On opening night, the amiable owner appeared in a bandido costume. And customers, serenaded by a mariachi band, were encouraged to order margaritas made from the old family recipe. Libations were poured faster than you could say "One more round." The second night wasn't quite as successful: A barfly cornered Martinez and asked, "Do you know how to make frozen margaritas?"
"Oh, sure, sir, the best," he answered.
"Well, you'd better speak to your bartender. The ones he's making are terrible."
As it turned out, the barman was so overwhelmed by the sheer volume of margarita orders that he was tossing ingredients into the blender without measuring them. Tired of slicing limes, he threatened to quit and return to his former job at a Steak and Ale, where the most complicated cocktail was a bourbon and Coke. "I saw my dream evaporating," Martinez says. "I thought, 'My restaurant will go bust and I've screwed up Dad's formula.'"
The next morning while making a pit stop at a 7-Eleven, Martinez had a eureka moment: "For better consistency, I'd premix margaritas in a Slurpee machine. All the bartender had to do was open the spigot.'" But 7-Eleven's parent company refused to sell him the contraption. "Besides," Martinez was told, "everyone knows alcohol won't freeze."
Instead of wasting away in Margaritaville, he bought a secondhand soft-serve ice cream machine and tinkered with Dad's recipe. Diluting the solution with water made the booze taste too weak, but adding sugar produced a uniform slush. Martinez had struck gold. "Cuervo Gold!" he cracks. The sweet, viscous hooch was such a hit that when Bob Hope performed at SMU in the '70s, he joked about the margarita he'd just ordered at Mariano's: "I won't say how big it was, but the glass they serve it in had a diving board on it. And they salt the edge of the glass with a paint roller."
Martinez's original machine cranked out 'ritas for a decade before sputtering to a halt. Though he never received a patent or trademark for the device, it has a place in his heart and, since 2005, in the Smithsonian National Museum of American History. "The credit belongs to heritage and technology," he says. "The golden ratio was two parts of the past and one of the present."