Rick Bayless Preaches the Gospel of Modern Mexican Cuisine
The trail-blazing Chicago chef and cookbook author wins the second annual Julia Child Award and makes a donation to the Smithsonian
Hold on to your tortas! In a big night for the culinary world, Mexican food impresario Rick Bayless will be awarded the second annual Julia Child Award at the National Museum of American History's Food History Gala on October 27, an evening that kicks off the Smithsonian's jam-packed annual Food History Weekend.
Bayless, whose innovative Chicago restaurants blazed the trail toward wider acceptance of south-of-the-border cooking, has much in common with the celebrated Julia. He too is a prolific cookbook author and host of an acclaimed public television show, and he too has a mission to educate. In the same way that she spread the word about French cooking, he preaches the gospel of Mexican food, in all its diverse glory.
Bayless will be feted at the National Museum of American History in Washington, D.C., by Scott Simon of National Public Radio, noted food journalist Kim Severson of the New York Times, and Spanish chef-star José Andrés.
Not only has Bayless created a mouth-watering menu of shrimp-scallop ceviche and carne asada for the gala dinner, but he's also donating archival materials from his career—including a typewriter used in his early fieldwork in Mexico—to the museum's collection, which features Julia's much-loved kitchen.
Long before Bayless opened his award-winning Topolobampo in 1991 or transformed the reputation of airport dining forever when he started serving delicious Mexican sandwiches at Tortas Frontera at O'Hare International Airport, he was a food-obsessed kid growing up in Oklahoma.
"I come from the fourth generation of a family of food people," recalls Bayless. "My great-grandparents had the first grocery store in the state of Oklahoma, and I grew up in a barbecue restaurant. I loved being in the prep kitchen all by myself, imagining what I would do with this or that ingredient. When I was maybe 6 or 7, I would hang out in the walk-in. People would laugh and say: 'Oh, Rick's doing his experiments again.' "
But in spite of the fact that his childhood playroom was an industrial-size walk-in refrigerator, it was the vision of Julia on television that played a pivotal role in his life. "The first thing I ever made was from a Julia recipe: I made Napoleons when I was 11. I made the puff pastry. I made the pastry cream. I made it all from scratch. I used to sit in front of the TV with a notebook—I can still see the brand name on the cover, "Big Red" —and I filled it with notes from her show."
And that wasn't the only Julia-related dish that looms large in Bayless' gastronomic memory chest.
"Every summer, I would cook a big, exotic meal for my family from a spiral-bound cookbook given to me by a neighbor. My family was all about real traditional cooking—they never wanted to sit through my meals. Crisp tender green beans were, to them, undercooked!"
Then, around the same time as his foray into the universe of puff pastry, Bayless saw the televised Julia making lamb chops. "I found out where there were lamb chops in our town—at a fancy grocery store in a really swanky part of town. They had delivery service. So I ordered lamb chops to be delivered. When my mother found out, she said: 'You did what?' It turns out that my father, who had been in World War II, had had to eat a lot of mutton, and he really hated lamb."
It took a few more years for Bayless to home in on Mexican food and on cooking as a career. He started out as anthropologist and must be one of the best-educated chefs around. His undergraduate degree was in Spanish language and literatures and Latin American culture, and his graduate work focused on linguistics within the department of anthropology at the University of Michigan. Yet eventually he found his way back to the stove.
"I didn't really fall in love with Mexican food in particular until I was in graduate school. I went to Mexico for the first time when I was 14, and after that, I went back once a year, on school trips. I was always very interested in the relationship between language and culture."
But even while he was following his intellectual passions and pursuing his Ph.D., Bayless admits, laughing: "I was super-interested in pastry."
Eric W. Spivey, chairman of The Julia Child Foundation for Gastronomy and the Culinary Arts, thinks that Bayless is the perfect next recipient of the Julia Child Award. "Bayless has championed educating Americans about eating authentic Mexican food, just as Julia did with authentic French food," he notes. "We created this award to identify one individual each year who carries on the culinary torch that Julia so proudly bore."
An independent jury of gastro-luminaries decides annually who that torch-bearer will be, and the recipient receives a $50,000 grant. Bayless' prize will go to his nonprofit Frontera Farmer Foundation, which supports small, sustainable farms in the Midwest. This year's jury included chefs Jim Dodge (a good friend of Julia's), Jasper White and Nancy Silverton; food scholar Darra Goldstein; and food writer Russ Parsons.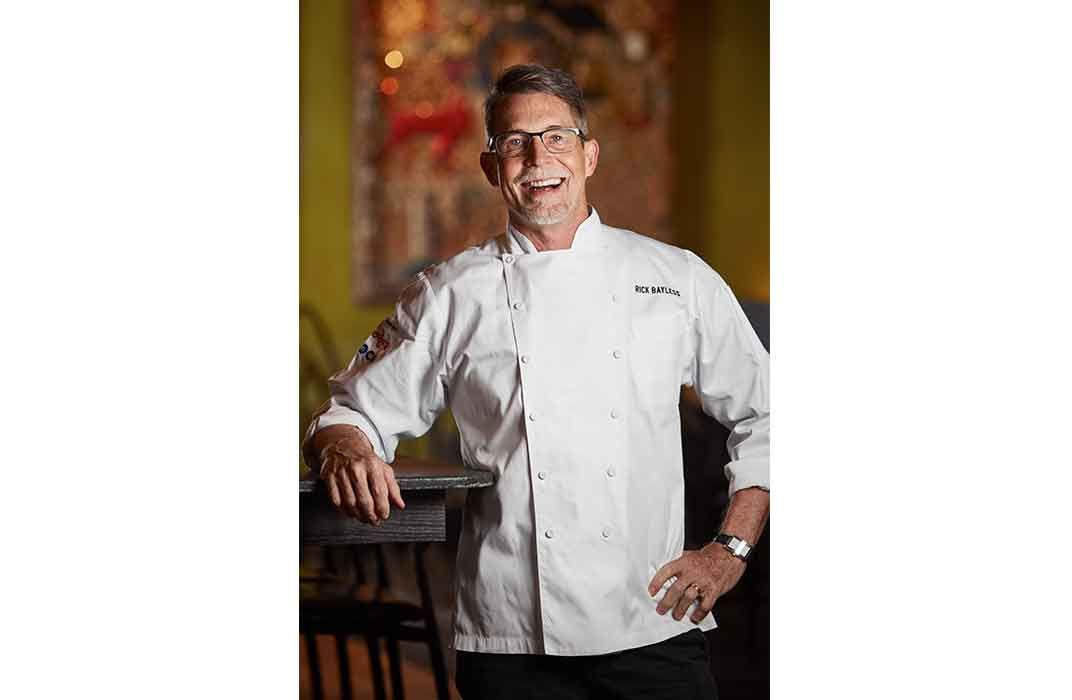 Rick Bayless' desire to introduce people to new things to eat has been a constant in his life—from the lamb chops and Napoleons he brought to his Oklahoma family dinner table to the way he continues to pushes the envelope in how diners and cooks see Mexican food. Now that the world has learned to take Mexican cuisine seriously, he wants people to see it in a new light, to realize that it might include ingredients they'd never associated with the Mexican larder.
"In my new restaurant, Leña Brava, the food is from the Baja area of Mexico. And there, 10 percent of the population is from either Japan or China. So they cook with ginger, soy, Szechuan peppercorns," he says. "When you find that kind of culture, they're expressing their own geography or history. Mexican cooks in Mexico City right now are cooking with all kinds of influences, all kinds of things. They don't say: 'This is weird.' They say: 'This is a really cool thing.' "
Rick Bayless signs copies of his cookbook More Mexican Everyday at 1 p.m. at the National Museum of American History on Thursday, October 27. The Smithsonian Food History Weekend: Politics on Your Plate, October 27 to October 29, features non-partisan conversations about food, agriculture, people and power at a round table discussion and cooking demos, garden tours, hands-on activities and an After-Hours beer tasting.