This Holiday Season, Make Merry in a Museum
From heavenly light shows to diabolical dollhouses, the Smithsonian's winter exhibitions offer something for everyone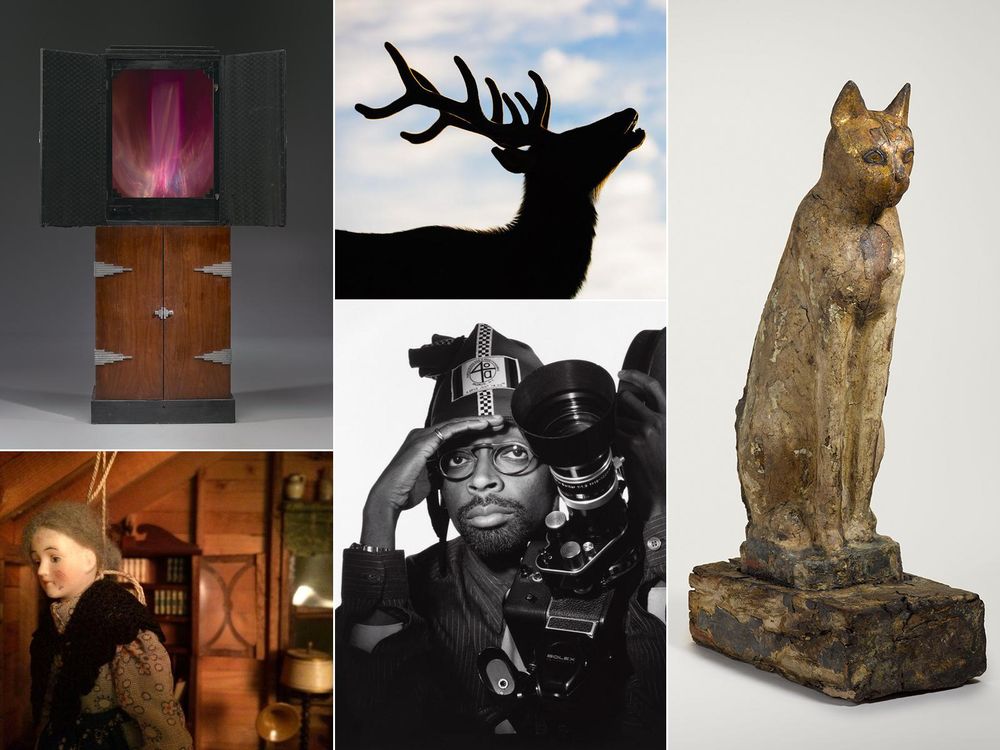 Visiting Washington, D.C. this winter? Seeking refuge from the bite of the cool air? Look no further than these eclectic and entertaining exhibitions, on view at Smithsonian museums deep into the new year.
Perhaps you see the holiday season as the perfect time to lavish attention on the fluffy friends in your home. No matter how much you spoil your own kitties over Christmas, though, it's a fair bet the ancient Egyptians had you beat. Their relentless love of cats is the subject of this exhibition on view at the Freer and Sackler Galleries, which boasts an impressive assortment of feline-themed exotica—roughly 70 artifacts in all. Some of these—which range from statues to grave markers to sphinxes to a literal cat mummy—are 4,000 years old. The Freer|Sackler is also throwing dog junkies a bone: a dedicated nook within the larger exhibit pays homage to the role of cats' canid counterparts in ancient Egyptian society.
If menorahs and kinaras have you contemplating the wonder of light this December, Thomas Wilfred's ethereal art will be welcome fuel for your intellectual fire. Wilfred's artworks, which he dubbed lumia, take the form of nondescript cabinets whose open doors reveal entrancing, dancing light. Characterized by rich colors and smooth cirrus-like motion, Wilfred's light shows are evocative of interstellar nebulae, and remind us that the magic of dreams may be found in even the most mundane of places—we need only look. The result of groundbreaking technique and precise vision, this exhibition is a must-see for anyone in need of a little extra brightness this holiday.
If your idea of holiday cheer is an evening at the fireside with a copy of Hercule Poirot's Christmas or L.A. Confidential, this macabre collection of dollhouse-scale crime scene miniatures is sure to win you over. Painstaking in their detail (the tiny snowshoes in a wintry cabin scene were woven from scratch), the "nutshells," intended for use in forensics training at police academies, were created by craftswoman and crime buff Frances Glessner Lee in the late 1940s. Remembered as the "mother of forensic science," Lee focused on bizarre, often unsettling cases that would be challenging studies for up-and-coming detectives. As enthralling as they are eerie, the grisly scenes are sure to set the minds of mystery lovers in motion.
The holidays are the perfect time to welcome outsiders into our lives, and to open our hearts and minds to the experiences of those beyond our day-to-day purview. What better way to embrace this spirit of common humanity than to take in the latest assortment of additions to the National Portrait Gallery, whose subjects run the gamut from AIDS research hero David Ho to trailblazing Puerto Rican actress Rita Moreno to unflinching African American film director Spike Lee? All over the map in style as well as subject, the portraits take the form of black and white photo, oil painting, Time magazine cover, bronze sculpture, and more. Those depicted evince confidence and poise in their own skin, and are role models worth emulating as 2018 rolls around.
If you're the sort who prefers Santa's reindeer to Santa, loves turtledoves and partridges but doesn't see the need for five gold rings, and would rather pitch a tent in a pine stand than purchase a Christmas tree for your home, this photo show all about nature may be just what the doctor ordered. From coolly majestic lionesses to frantically racing grebes, from a Serengeti sunset to an otherworldly penguin procession, this exhibition is sure to leave viewers awestruck at the wide world around them. Crisp and impeccably framed, the winning photos in this year's Windland Smith Rice International Awards competition catch their subjects in moments of candid dynamism, and should not be missed by anyone with an affinity for Mother Nature.