This Artist Painted With Light. An Admiring Astronomer Helped Make Him a Star
The works and machinations of Thomas Wilfred, a lone performer, inventor and visionary, are now on view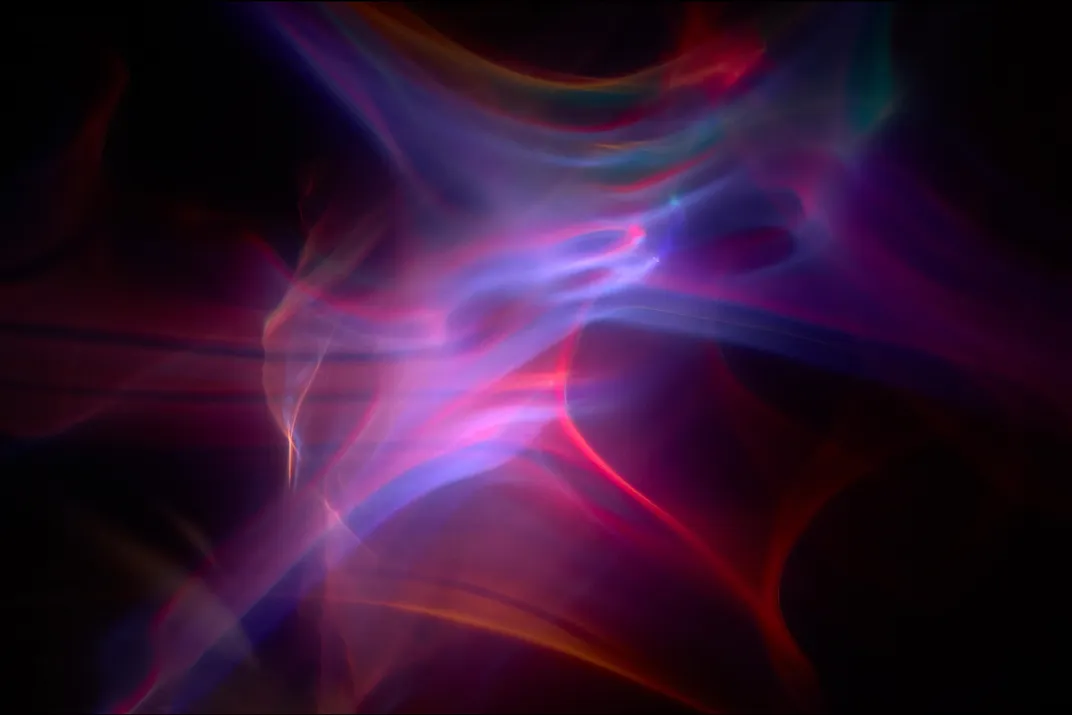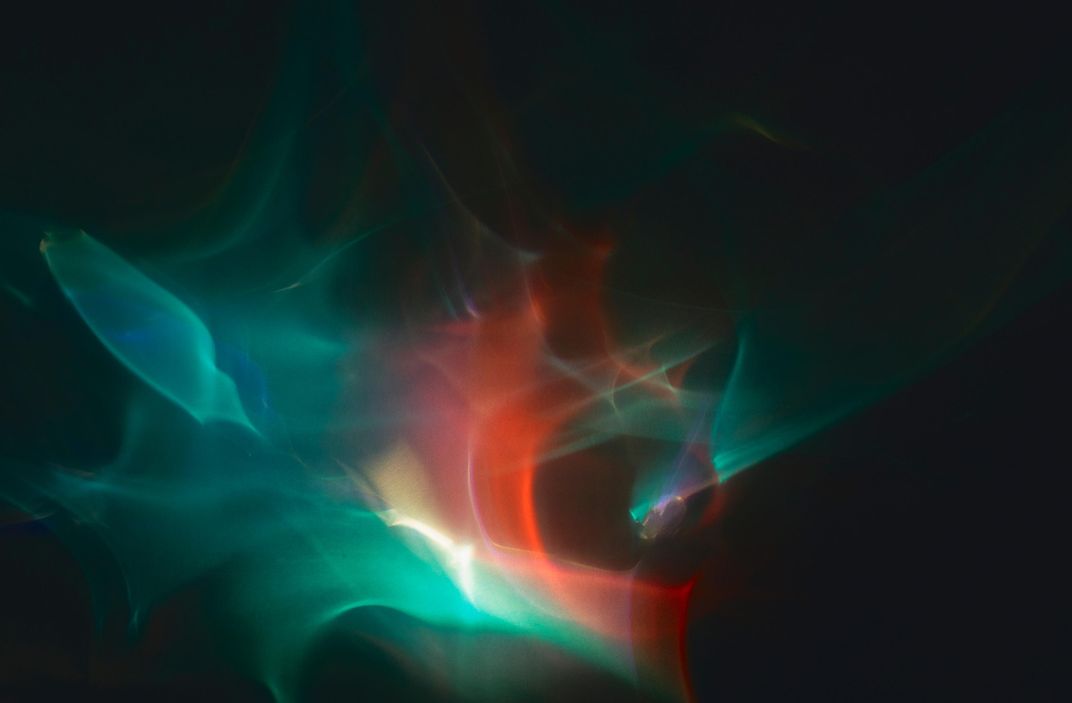 It's all so random: a decision to spend a weekend in New York, another decision to visit the Museum of Modern Art, and then, wandering through an exhibition gallery, a decision to turn left instead of right or right instead of left. But around that corner—"Wow!"—life changes.
So it was in 1960, when Eugene Epstein, then a young graduate student of astronomy with a spare weekend on his hands, cleared a gallery corner, peered into a darkened alcove, and spied a solitary work of art.
"Wow!"  
Epstein stood, gazing at the serene gestures—sweeps and swirls and streams—of color, projected onto a translucent glass screen. "Where has this art been all my life?" he wondered. After a time, his feet beginning to ache, he sat down on the gallery floor, and there he remained for two more hours.
What had captivated Epstein—Vertical Sequence, Op. 137— was neither painting nor sculpture, but pure light—colorful and radiant, flowing and ebbing, eloquent and tender, turning and returning, as if the aurora borealis or some other atmospheric phenomenon had been corralled in the intimate space of a frame. The artist Thomas Wilfred (1889–1968) called this and his other compositions "lumia," the art of light, which he passionately believed would be recognized as "the eighth fine art." 
Fifteen of Wilfred's approximately 33 extant works—more than half owned now by Epstein, his wife Carol, and their nephew Adam "A.J." Epstein—are the subject of the exhibition "Lumia: Thomas Wilfred and the Art of Light," now on view at the Smithsonian American Art Museum. "In conceiving of lumia as this independent art form, Wilfred believed these compositions of moving, colored light could stand on their own as immersive aesthetic experiences," says curator Keely Orgeman, of the Yale University Art Gallery, where the "Lumia" exhibition originally debuted.
With Lumia, Wilfred gave form to the imagined observation of the cosmos: "He is explicitly making reference to the experience of traveling through space-time, which is to his mind analogous to viewing a Lumia composition," says Orgeman. "One is meant to imagine being immersed in this field of moving light in the cosmos and the screen is like the window of a spaceship looking out onto deep space."
So it was for Epstein, immersed in Wilfred's 1941 composition. At the end of his weekend jaunt, he returned to Cambridge with the artist's address, courtesy of a docent at the museum's information desk. Forthwith, Epstein sent Wilfred a letter, on Harvard College Observatory stationary, inquiring about the availability and cost of his works. Wilfred replied, but lacking sufficient funds, Epstein made do with enthusiasm.
In due course, Epstein returned to his native California, launching his career as a radio astronomer at the Aerospace Corporation in El Segundo. With a steady income, he again wrote to the artist, expressing his continued interest in purchasing one of Wilfred's works. This time, citing lack of time and low inventory, Wilfred demurred.
Wilfred formally entered the museum world in 1942, when the Museum of Modern Art purchased Vertical Sequence, Op. 137, displaying it in the permanent collections gallery for the remainder of that decade and portions of the next. The Cleveland Museum of Art and the Metropolitan Museum of Art followed suit. In 1952, Vertical Sequence and four other lumia compositions were featured in Dorothy Miller's groundbreaking 1952 MoMA exhibition "15 Americans," alongside works by Jackson Pollock and Mark Rothko and other major abstract expressionists. 
While "15 Americans" might have positioned Wilfred among a wider circle of artists, he remained aloof, evidently uninterested in what others in the broader art world were doing. Long before validations from the art world, Wilfred's story was one of lone performer, inventor, promoter and visionary. "He was so focused on pursuing his own vision of this new art form that he insisted was his creation, his invention, that he often pushed people away," Orgeman says.
The Danish-born Wilfred traced his lifelong fascination with light as a medium, not as an artistic subject, to a childhood pastime of refracting light through a chandelier prism and onto a wall in his home. Though his experiments and passion continued, Wilfred pursued a more formal education in painting and sculpture, studying at the Sorbonne in Paris and with instructors in England and Germany. Wilfred immigrated to the United States in 1916, seeking a warmer reception for his developing ideas about light as art and settling in New York City, where for income he sang Danish folk songs and performed on a lute.
He briefly joined a circle of artists who shared his interest in artistic experiments with light, and the Prometheans, as they dubbed themselves, established a studio on Long Island. But nudging his associates aside, the single-minded Wilfred, an electrician and mechanic as well as an artist, dedicated himself to the task of creating a machine—an instrument—that would "play" light, projected onto a screen, moving in complex and colorful variations of tempo, intensity and density.
By 1922, Wilfred had constructed and was performing silent concerts on his Clavilux Model A, an organ-like instrument outfitted with a panel of sliding controls that allowed him to manipulate light as it was emitted from several incandescent bulbs, filtered through revolving color-coated glass wheels, bounced off rotating reflective surfaces, and ultimately projected onto a large screen.
Wilfred composed with light as a musician composes with notes of sound, but his recitals were silent: "The idea of visual music was not at all radical, but that he divorced his work from music is the radical move," Orgeman says. His Clavilux recitals grew into a national and then international sensation. "Wilfred was the impresario performing these live recitals of mobile color from his Clavilux," says Orgeman. "Cadenzas of Color, Symphonies of Silence, Unexplored Sensation," proclaimed one poster, circa 1926, for a New York City performance.
Wilfred developed eight models of the Clavilux and continued to give concerts on them up until World War II, but along the way, he envisioned a broader audience and market for his art. "I confidently predict that a few years will place 'light concerts' beside symphony concerts, the opera and the movies, and every home will have a color organ," Wilfred asserted, in a 1924 Popular Mechanics int­erview.  
While that grand prediction never came to pass, Wilfred did create a number of smaller, self-contained devices—16 in all, of which nine are extant—intended for home use. The cabinet doors of the Clavilux Junior opened to reveal a glass screen. The inner mechanisms—a light bulb, a hand-painted and interchangeable color record (round pieces of Pyrex upon which Wilfred painted abstract designs), a cone lined with reflective material—moved in different orbital cycles and produced, on a screen, a private recital of light. A control panel, outfitted with knobs and switches, enabled the operator to exercise control of such features as tempo and intensity. "Wilfred moved from being in complete control of his compositions when he was playing on the Clavilux—the sole performer—to developing instruments over which he had less control in the outcome of the composition, because he gave the viewer some tools to manipulate the images on the screen," Orgeman says.
From 1932 until 1968, Wilfred began to create stand-alone lumia compositions, each with self-contained mechanisms that could not be altered by the viewer. Each work was a unique configuration of light source, lenses, filters and reflectors, the components automated to rotate in varying time loops, thus producing a distinct cyclical composition. One lumia work in the museum's shows repeats every 5 minutes and 15 seconds; another, Wilfred's best-known project, Lumia Suite, Op. 158 (1963–64), every 9 years, 127 days, and 18 hours.
In 1964, just a few years before Wilfred's death, Epstein acquired his first and long-awaited work, Sequence in Space, Op. 159 (1964/5). Epstein left work early to take delivery of the crate. When he unpacked the lumia work, he plugged it into a living room outlet and invited his cousin and his cousin's wife to join him; that night he even moved the work into his bedroom to continue gazing at the quiet and mesmerizing frame of moving light. In short order, Epstein developed a routine with his lumia and his guests. "Lots of people had heard me excitedly talk about this fantastic thing that I had seen in New York," he recalls.  When they came for a look-see, Epstein would draw the shades, switch off the lights, and turn on the lumia. "I would say nothing for at least five minutes. I kept a clipboard on my lap, as unobtrusively as possible, and when people made interesting remarks, I'd jot them down. Then I'd type them up and send them to Wilfred, who loved it. At his age, he wasn't getting that kind of immediate audience feedback."
One visitor was astronomer and author Carl Sagan, a friend of Epstein's from the early 1960s. "He came over alone," Epstein recalls. "I did my same bit, and after about five minutes, Carl said, 'Okay, I give up. How's it done?' I was really disappointed. Indeed, he was a very special person, and I figured he would go with the flow and not be interested in the mechanics, instead he asked, 'How's it done?'" 
More than a half century has passed since Epstein encountered his first lumia composition. The range of his collection now includes ephemera—including a 1913 speeding ticket Wilfred incurred while driving in excess of 10 mph on a roadway outside of London; the practical—a posterity's supply of incandescent light bulbs; and the aesthetic—six of the Clavilus Junior models and eight of the individual "recorded" lumia compositions, including Wilfred's final composition, which Epstein pursued for ten years before tracking it to a Palm Beach warehouse. In the last 15 years, Epstein has found in his nephew A.J. a partner in enthusiasm and in efforts to preserve Wilfred's works and legacy, A.J. having visited and recorded every Wilfred work and built his own collection of lumia.
"It amazes me," he says. "It all happened so gradually."
Epstein still experiences the captivating delights of the light compositions. "I've become familiar with all of them. I don't want to say there's nothing new, but you begin to recognize the patterns—I almost look forward to them. If I am sitting in front of one of them, I might, in the middle of a sentence, just burst out 'Wow!' It still has that effect, after all these years. They still really grab me."
"Lumia: Thomas Wilfred and the Art of Light" is on view at the Smithsonian American Art Museum through January 7, 2018.
Editor's note: The article is updated with new information and a caption correction.