You Could Own the Landmark That Inspired Winnie-the-Pooh's 'Poohsticks Bridge'
Built in 1907, the structure—expected to sell for between $54,000 and $81,000—is newly rebuilt and restored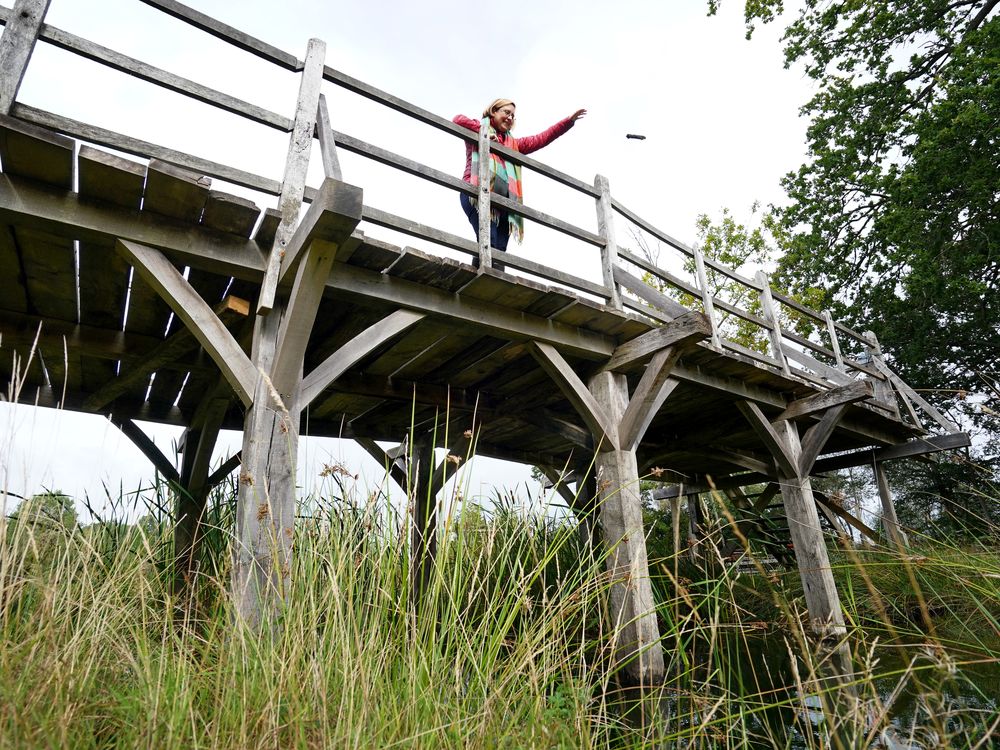 In the sixth chapter of The House at Pooh Corner, a 1928 collection of stories by beloved children's author A.A. Milne, Winnie-the-Pooh takes a stroll toward a bridge in the Hundred Acre Wood, singing a song about fir cones as tubby little cubbies are wont to do.
As he approaches the bridge, Pooh trips, sending his fir cone plunging into the river. When he peers over the other side, he spots the cone floating away. Intrigued, he drops two more cones into the river, and then another two—this time a big one and a small one so he can try to guess which will appear first on the opposite side of the bridge. 
"And that was the beginning of the game called Poohsticks, which Pooh invented," Milne writes, "and which he and his friends used to play on the edge of the Forest. But they played with sticks instead of fir-cones, because they were easier to mark."
The place where Pooh and his lovable band of buddies played their game was inspired by a real bridge in Ashdown Forest, the heathland in southeast England where Milne purchased a country home for his family in 1924. Known as Poohsticks Bridge, the literary landmark is now up for auction, reports Theresa Waldrop for CNN.
Built in 1907, the structure was originally called Posingford Bridge. It served as a river crossing for pedestrians, carts and horses, according to auction house Summers Place. Milne's son, Christopher Robin—who lends his name to Pooh's human companion—came upon the bridge during one of his jaunts through Ashdown Forest, the bucolic inspiration for Hundred Acre Wood, which Pooh and his friends call home. Poohsticks is attributed to the silly old bear in Milne's stories, but it was the author and his son who actually invented the game as they played together on Posingford Bridge. 
"I first found the bridge 20 years after it had been built when I came upon it with my nanny," Christopher later said, as quoted by the Guardian's Nikki Knewstub. "How could we not fall in love with it? Then my parents came and how could they not fall in love with it?"
Milne's first Winnie-the-Pooh collection, published in 1926, was an instant hit both in England and abroad. The House at Pooh Corner, his second volume of Pooh stories, includes an illustration of Posingford Bridge by E.H. Shepard, who created iconic sketches of scenes from Milne's work. The bridge subsequently became a destination for fans of Pooh, who flocked there to play their own games of Poohsticks. Christopher officially renamed the structure "Poohsticks Bridge" during a ceremony in 1979, according to Anita Singh of the Telegraph.
Years of foot traffic took their toll on the landmark, which by 1999 was so worn down that it was taken apart and stored at the Ashdown Forest Center. A new bridge was put in its place, funded by local groups and the Disney Corporation, which acquired the rights to Pooh in 1961. But the area's parish council recently allowed two anonymous buyers to purchase and rebuild the original. Local oak was used to replace any missing parts, and the fully restored bridge is now available for purchase.
"The dismantled bridge lay neglected for years until these two enterprising guys acquired it," James Rylands, director of Summers Place, tells the Telegraph. The sellers, he adds, are "quite happy" to rebuild the bridge if it needs to be taken apart during transport. 
Some observers have expressed concern that Poohsticks Bridge will be sold to a buyer outside of England, much like Christopher's childhood toys, which gave rise to Milne's stories and are now held by the New York Public Library.
"Of course, Pooh is global, but at the same time he is a very English creation," British broadcaster and teddy bear aficionado Gyles Brandreth tells the Telegraph. 
Others are more pragmatic.
"It was a pile of old junk wood that nobody wanted—and if somebody has made something of it and can sell it as a bit of Winnie-the-Pooh history, good luck to them," an unnamed local said to the Telegraph.
All bids for the bridge, which is expected to sell for between $54,000 and $81,000, are due today. Wherever it ends up, Poohsticks Bridge is now whole again—and perhaps it can be used once more as a place to play on a "peaceful sort of day," just as Milne and his son (and Pooh) used to do.