How Winnie-the-Pooh Became a Household Name
The true story behind the new movie, "Goodbye Christopher Robin"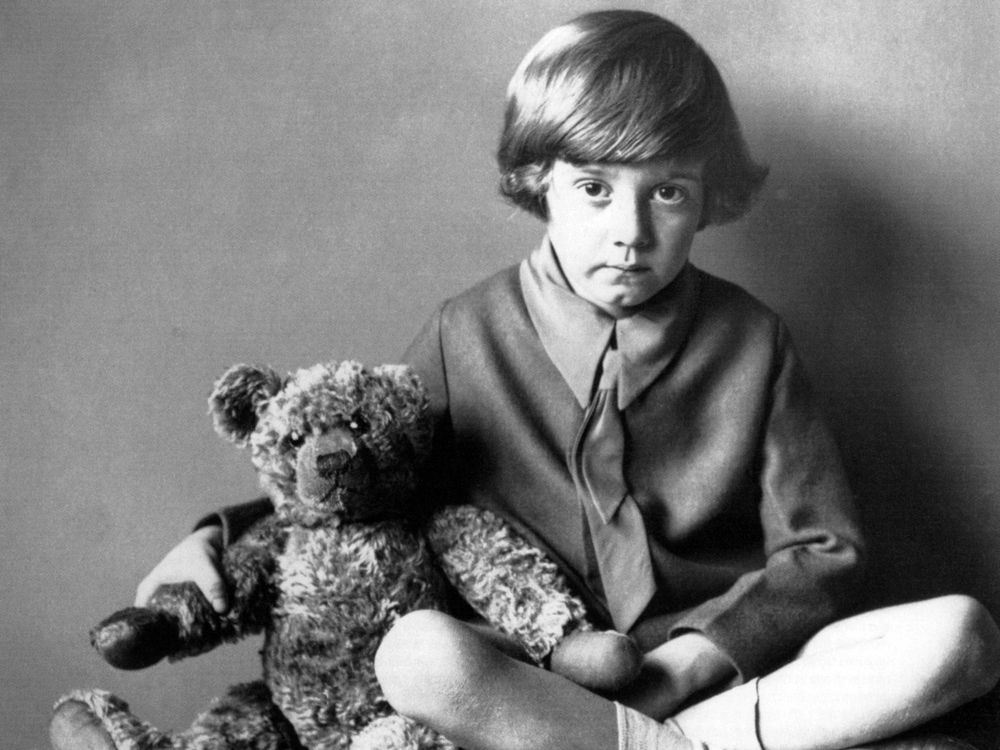 In the main branch of the New York Public Library, there lives a group of wild animals that call the children's section home. Together, in one cage, are a young pig, a donkey, a tiger, a kangaroo, and a bear known the world over as Winnie-the-Pooh. The bear is not the red-shirted "tubby little cubby all stuffed with fluff" found in cribs around the world, more a regular ole' fuzzy variety, a simple knock-around bear. But he's still Pooh, a bit matted down, a bit overly loved, but in great shape considering he'll soon be 100 years old. The original Pooh is amazingly still alive, well into the 21st-century, in both literary and animated forms.
The NYPL's Winnie-the-Pooh was the real-life inspiration for the original A.A. Milne stories, which continue to co-exist alongside the better-known Disney juggernaut. The characters from 1928's smash bestseller The House on Pooh Corner live side-by-side with the cartoon iterations in a way very few originals and their Disney-fied versions do. Consider poor Hans Christian Andersen's "The Snow Queen," which most kids only know via the $400-million box office adaptation, Frozen, or, for that matter, Andersen's "The Little Mermaid." What's amazing about Pooh's modern cartoon-y familiarity is that as big as the Magic Kingdom is, the original not only survives, but thrives as a continued source of fascination.
"If you write a very good book, and someone makes a very good film about it, the book just disappears. Nobody really reads Mary Poppins or Pinocchio because the films are so accomplished they've supplanted the source," says Frank Cottrell-Boyce, co-screenwriter of Goodbye Christopher Robin, the new movie about the story-behind-the-Milne-stories.
The sweet, oft-befuddled bear actually evolved out of Milne's decidedly unquiet time on the Western Front during World War I. He was injured at the First Battle of Somme in 1916, and his time in the trenches left Milne with "shellshock" (what we now call PTSD). Following the war, he uprooted his family, moving from London to the quieter country retreat of Cotchford Farm. Milne and his only child, Christopher Robin, who went by the nickname "Billy Moon," spent countless hours exploring the woodlands of the Ashdown Forest, often accompanied by his son's stuffed animal collection. Prior to World War I, Milne was a successful essayist, humorist, and editor at Punch, and following the war, he was a successful playwright, with works like Mr. Pim Passes By (adapted as a silent picture in 1921.) It was the time spent with Billy Moon, and his wild imagination, though, that made Milne world-famous.
Fatherhood inspired Milne's first foray into children's literature through poetry. Published in Vanity Fair in 1923, "Vespers" includes the line "Christopher Robin is saying his prayers." He followed that up in Punch with the poem "Teddy Bear," which mentions a "Mr. Edward Bear," soon re-named by Christopher Robin after a visit to the London Zoo, where a black bear rescued from Winnipeg—"Winnie," of course—made its home. And in Milne's popular 1924 poetry book When We Were Very Young, the author tells of his son explaining how he would feed a swan in the morning, but if the bird wouldn't come, the boy would say "'Pooh!' to show how little you wanted him.'"
Thus on Christmas Eve, 1925, in the London Evening News, A.A. Milne's short story "The Wrong Sort of Bees" gave readers the holiday gift of Winnie-the-Pooh, the newly renamed bear who is dragged down the stairs by Christopher Robin, bumping his head all the way. Christopher Robin asks his father to make up a tale about Pooh and the yarn he spins established the Pooh the world knows and loves today. The hungry hero comes up with a plan to steal honey from some tree-dwelling bees. He rolls around in mud to disguise himself as a raincloud, then floats up to the hive with a blue balloon, making up songs to pass the time. Pooh failed to acquire honey, but the silly slow-witted but oh-so-lovable character succeeded in becoming a sensation.
All of Milne's children's works, starting with "Vespers" were accompanied by Ernest H. Shepard's elegant monochromatic pencil illustrations. The prose and drawings of the Hundred Acre Wood animals, and their young human friend, were a perfect match, capturing the wide-eyed innocence and thrills of childhood, but with an underlying bit of melancholy and sadness. The working relationship between combat veterans Milne and Shepard deepened over time, and they truly developed the Winnie-the-Pooh world together. A primary example is that while the stories were based on Billy Moon's real-life experiences, the famous early black-and-white drawings were closer to the friendlier-looking plushie owned by Shepard's son, a bear named Growler. 
The story collection Winnie-the-Pooh was published in October 1926, introducing the characters to a bigger global audience. It was a huge hit at home and abroad. The original English version sold a whopping-for-the-time 32,000 copies, while in the United States, 150,000 copies were nestled on nightstands by year's end. The Harry Potter-level success of the Pooh books would be both a blessing both and a curse for Billy Moon. Still a young boy, he was dwarfed by his fictional "Christopher Robin" counterpart.
"Christopher Robin is actually on record that he quite liked being famous as a child, the damage and resentment came later," says Ann Thwaite, whose 1990 biography of A.A. Milne won the prestigious Whitbread Award and serves as a primary source for the film. She has a new adaption, Goodbye, Christopher Robin, out now. "But Milne was always extremely interested in his son, even though the boy was mainly looked after by his nanny Olive Rand, whom Christopher was devoted to."
The books provided Billy Moon everything a boy could ever want, but also deprived him of the simpler anonymous childhood he'd known. He missed the ample time he and his father had spent exploring the woods, which of course, led to the Pooh books in the first place. The boy was thrust into the spotlight, making public appearances, doing readings and audio recordings, and being photographed again and again for all the fans wanting a piece of the real Christopher Robin. Milne seemed to grasp his role in exploiting his son, later writing that he felt "amazement and disgust" at his son's fame.
The Pooh series ended after a mere four books with The House at Pooh Corner, but Billy Moon's fame would come back to haunt the family. In boarding school, the merciless bullying he received drove him to prove his manhood by volunteering to fight following the outbreak of WWII. Billy Moon failed a medical examination, but coerced his famous father into using his influence to secure a military position. In 1942, he was commissioned, serving with the Royal Engineers in Iraq, Tunisia, and Italy. Billy Moon contacted malaria and took shrapnel to his head, a gut punch to his father, who became a devoted pacifist following his military career.
Milne's son returned safely from World War II and eventually made peace with his childhood celebrity and fictional doppelgänger.  He didn't have much of a choice, though—it wasn't as if the characters were fading away. The sales of Pooh books have been phenomenal for 90 years. They've never been out-of-print and have sold some 20 million copies in 50 languages. A 1958 Latin translation by Alexander Lenard, Winnie ille Pu, is the only book in Latin to ever become a New York Times bestseller.
The original books, however, will always have a special place in British literary lore. Published following the brutality of World War I, they provided a much-needed solace in a time of great sadness, a connection to the innate wonder of childhood, and a specifically British sensibility.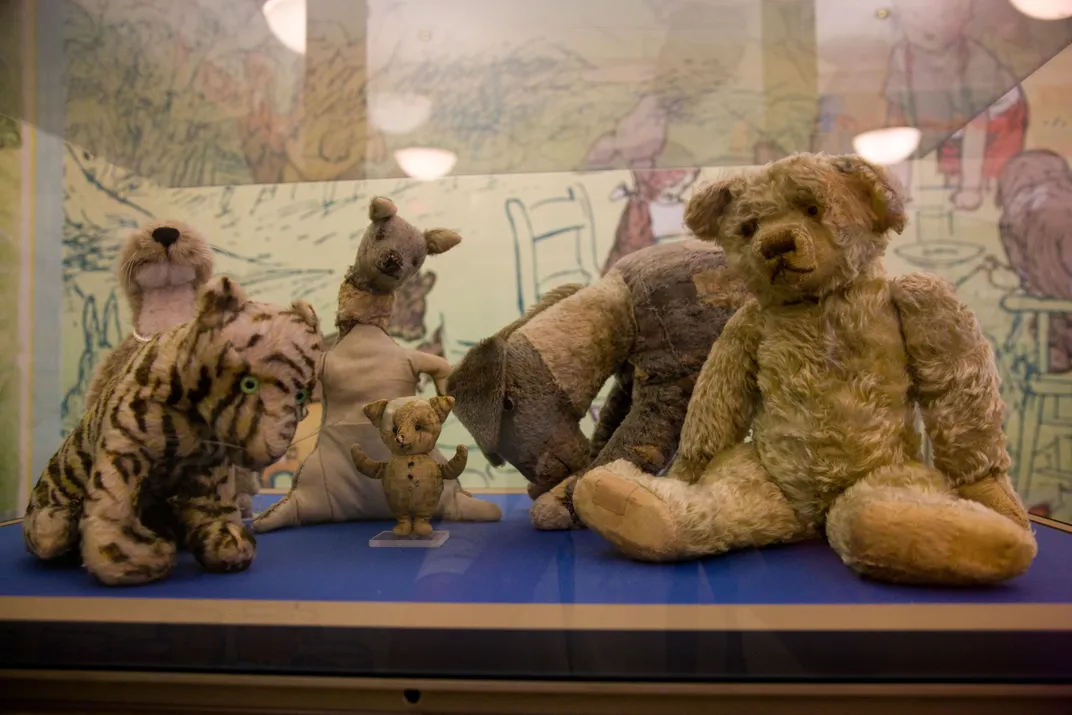 "English World War I posters featured the rural woodlands, domain of Robin Hood, because that's what we were fighting for. The woods are part of the software of the English psyche, and Milne captures it better than anyone," says Cottrell-Boyce. "Although, I've also heard Russians think it's about them because Pooh is a big sleeping bear, what it says to me is the amazing stories and beautiful sentences are universal."
Over the last near-century, those four slim Winnie-the-Pooh volumes sprouted a massive honey pot of cash. But the billions of dollars in annual receipts brought in by Pooh merchandise, ranking him with royalty like princesses, superheroes, and Mickey Mouse, isn't something Disney can take all the credit for.
In 1930, a producer named Stephen Slesinger took Pooh off the page and into the burgeoning arena of pop culture mass marketing. The American and Canadian licenses to Pooh were secured from Milne by Slesinger for $1,000 and later, 66 percent of broadcast royalties.
Slesinger was a pioneer in licensing and merchandizing characters, bringing color to the Hundred Acre Wood—most notably in 1932, on an RCA Victor record, where Pooh's typically uncovered belly now featured a red shirt—and taking the characters beyond dolls, to jigsaw puzzles, radio shows, a "Colorful Game" from Parker Brothers, and later, this nightmare-inducing puppet version on the Shirley Temple Show. Slesinger was a bridge between the English page and the American marketplace, helping further cement the whole Hundred Acre Wood gang—Piglet, Eyeore, Kanga, Owl, Tigger, and so on—as kiddie icons available to bring into homes in all kinds of formats. 
Slesinger died in 1953, and his wife continued developing the characters until deciding to license the rights to Walt Disney Productions in 1961. Walt himself coveted Pooh thanks to his daughters, who loved Milne's stories. (Long after Disney passed away, there were Slesinger Inc. royalty lawsuits based on unforeseen future technologies like the VCR.) The Disney studios released its first animated Pooh short in 1966, and there have been a steady stream of movies, TV shows, video games, and amusement park rides ever since. In 2006, Pooh Bear himself received a star on the Hollywood Walk of Fame, but the glitz and glamour of the character's post-Milne age hasn't lessened the love of the original works. The books have flourished right alongside their Disney counterparts, and still offer surprises to 21st-century readers.
"I grew up with the books, Milne's words and Shepard's illustrations are the fabric of British life, Disney's Pooh is not definitive," says Simon Vaughn, a Brit as well as the other co-writer on Goodbye Christopher Robin.
The heart of Goodbye Christopher Robin is about what it means for a parent to raise a child under extraordinary circumstances, but Cottrell-Bryce believes there is a simple basic human reason why Milne and Shepard's masterworks remain essential in everyday parental life, even in the face of the Disney.  In those early cartoons, Winnie-the-Pooh was memorably voiced by Sterling Holloway, but even his warm cuddly characterizations are no match for mom and dad.
"The Pooh books were written for the nursery, to be read intimately to a little child," says Cottrell-Bryce. "The books offer a deep moment between child and parent at bedtime. It's primal and comes from love."
As Milne wrote back in 1926, Sing Ho! for the life of a Bear!