Forgotten Winnie-the-Pooh Sketch Found Wrapped in an Old Tea Towel
A rediscovered drawing of the iconic children's book character and his friend Piglet could sell for thousands at auction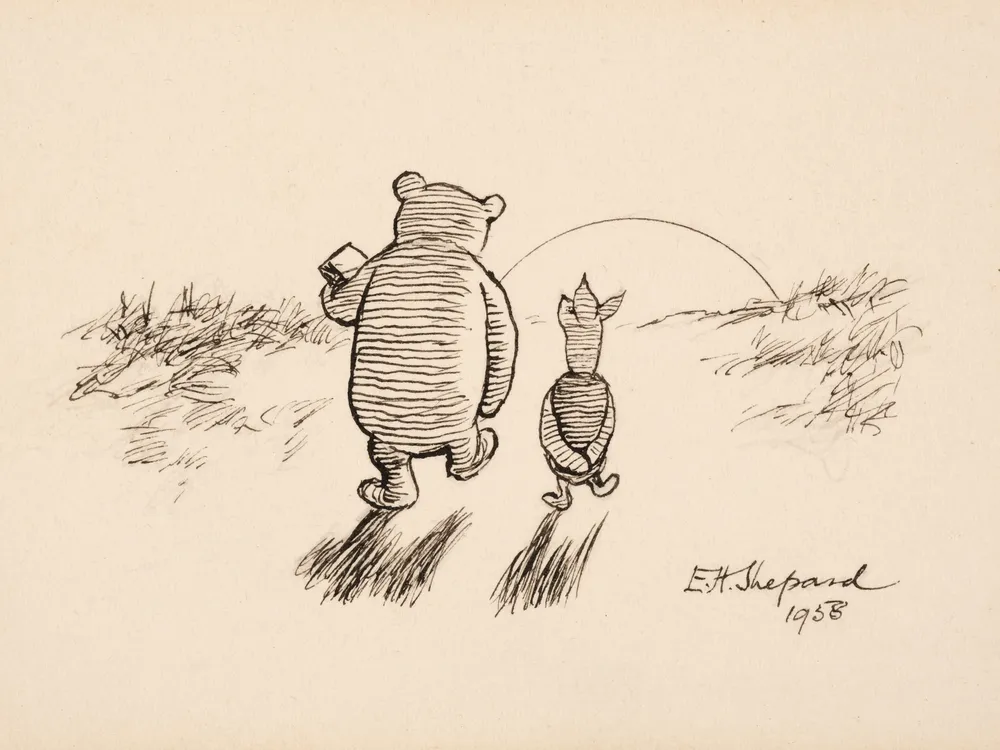 For decades, an original Winnie-the-Pooh sketch had been hiding in a cellar, wrapped in an old tea towel and forgotten in the back of a drawer. Now, the rediscovered sketch could sell for thousands.
According to Dominic Winter Auctioneers, the auction house in charge of the sale, the black and white sketch may be the last copy that illustrator E.H. Shepard made of this particular image, one of the final drawings from the first Winnie-the-Pooh book. Shepard drew the illustration on a small 3.5- by 6.5-inch card when he was 79 years old. The card is dated 1958—over three decades after the book's publication in 1926.
"Being drawn 30 years later, it's not in the same league as the original drawing made for the book in the 1920s, but it is the next best thing," Chris Albury, senior auctioneer and valuer at Dominic Winter Auctioneers, tells CNN's Lianne Kolirin.
In the illustration, Pooh is walking away into the sunset with his buddy Piglet. "We see reproductions of this famous drawing from time to time, which have no commercial value, so we were delighted and amazed to be able to authenticate this immediately and save it from being thrown out to charity as a cheap print," writes Dominic Winter Auctioneers in a statement. According to the auction house, the illustration may be worth $25,000 to $38,000.
Written by A.A. Milne, Winnie-the-Pooh was an immediate success, with the first edition selling 35,000 copies in the United Kingdom. Today, over 50 million copies have been sold worldwide. Last year, the original pen and ink drawing Shepard created for Winnie-the-Pooh's first edition sold for a whopping $220,000.
The newly discovered drawing had been in the possession of the late Christopher Foyle, the former chairman of Foyles bookshops, a famous British bookstore chain co-founded by his grandfather, William, in 1903. Foyle's widow, Cathy, found it tucked away in the cellar drawer.
"It had been forgotten and unloved," Albury tells CNN.
Albury speculates that the drawing was created at one of the famous Foyles Literary Lunches hosted by Christina Foyle, Christopher's aunt, where famous guests like John Lennon and Bertrand Russell made appearances, according to the South West News Service.
In the image, traces of pencil are visible beneath the ink—which shows, per the auction house, "that it was done with the same love and care as any of his original Pooh drawings."
In the original book, the sketch depicts a scene following a party where Christopher Robin gifts Pooh his own custom pencil case, just before the characters turn back into toys.
Alongside the image, Milne writes: "Later on, when they had all said 'Good-bye' and 'Thank-you' to Christopher Robin, Pooh and Piglet walked home thoughtfully together in the golden evening and for a long time they were silent."