Why Is Squash Called Squash?
It's an adapted version of a Narragansett Native American word that translates to "eaten raw or uncooked"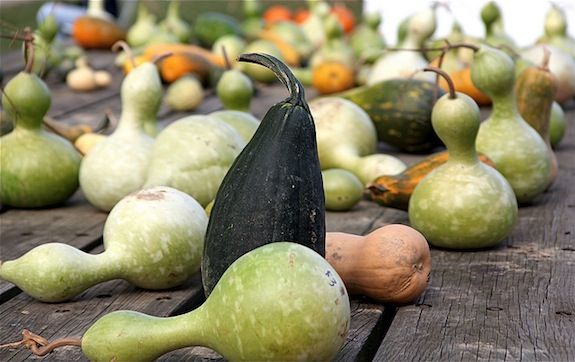 Thanksgiving's just a few days away, which means that cooks around the country are adding squash to their shopping list. Delicious gourds of all shapes and sizes—butternut, delicata, acorn, pumpkin, kabocha—are a fall staple. But why do we call these fleshy and really quite resilient vegetables "squash"?
The short answer is that the word is an adapted version of the Narragansett Native American word askutasquash, which translates to "eaten raw or uncooked." According to the Library of Congress, these squash took some getting used to for European settlers:
Virginia and New England settlers were not very impressed by the Indians' squash until they had to survive the harsh winter, at which point they adopted squash and pumpkins as staples. Squashes were baked, cut and moistened with animal fat, maple syrup, and honey.
They did eventually learn the wonders of the squash though. The first cookbook ever written by an American and published in the United States had a pumpkin pie recipe in it, and many presidents grew squash in their gardens. And now you can impress your Thanksgiving dinner guests with a little Narragansett Native American while you're cooking.
More from Smithsonian.com;
Five Ways to Eat Winter Squash
Butternut Squash