Why a Trail of Life-Size Gorilla Sculptures Popped Up in London
The statues seek to raise awareness of wildlife conservation efforts in Africa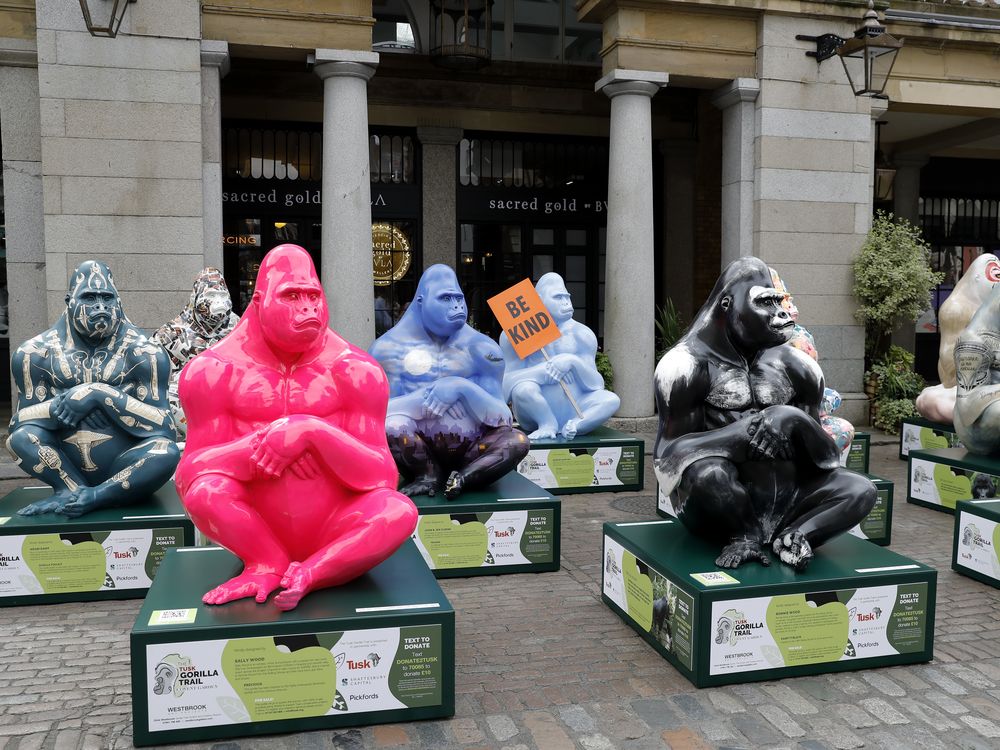 This summer, visitors to London's Covent Garden neighborhood might encounter a surprising sight: a trail of 15 life-size gorilla sculptures. The product of a partnership between the local Westbrook Gallery, Covent Garden and conservation charity Tusk, the public artworks aim to bring attention to wildlife conservation efforts in Africa.
"The population of African gorillas remains critically endangered across both Western and Eastern species," notes Tusk on its website. "Each sculpture highlights the beauty of gorillas, threats to their existence, and the people and solutions working for their survival."
The gorillas are all decorated differently, though each features a QR code that encourages visitors to donate to Tusk. A map of the trail shows sculptures dotted across Covent Garden, flanked by such tourist destinations as the Royal Opera House and Cambridge Theater.
Look out London, the gorillas are in town! You can now find 15 life-sized gorilla sculptures in @CoventGardenLDN designed by amazing collaborators from the world of art, photography, music and comedy. Find out more here: https://t.co/LFC5GN6C8A#TuskGorillaTrail pic.twitter.com/ePe5PUOLtB

— Tusk (@tusk_org) July 14, 2023
An array of high-profile artists, including Rankin, Mr. Jago and Chila Kumari Burman, contributed to the project. Monty Python member John Cleese and his wife, jewelry designer Jennifer Wade, created a gorilla featuring a Peter Pan-like figure flying over a London cityscape at night. Rolling Stones guitarist and Tusk ambassador Ronnie Wood designed a gorilla inspired by the band's 1966 hit "Paint It, Black."
"I love the animal itself," Wood tells BBC News. "The gorilla is as very near the human species as you can get, I think it's 98 percent, and it's a shame if they're going to be endangered."
According to Tusk, mountain gorillas are the only type of gorilla whose numbers aren't declining. In 2018, the species' population rose to more than 1,000 individuals for the first time in decades, in part due to Tusk's conservation efforts. Still, more work remains to be done. Per the World Wildlife Fund, which lists mountain gorillas as endangered, "As humans have moved more and more into the gorillas' territory, the gorillas have been pushed farther up into the mountains for longer periods, forcing them to endure dangerous and sometimes deadly conditions."
Have you seen @tusk_org lion trail through London? Designed by artists, musicians and sportspeople, they are raising money to support community conservation and livelihoods impacted by Covid-19 across Africa. #tuskliontrail pic.twitter.com/WzL31WP6kj

— thelondonwhisperer (@londonwhisperer) August 27, 2021
In addition to gorillas, Tusk protects more than 40 threatened species across 20-plus African countries, including elephants, rhinos, lions, cheetahs and chimpanzees. The charity's gorilla display builds on the success of similar public art trails featuring rhinos in 2018 and lions in 2021.
When the exhibition ends on October 14, organizers will sell the statues at auction, putting all proceeds toward Tusk's conservation efforts. A similar 2018 sale of 21 rhino sculptures raised £624,000 (almost $100,000 today), while a 2021 auction of 47 lion sculptures brought in £1.1 million (around $1.8 million today).