For Rolling Stones Fans, This Book Is a Dream Come True
Journalist and author Rich Cohen first covered the Stones on tour in the 90s. Now he revisits that trip and the band's epic history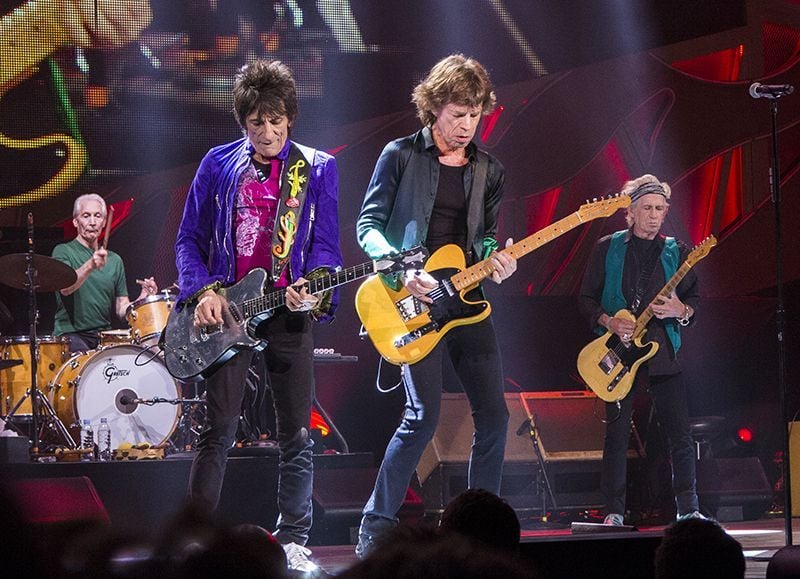 Have you ever loved a band so much that you fantasized about going on tour with them? When that dream came true for journalist Rich Cohen in 1994, he had been a veritable Rolling Stones fan for years. He first heard the band through his brother's bedroom door at age 10 ("a strange rhythm touched something inside me, something I did not even know existed.") At age 26, he was assigned by Rolling Stone magazine to cover the Stones' North America tour that summer. Cohen's life has intersected with the Stones again and again in the two decades since that fateful summer, including working on "Vinyl," the HBO series, with Mick Jagger and Martin Scorsese.
"It was akin to my childhood dream of running off with the circus," Cohen writes of going on tour with the Stones, in the opening of his 12th book, The Sun & the Moon & the Rolling Stones. This new book is part memoir, part music history and details not only his time with the band and his own process of music discovery, but also spans the band members' biographies, beginning before Cohen was born.
The book reads easily and casually, despite being very obviously not a casual project. Cohen travelled to many of the places he writes about in the book, mentioning, for example, at one point in the notes, "In the winter of 2014, for reasons I don't fully understand, I was overwhelmed by a desire to go to the places where Keith Richards shot up and kicked heroin, went cold turkey, suffered the horrors of withdrawal, cried and was carried to heaven and hell, got clean and relapsed… I drove from Villefranche to Lake Geneva, from exile to hospital, paradise to purgatory." The history of British rock and R&B is folded into early chapters, which sketch out Cohen's early years as a Rolling Stones fan and the early days of the Rolling Stones members, separately and then together. It grounds the Stones in the history and context of their art for anyone unfamiliar, but there is also very quickly plenty of exclusive behind-the-scenes material that an obsessive fan will appreciate.
To borrow Cohen's Divine Comedy metaphor from his note, he makes for a captivating Virgil to guide the reader's Dante. His unique experience with the band over three decades gives his interpretation of events credibility, even when his opinions diverge from those of a band member. For example, Cohen expresses disgust when the band loses their pianist Ian Stewart, memorably referred to as "the Sixth Stone."
"To me, the moment the Stones dumped Ian Stewart is the moment they fell from grace," writes Cohen. "They had torn open their chests and shown each other their craven hearts. No sacrifice would be too great, no member too important." In conversation with Cohen, Keith Richards pinpointed a different moment: "That's when I made my deal with the devil, right there, when I left the little scene and went after the big fame… You do it because it's logical, it's the next step. You do it without knowing what you're doing. But once it's done, and you've become – stupid term – a rock star, there's no way back."
Cohen's proximity to the band also allows him to recreate moments that are well known, but perhaps never so well narrated. On the now-mythologized creation of "(I Can't Get No) Satisfaction," Cohen writes: "I sleep with an inhaler and a glass of water at my side. My son sleeps with a stuffed seal named Sealy. Keith sleeps with an acoustic guitar and a Phillips tape recorder. One morning, in 1965, he noticed the guitar had been moved, the recorder turned on." Richards listened to the tape, and he heard the first five notes of the song, "Baa-Baa Ba-Ba-Ba," then "the guitar was set down, a body hit the sheets."
At times, Cohen deflects attention from the more problematic events in the Stones' history. His treatment of Mick Jagger's divorce from his wife Bianca is briefly addressed with, "Mick and Bianca divorced in 1979. I won't into that relationship further, because it just makes me sad." Missing is the detailed story, of Jagger starting an affair with model Jerry Hall, as are other mentions of his alleged mistreatment of women
But that's the prerogative of a fan writing about his favorite band, who is ultimately introduced by Mick Jagger to Bruce Springsteen as Mick's "good friend." Cohen is a successful journalist and historian with over 20 years in the field – but he was a Rolling Stones fan first. His latest is exactly what it would be like to hang out with the band you worship.