Is This Wooden Artifact an Ancient Roman Phallus?
Thirty years ago, researchers thought that the 2,000-year-old object was a darning tool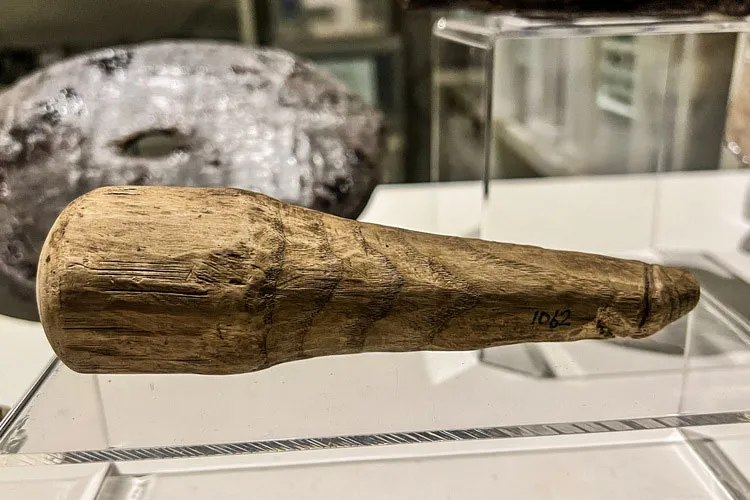 In 1992, archaeologists discovered an oblong-shaped object in northern England. Found next to shoes and clothing accessories, the wooden item—which had a wide base and a narrow tip—was at the time believed to be a darning tool.
Now, 30 years later, researchers have come up with a new interpretation: The 6.3-inch-long artifact is actually a "large, disembodied phallus," according to a new paper published in the journal Antiquity. Carved from ash wood, the phallus was unearthed at the Roman Vindolanda fort site near Hadrian's Wall. It's now on display at the Vindolanda museum in Northumberland, England.
Though past excavations have turned up Roman-era phalluses made of metal and stone, the newly discovered artifact is the era's first known life-sized specimen made of wood.
After considering the nearly 2,000-year-old object in this new light, researchers came up with several theories about its historic use.
"Often in archaeology, when we find an object, we can tell what it was used for—or deduce what it was used for," says study co-author Rob Collins, an archaeologist at Newcastle University, to the Guardian's Mark Brown. "That wasn't the case for this object. We have had to cast our nets wide in thinking, what would a six-and-a-half-inch wooden carving of a phallus be used for? We had some very interesting discussions."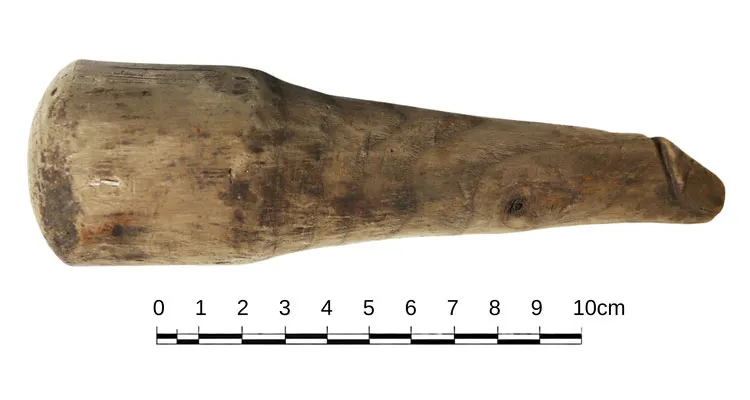 The researchers have three theories. The first is that the object was used for sexual purposes, similar to the phalluses that show up in Roman art and literature. In that case, however, the object may not have been used exclusively for pleasure. A person of power—such as an enslaver—could have used it for violent or malicious purposes, per the researchers. "It would be easy to cast such an object as silly and frivolous and just about sexual gratification, but it could be a tool for perpetuating power imbalance and subjugation," Collins tells CNN's Amarachi Orie.
The fact that archaeologists found shoes and dress accessories near the phallus makes the dildo theory even more plausible, writes Jane Draycott, a classicist at the University of Glasgow, for the Conversation.
"Ancient artisans such as shoemakers could turn their hands to all manner of things," she writes, "and while many men's, women's and children's shoes have been excavated at Vindolanda, there would have been plenty of time during the long, dark, northern nights for shoemakers to indulge in side hustles."
Another possibility is that Romans used the object to grind or mix food, medicines or cosmetics. They may have believed that the phallic shape of the pestle helped imbue the ingredients with magical properties.
Finally, the third theory is that the phallus was once attached to a statue near the entrance to a significant building. People walking by a headquarters location or a commanding officer's house, for example, may have rubbed or touched the item for good luck. The researchers aren't wholly sold on this idea, however, as the phallus shows no signs that it was left outdoors or exposed to the elements for an extended period of time.
No matter how the artifact was used, its reexamination shows the value of periodically revisiting past discoveries. Archaeologists may be able to learn even more about the Roman-era item by giving other historic artifacts a second look, too.
"The wooden phallus may well be currently unique in its survival from this time, but it is unlikely to have been the only one of its kind used at the site, along the frontier or indeed in Roman Britain," says Barbara Birley, curator at the Vindolanda Trust, in a statement.