What Do Astronauts Eat on Thanksgiving?
It's not as bad as you might think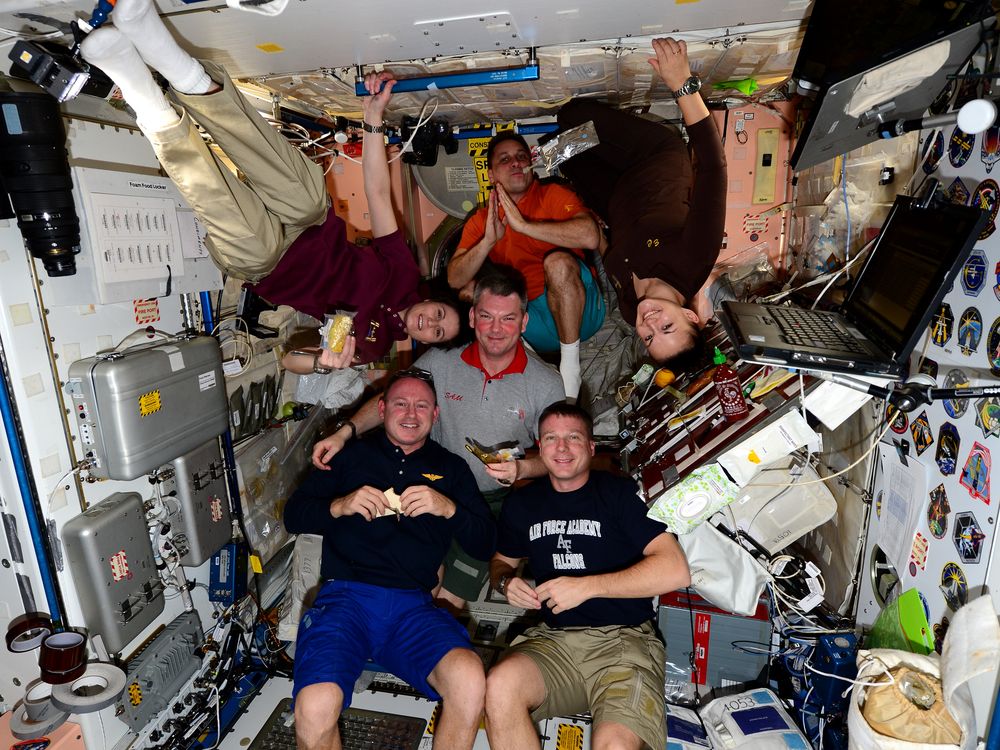 The International Space Station isn't exactly known for being festive. It's filled with florescent light, cramped with equipment and rife with dust. Astronaut Scott Kelley even described faint traces of "antiseptic" and "garbage" smells on board—not exactly the perfect place for a holiday celebration. But that doesn't mean that astronauts won't enjoy a Thanksgiving dinner this year. As ABC Radio reports, they'll likely chow down on holiday foods, such as sliced turkey, candied yams and apricot cobbler on Turkey Day.
Space food isn't cooked on the ISS. Rather, it's prepped on Earth in a lab on the campus of Texas A&M. The school is home to the Space Food Research Facility, which has been cooking for astronauts on the space station since 2007. The facility was put in place due to limited availability of facilities that can produce food products that are thermostabilized, or preserved with heat and pressure. Unlike the freeze-dried foods of yore, thermostabilized foods don't need to be rehydrated before consumption.
Astronauts on the ISS often eat food in special tortillas produced by Taco Bell (a perfect example: Chris Hadfield's peanut butter and honey "sandwich"). But in reality they have a relatively large selection of food to choose from.
As Amanda Brandt writes for The Eagle, astronauts have a wide repertoire of food options. They can select from 63 thermostabilized entrees and desserts (chocolate pudding cake is a popular dish) along with freeze-dried, dried, and ready-to-eat foods. Astronauts taste everything before they head to space, then make their selections to bring up with them. Astronauts also get occasional food deliveries in space when resupply missions head up to the ISS. They even get the occasional savory surprise, as when Pizza Hut delivered pizza to space in 2001.
But Thanksgiving isn't just any meal. Bonnie Dunbar, a retired NASA astronaut, told ABC Radio that this year's Thanksgiving selections taste just like the real thing. When sampling the dishes, she said, she was impressed not only by their taste but by the fact that the food is so much better than when she was in space.
Want a taste of space this Thanksgiving? Last year, NASA shared a recipe from its Food Systems Laboratory for "Out of This World Cornbread." Don't worry—it has no freeze-dried ingredients. Rather, it relies on delectable components like chicken broth and spices to impart a holiday flavor to the dressing. Just put in a plastic package, sniff some antiseptic and garbage, and work on becoming weightless for a Spacegiving celebration you won't soon forget.