Utah Shatters Snowpack Records, but Its Drought Remains
Unprecedented winter storms may provide temporary relief for the state's water problems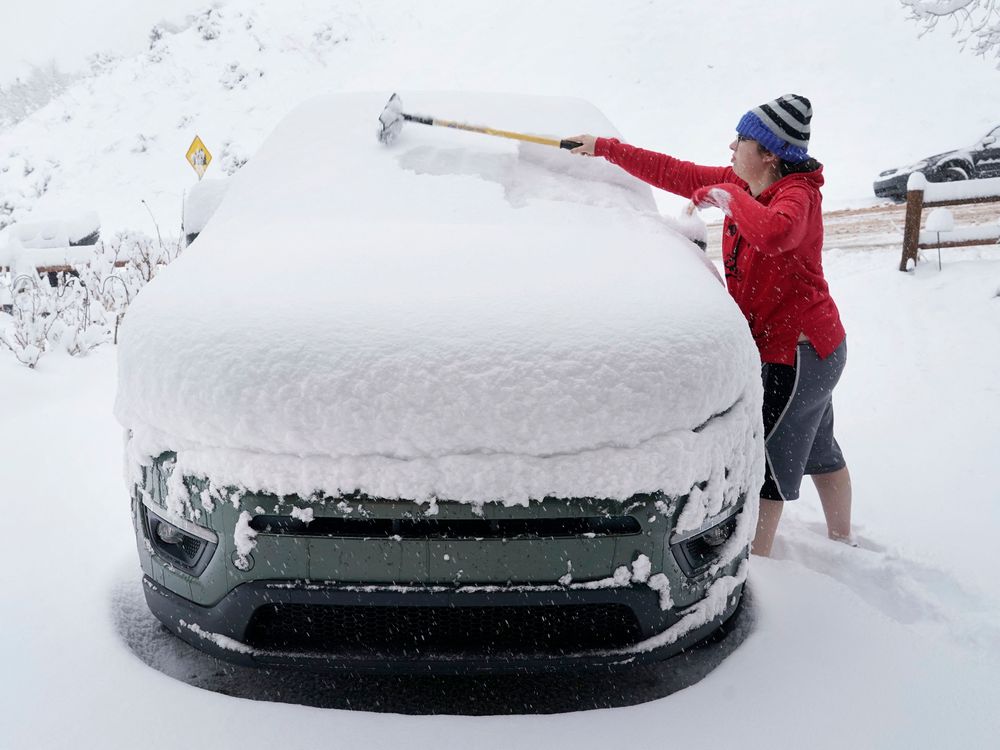 Utah's snowpack has reached the highest amount ever documented since state records began in the 1930s. Last week, the snow on the ground hit 201 percent of its normal level for this time of year.
A season of extreme winter storms has been making history across the state, with some areas reporting more than 800 inches of snow in recent months. With so much precipitation, several ski resorts in Utah and other parts of the West have extended their seasons into the spring and summer.
"It's a welcome relief," Paul Miller, a service coordination hydrologist for the Colorado Basin River Forecast Center, tells NBC News' Evan Bush. "It doesn't solve the drought problem in the Colorado River Basin, but it's definitely beneficial." 
The state's average snow-water equivalent, or the amount of water that would be released if the snowpack melted, hit 30 inches as of last week, surpassing the last record of 28.8 inches, set in 1952. At that time, though, data was only taken once a month from fewer locations, so theoretically, a larger snowpack could have occurred between measurements that year. Earlier this season, snow totals shattered another record from 1983, which was the highest since modern data collection began.
Snowpack is critical for the West's water supply. Mountain snow stores water in the winter and releases it in the spring and summer as it melts with rising temperatures. Millions of people depend on this melting snow for hydropower, irrigation and drinking water, and about 95 percent of Utah's water comes from snowpack, per the state's Department of Natural Resources.
Amendment: there's a more recent drought map and it looks even better. pic.twitter.com/93jMkI5Wvj

— Utah Division of Water Resources (@utahwaterres) March 30, 2023
The record amount of snow boosts hopes of short-term relief for the state's Great Salt Lake, which sank to unprecedented low levels last November due to drought and excessive water use. A report in January found the drying lake had lost about 73 percent of its water and was threatening residents with arsenic-laced dust from the exposed lakebed. But now, the reservoir has risen three feet in roughly five months due to rain and snow from winter storms, reports Dan Stillman for the Washington Post.
Still, the water level is six feet below "the minimum acceptable elevation for the lake's ecological and economic health," Brigham Young University ecologist Ben Abbott, who led the January report, tells the Post.
Despite the season's impressive snowfall totals, the West remains in the midst of a decades-long megadrought fueled by climate change. The region is the driest it's been in 1,200 years, which has forced dramatic cuts to water usage. While the snow will likely fill some of Utah's smaller reservoirs, larger ones like Lake Powell will need years of record-level precipitation and snowpack to reverse the impacts of drought. As of April 1, Lake Powell was expected to have an inflow of 11.3 million acre-feet of water, about 177 percent of the average. Right now, the lake is only about 21.67 percent full. 
"We're still working on a deficit," Tom Buschatzke, director of the Arizona Department of Water Resources, tells the Arizona Republic's Brandon Loomis. "We have to keep the pedal to the metal."
While the snowpack has its benefits, officials have expressed concerns over potential flooding as it melts. Significant precipitation followed by high temperatures can be devastating, as Utah experienced in 1983, when a river ran through downtown Salt Lake City. Last month, Utah Governor Spencer Cox issued an executive order to allow state employees to take paid leave to help with flood mitigation efforts. 
"We are literally in uncharted territory," Cox said last week during a meeting of the Utah Association of Counties, per Ben Winslow of FOX 13 News. "We have no idea what to do with this much water, except we now pray it comes down slowly."