Drying Great Salt Lake Could Expose Millions to Toxic Arsenic-Laced Dust
The largest saline lake in North America is on track to collapse within five years, a new report finds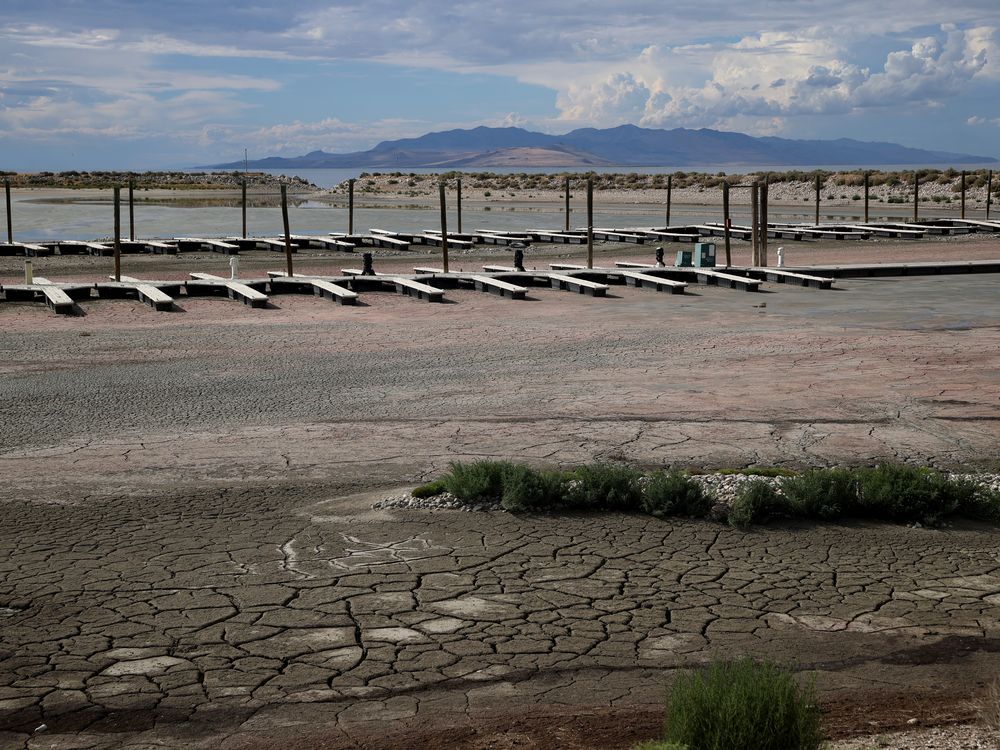 Utah's drying Great Salt Lake is on track to collapse in five years, if the current water loss trends continue, according to a new report released this month. This could expose millions of people to toxic arsenic-laced dust from the lakebed.
The report, authored by a team of 32 ecologists and conservationists, points to excessive water use as the decline's primary driver. Climate change, which has worsened the West's drought, is a secondary contributor. 
"The first law of ecology is 'everything is connected.' The collapse or recovery of the Great Salt Lake will have regional and even hemispheric impacts. Losing it would be a global tragedy," report lead author Benjamin Abbott, an ecosystem ecologist at Brigham Young University, tells Live Science's Ben Turner. "We've got to rapidly decrease our water use or suffer the consequences. You can't negotiate with nature."
The Great Salt Lake is the largest saline lake in North America. It directly provides about $2.5 billion in economic productivity each year and supports about 9,000 local jobs, per the report. Evaporation from the lake increases snowfall in the nearby mountains by 5 to 10 percent annually, bringing in another 20,000 jobs and $1.8 billion per year. 
While humans have been affecting the lake's water since the 1800s, it wasn't until the construction of dams, canals and pipelines in the 20th century that we became the "dominant force controlling the lake," write the authors. 
In 2017, Science's Sarah Derouin reported that people living in the area diverted 3.3 trillion liters of water annually from the streams feeding into the lake. Agriculture accounts for about 75 percent of the watershed's demand, followed by water lost in transport, used in mineral extraction and piped to cities and industry, notably for irrigating lawns.
The lake's water level is now 19 feet below its average, and it has lost 73 percent of its water and 60 percent of its surface area since 1850, write the authors. Since 2020, the lake has dropped 1.2 million acre-feet per year. To reverse the decline, water use in the Great Salt Lake watershed would need to be cut by a third to a half—and quickly, per the authors.
"We have to shift from thinking of nature as a commodity, as a natural resource, to what we've learned over the last 50 years in ecology, and what Indigenous cultures have always known," Abbott tells the Washington Post's Sarah Kaplan and Brady Dennis. "Humans depend on the environment … We have to think about, 'What does the lake need to be healthy?' and manage our water use with what remains." 
As the lakebed becomes exposed, toxic dust mixed with metals and metalloids like antimony, copper, zirconium and arsenic become a problem, per Live Science. The dust could lead to soil degradation and snow melt, as well as raise residents' risk of respiratory conditions, heart disease, lung disease and cancers. 
Research suggests the wealthy and suburban areas of Salt Lake City will face the most of the dust storms' impact, but dust is also a concern for people who have historically faced decades of environmental disparities on Salt Lake City's west side, writes Evan Bush for NBC News. 
"Nanoparticles of dust have potential to cause just as much harm if they come from dry lake bed as from a tailpipe or a smokestack," Brian Moench, president of Utah Physicians for a Healthy Environment, tells the Post. He adds that the lake shrinking is a "bona fide, documented, unquestionable health hazard."
The wildlife that call the lake home are also imminently threatened. The water has become too salty for brine flies, a key species in the ecosystem's food web. Millions of migratory birds that rely on the lake are now facing habitat loss. Brine shrimp, which feed millions of people across the world, could lose their watery abode. 
Candice Hasenyager, the director of the Utah Division of Water Resources, tells Live Science this is an "all-hands-on-deck emergency."
"Protecting and preserving the Great Salt Lake is a top priority for the state," she tells the publication. "The lake is vital to the environment, ecology and economy, not just in Utah but also to the western United States."