U.K. Heat Wave Triggers Rare Flamingos to Lay Eggs for the First Time in 15 Years
None of the eggs were fertile, but conservation officials have hatched a plan to encourage the flamingos to breed again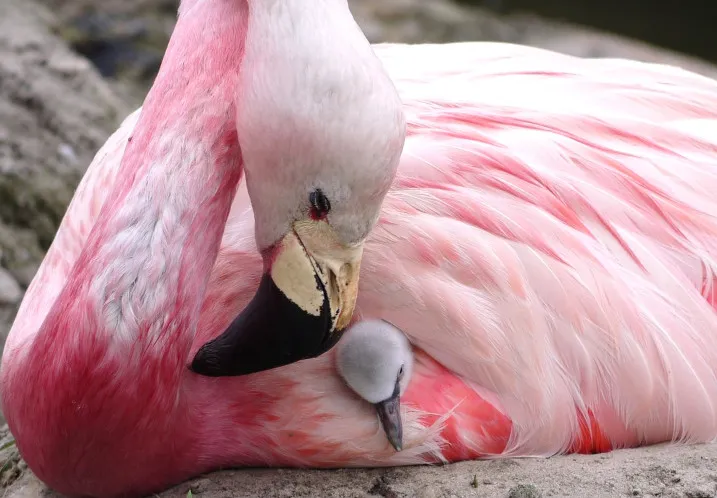 A scorching summer heat wave has been sending things a bit topsy turvy in the typically-temperate U.K. Water supplies have been depleted, traces of ancient structures are cropping up in parched fields and demand for thirst-quenching beverages contributed to a beer shortage. Emphasizing just how high temperatures have climbed, a nature reserve in Gloucestershire, England announced last week that a hot spell prompted its rare Andean flamingos to lay eggs for the first time in 15 years, as Yonette Joseph of The New York Times reports.
With weather conditions mimicking their warm natural habitat, six Andean flamingos at the Wildfowl & Wetlands Trust (WWT) Slimbridge were recently triggered to lay a total of nine eggs. The reserve said in a statement that the rare pink birds, which hail from the Andean plateaus of Peru, Chile, Bolivia and Argentina, are notoriously "fickle breeders and can go years without nesting successfully." They usually lay just one egg, and when the climate isn't favorable, they often do not breed at all. The ones at the WWT haven't laid any eggs since 2003, when the weather was similarly hot, according to The Telegraph's Sarah Knapton. The birds' last successful breeding period was in 1999.
Unfortunately, the Gloucestershire reserve won't be welcoming any Andean flamingo babies just yet; all of the new eggs were infertile. But Mark Roberts, WWT Slimbridge's aviculture manager, said in the statement that the eggs were nevertheless a "wonderful and welcome surprise."
Andean flamingos, or Phoenicoparrus andinus, are categorized as a "vulnerable" species. Their populations have declined rapidly over the past 30 years due to habitat degradation and the "intensive" collecting of their eggs for food in the mid-20th century and early 1980s, according to the International Union for Conservation of Nature and Natural Resources. Andean flamingos can live for up to 50 years—some of the flamingos at WWT Slimbridge have been there longer than any current staff—and they remain fertile even in old age. But the birds' breeding rates are low. Only 38,000 to 39,000 Andean flamingos are thought to exist today, making them the rarest flamingo species.
The fact that the WWT Slimbridge flamingos laid any eggs at all, even infertile ones, is therefore a promising sign. Hoping to take advantage of the birds' broody mood, reserve officials hatched a plan to encourage them to lay more eggs. Staff members took a few eggs from Chilean flamingos, which are closely related to their Andean cousins, and deposited them among the Andean flamingos. The Andeans are raising the chicks as their own, and the reserve hopes that the foster scheme will prompt the birds to breed once again.
"It's great motivation," Roberts said of the plan, "and enriching for the birds."