This Texas Teen's Most Productive Fishing Hole Is the Sewer
Kyle Naegeli, 15, first discovered this unlikely fishing hole after he made a $5 bet with his dad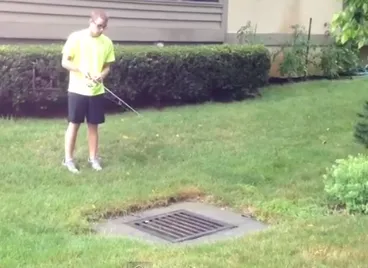 For one Texas resident, fishing does not involve a trip to the local creek, the Gulf or the ocean. He insists that the best fishing around his home near Houston is right outside his front door, in the neighborhood storm drains.
Kyle Naegeli, 15, told the Atlantic he first discovered this unlikely fishing hole after he made a five dollar bet with his dad. Naegeli insisted he could catch fish in the sewer; his dad was dubious. When he caught a bluegill in the storm drain, the Atlantic reports, he not only won the bet but decided to kick off a series of popular YouTube videos. Naegeli writes:
I knew there were fish in this sewer about the years ago. Multiple species of fish swim from the pond into the storm drain. I have caught bass,catfish and bluegill in that sewer. In the first video I caught a bluegill on rod and reel but most people didnt believe us.We brought out this minnow trap in the sewer since a lot of yall didn't believe there were fish in there and we caught some bluegill.
Some people, of course, are dubious. Couldn't Naegeli have just edited the video clip to make it look like he was reeling in fish from the sewers? The Atlantic discusses what we do and don't know about the facts:
To his credit though some videos don't have cuts, like when he netted a wee fish and also snagged a bluegill using the artificial bait Gulp! Alive! This unedited footage involves creatures much smaller than the bloated catfish you see in the above montage of "My Three Biggest Catches." (Listen for the off-camera admirer saying either "got him a cat" or "government cat" – I choose to believe the latter interpretation.)

Fishermen love to tell dubious tales, but it's not inconceivable that a stocked pond would feed from a storm drain under the street. "The pond is like 100, 150 yards away," Naegeli says. "I think it connects somewhere and that's how they're getting in."
Regardless of whether or not the fish are actually from the drain, Naegeli does not eat them. After catching them, he releases them back into their subterranean habitat. Although the drains are not for raw sewage, the Atlantic says, they do carry storm water along with whatever else washes down from the street.
More from Smithsonian.com:
Sewage Water Reveals Community's Illegal Drug Habits 
California's Gender-Bending Fish Was Actually Just a Contamination Accident