When Princess Charlotte of Mecklenburg-Strelitz first met George III in 1761, she "threw herself at his feet" in supplication, prompting the English king to raise her up, embrace her and lead her through the garden "up the steps into the palace," as one observer recounted. Just a few hours later, the German princess married George, becoming England's newest queen.
In poor health following a rough voyage at sea, Charlotte was so thin she could barely support the weight of her diamond-adorned wedding gown. As art collector and author Horace Walpole wrote in a letter the following day, "Her violet-velvet mantle and ermine [were] so heavy that the spectators knew as much of her upper half as the king himself."
Despite this somewhat inauspicious start, Charlotte and George enjoyed an affectionate, fruitful partnership that endured until the king's mental illness violently transformed his personality in the late 1780s. Now, a new spinoff of Netflix's popular historical drama "Bridgerton" is revisiting the royal couple's love story. Titled "Queen Charlotte: A Bridgerton Story," the six-episode limited series stars India Amarteifio as the young queen and Corey Mylchreest as her husband.
Golda Rosheuvel, who played an older Queen Charlotte in "Bridgerton," reprises her role in a parallel storyline set in the 1810s. Today, these years are known as the Regency period, named for the window in which Charlotte's son, the future George IV, ruled as regent in lieu of his father, whom Parliament had deemed mentally unfit.
Black Britons in "Bridgerton"
Like its sister show, "Queen Charlotte" takes substantial liberties with the historical record, portraying Charlotte as a Black woman whose marriage opened doors for people of color in 18th-century England. (In truth, most historians reject the theory that Charlotte was Black.) As Black aristocrat Lady Agatha Danbury says in "Bridgerton," "We were two separate societies divided by color until a king fell in love with one of us."
The new series expands on this imagined movement toward racial equality, explaining that George's mother, Princess Augusta, hastily bestowed titles upon wealthy Black families in order to "remake the nobility in her [new daughter-in-law's] image," as Alison Herman writes for Variety. Dubbed the "Great Experiment," the integration attempt isn't immediately successful. Herman notes, "There's some resistance from the old guard, though it's never explicitly racist, again begging some follow-ups about the preexisting status quo."
Racial relations in Georgian England were far more complicated than "Bridgerton" and "Queen Charlotte" suggest. According to Historic England, around 15,000 Black people lived in the country during the second half of the 18th century. The majority of these individuals worked in the domestic service as either paid or enslaved servants. Though Britain abolished the slave trade in 1807—in no small part due to the efforts of Black abolitionists like Ignatius Sancho and Olaudah Equiano—slavery remained legal in the British colonies until 1833, and an exploitative practice in which newly freed adults were forced to work as apprentices for years remained in place until 1838.
"Bridgerton" takes place at a time when "diversity as we know what the word means did not exist," historian Marlene Koenig tells Insider's Mikhaila Friel and Ayomikun Adekaiyero. While the show's producers and stars have framed its inclusion of Black characters as a form of escapism and fantasy, the fact remains that slavery not only exists in the "Bridgerton" world but is also directly responsible for generating much of the wealth on display.
"You can't say race isn't of consequence when the world these characters inhabit was created in part through racism," wrote critic Carolyn Hinds for the Observer in 2021. "Yes, slavery exists in this world, so how could race not matter? Having Black people strolling around in the background doesn't erase that, and it's not enough."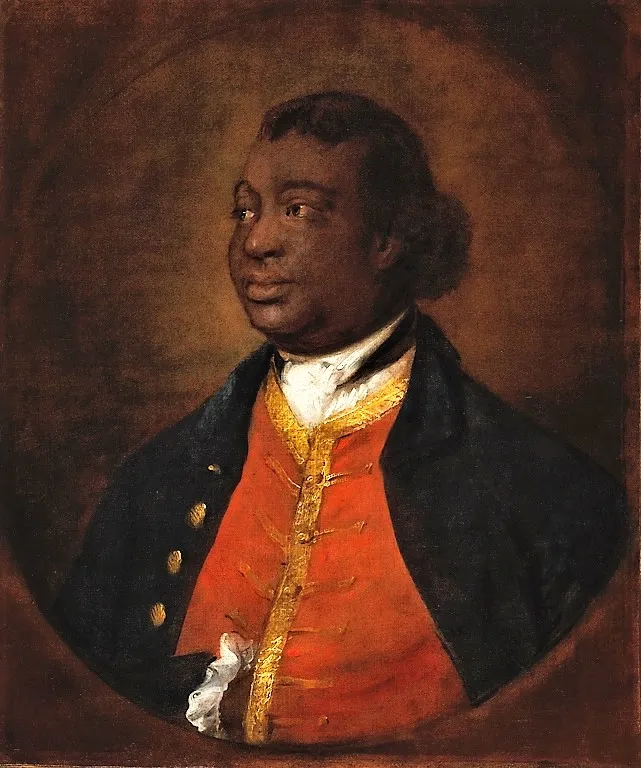 The debate over Charlotte's Black ancestry
The idea that Charlotte was Black stems from research conducted by historian Mario de Valdes y Cocom. Writing for PBS Frontline in 1997, he argued that Charlotte was "directly descended" from Margarita de Castro y Sousa, a 15th-century Portuguese noblewoman who was herself related to the 13th-century ruler Afonso III and his Moorish lover Madragana. Valdes further pointed to "the African characteristics evident in so many of the queen's portraits" as proof of his theory, noting that "artists of that period were expected to play down, soften or even obliterate features in a subject's face, especially a woman's, that were not considered to meet the standards of beauty for the times."
Other scholars are skeptical of Valdes' claims. As historian Lisa Hilton told Insider's Yoonji Han last year, the term "Moorish" was used to refer to anyone who lived in the Moorish Empire, regardless of their race. Even if Madragana was a Black woman, Hilton added, "after 500 years, it is extremely unlikely that traces of the genetic makeup would have appeared in the features of an 18th-century princess." To put it another way, as Stuart Jeffries did for the Guardian in 2009, "[Historians] argue the generational distance between Charlotte and her presumed African forebear is so great as to make the suggestion ridiculous."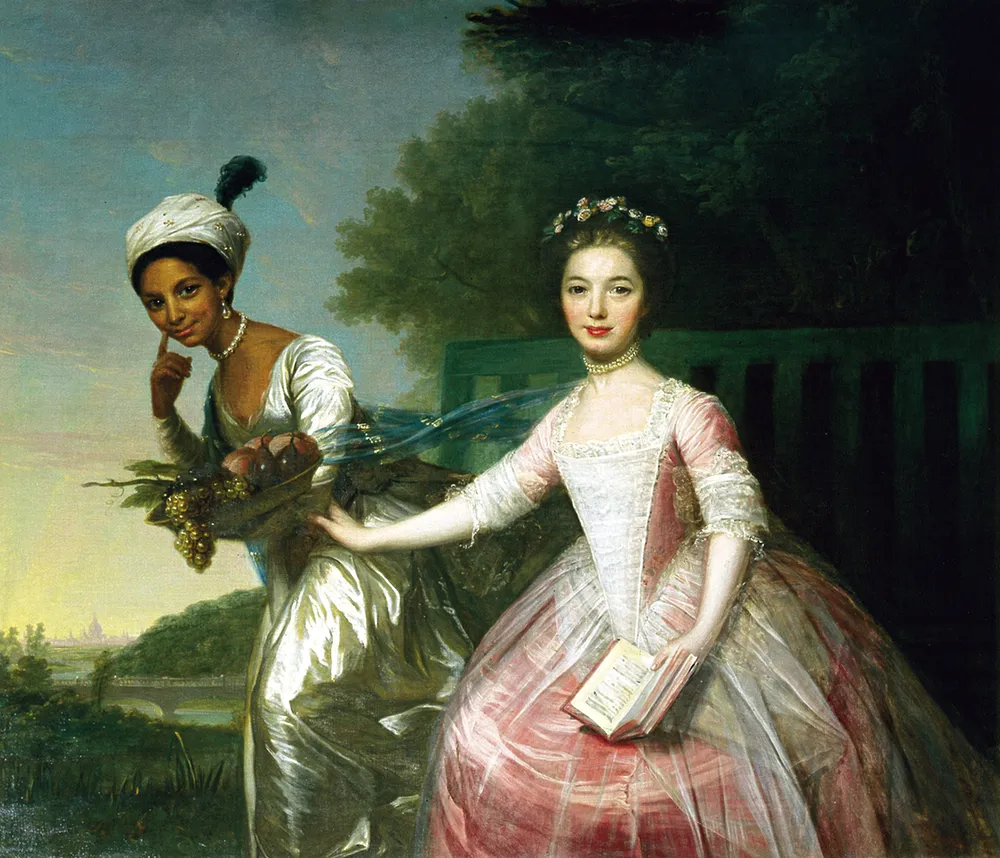 While Charlotte probably wasn't Black, this doesn't mean the aristocracy was wholly white. Dido Elizabeth Belle, the mixed-race daughter of an enslaved woman and a Royal Navy captain, is widely considered to be Britain's first Black aristocrat. Born in 1761, she was raised alongside a white cousin by her father's uncle, the Earl of Mansfield, at his lavish London estate. By all accounts, Belle was treated as a member of the family, though she didn't eat with the rest of the household when Massachusetts Governor Thomas Hutchinson stopped by for dinner in August 1779. "[She] has been educated by [the earl's] family," Hutchinson wrote in his diary. "He calls her Dido, which I suppose is all the name she has. He knows he has been reproached for [showing] a fondness for her."
A century later, Queen Victoria agreed to serve as the godmother of Sarah Forbes Bonetta, a young girl born into a prominent Yoruba family. In the late 1840s, King Ghezo of Dahomey (most recently portrayed on the silver screen in The Woman King) defeated Bonetta's tribe, killed her parents and enslaved her. After a British captain failed to convince Ghezo to abandon his role in the slave trade in 1850, the king gifted Bonetta to him as consolation. Upon the pair's arrival in England, Victoria agreed to take the girl "under her protection," paying for her education and looking out for her throughout her life, wrote historian Caroline Bressey in a 2005 journal article.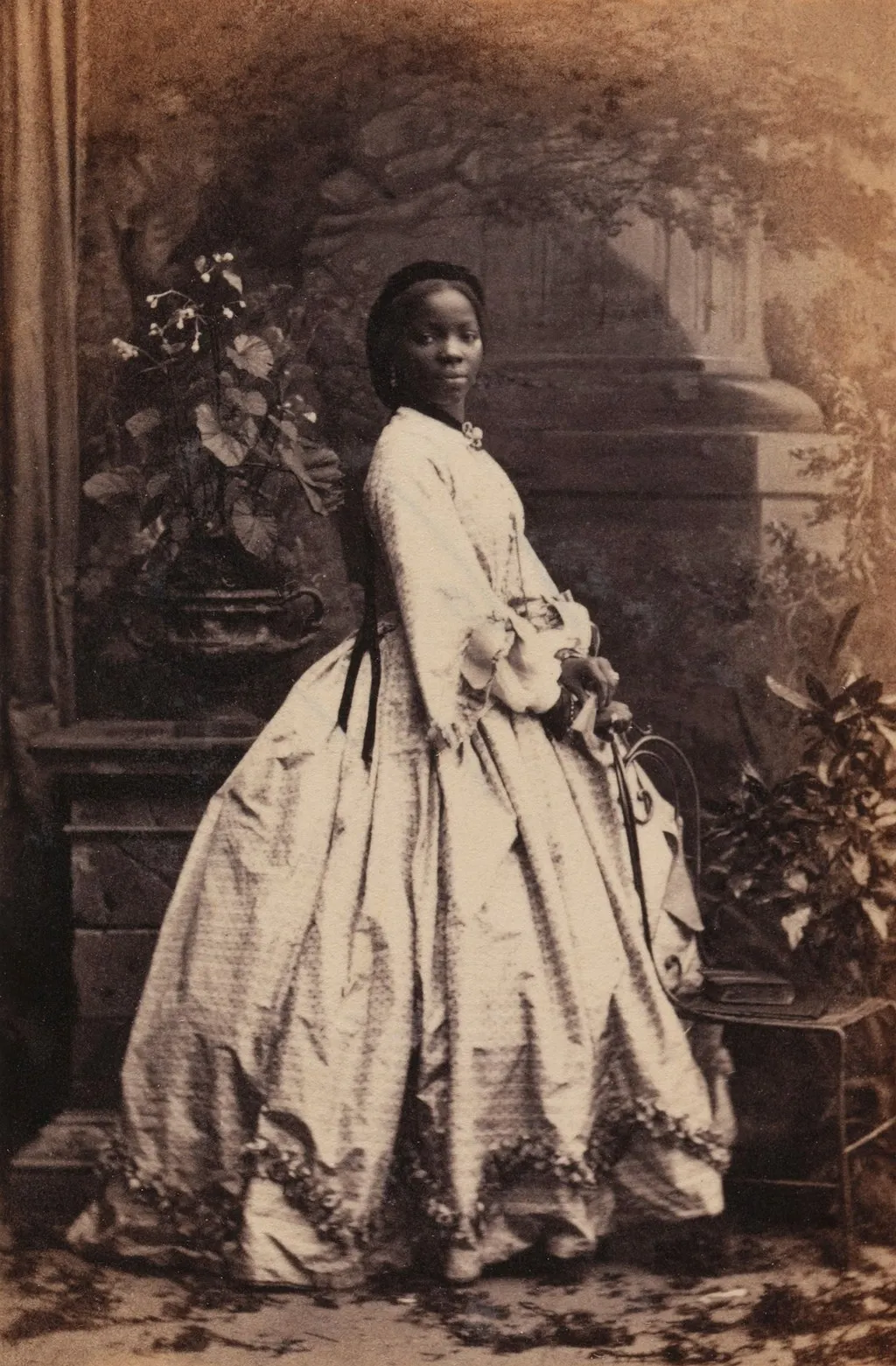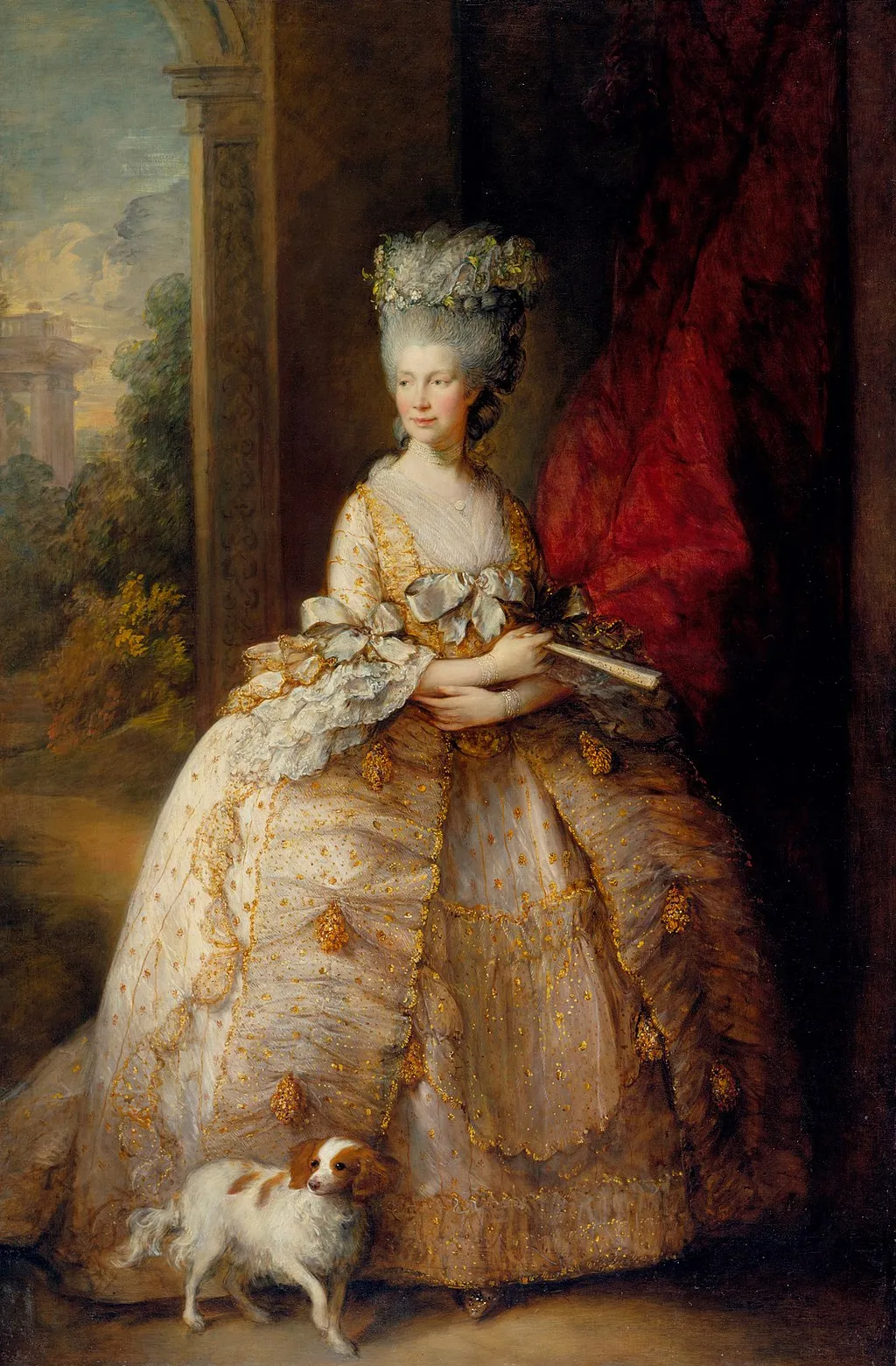 George and Charlotte's relationship
Born on May 19, 1744, Charlotte was the youngest daughter of the Duke of Mecklenburg-Strelitz, a territory in what is now northern Germany. When Charlotte was 17, the new king of England, 22-year-old George III, sought her hand in marriage. According to History Extra's Catherine Curzon, George "needed a queen—and an heir—as a matter of urgency," so he chose Charlotte from a "shortlist of eligible and suitable Protestant ladies." Not a traditional beauty, she nevertheless had a "lively but equable temper," in the words of one contemporary.
Charlotte landed in England on September 8, 1761, and married George that same night, within six hours of her arrival. Two weeks later, the couple held a joint coronation; it ran so long that members of the congregation started eating during the sermon. Within a year of her wedding, Charlotte gave birth to the future George IV—the first of the couple's 15 children, 13 of whom survived to adulthood.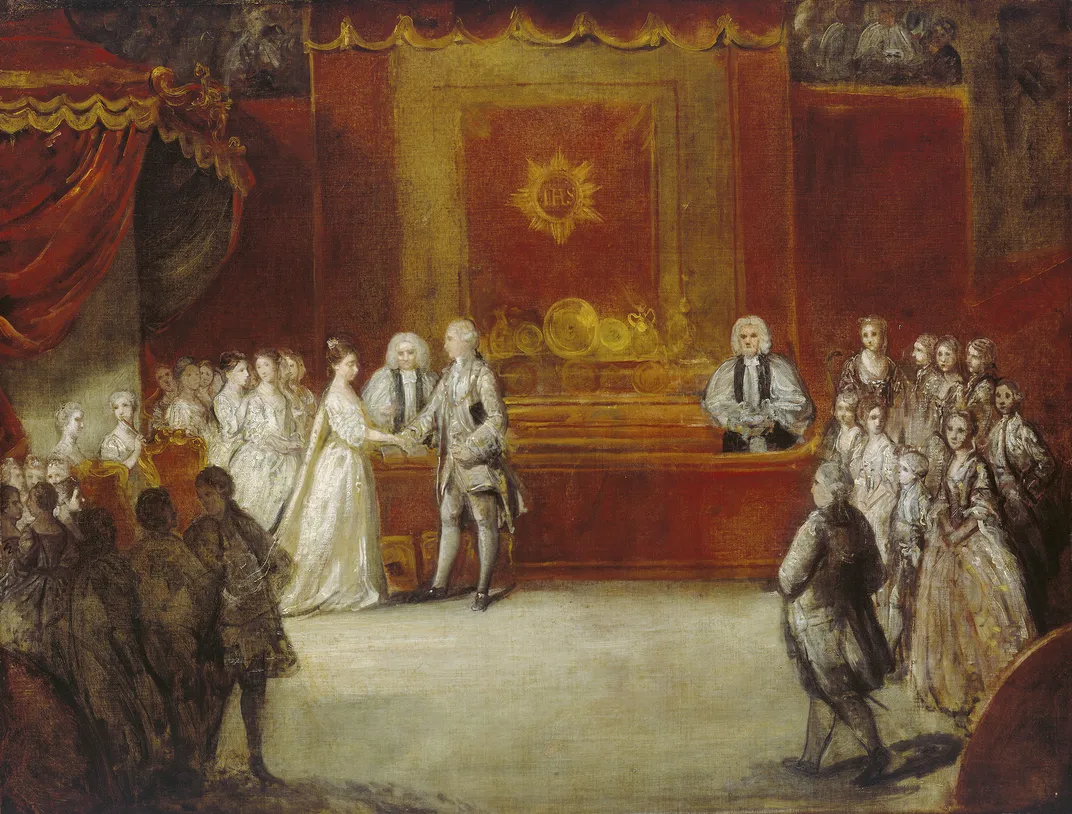 Though they married for political gain rather than love, Charlotte and George held each other in high esteem. In a 1778 letter to her husband, the queen wrote:
You will have the benefit by your voyages to put spirit in every body, to be more known by the world, and if possible more beloved by the people in general. That must be the case, but not equal to the love of her who subscribes herself your very affectionate friend and wife Charlotte.
Both Charlotte and George were heavily involved in their children's upbringing. While George is most often remembered for his mental illness and role in the Revolutionary War, "he was also a guy who was capable of a great deal of empathy," historian James P. Ambuske told Smithsonian magazine's Sara Georgini in 2016. "He was very concerned, as any parent would be, about the well-being of his children and their education. He was well aware that he was raising potential future sovereigns, but he also wanted them to be good people."
The king and queen shared a love of music, often playing duets together, with Charlotte on the harpsichord and George on the flute. While both preferred the informal, simple lives they led at home, the court they presided over—as seen in "Bridgerton"—was a fashionable, glittering one.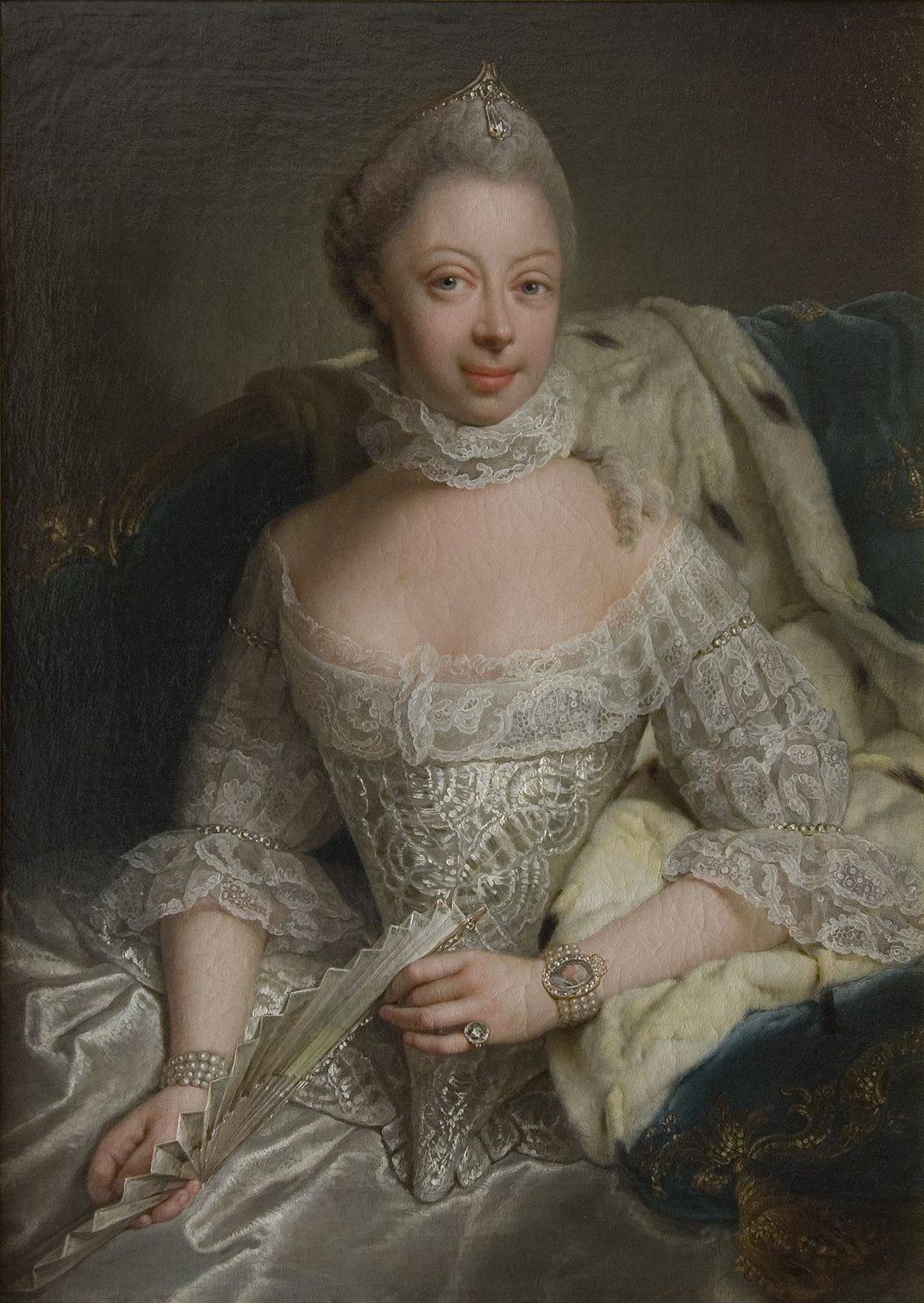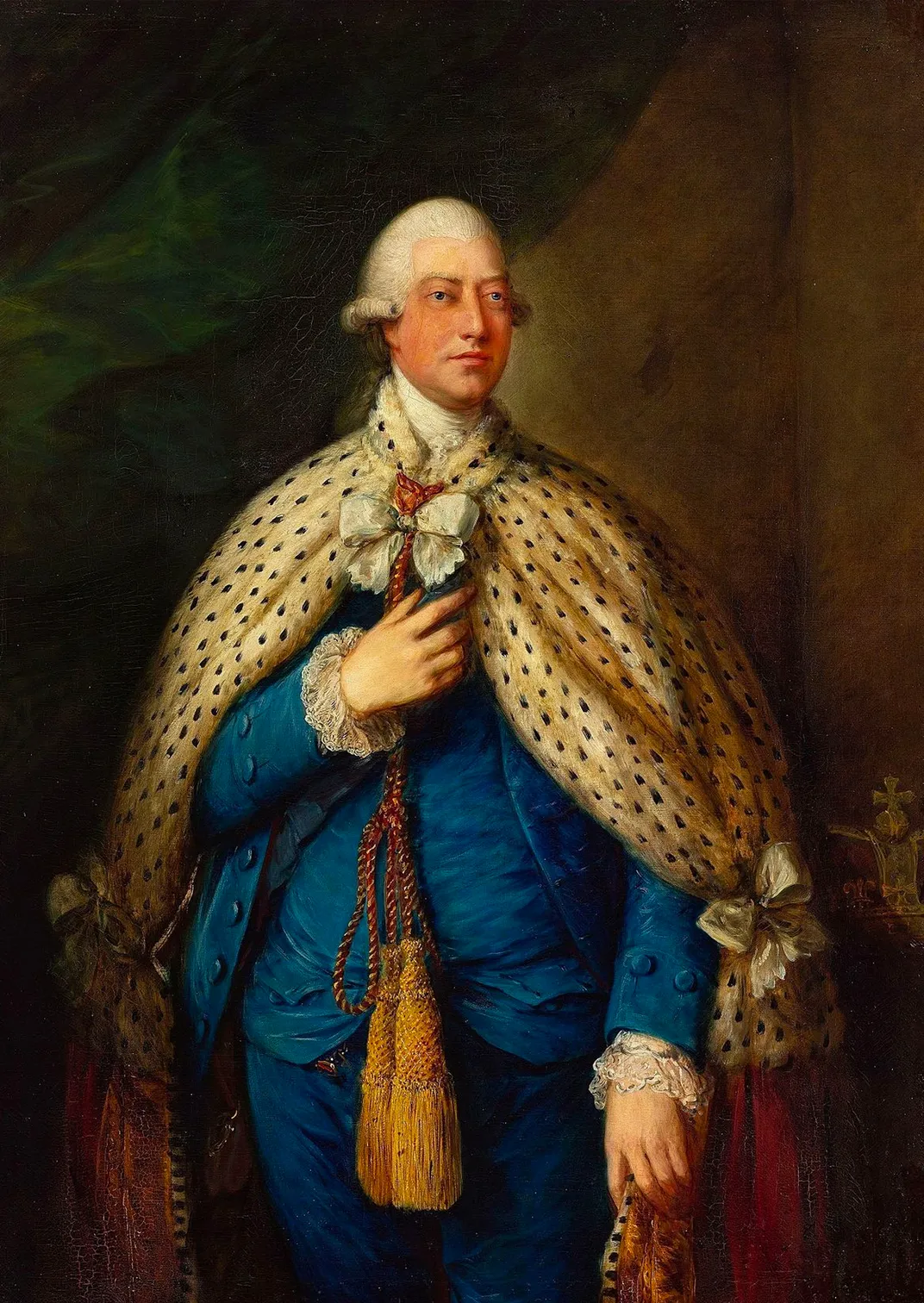 George suffered his first major bout of mental illness in 1788. The king suffered both physical pain and mental distress, including periods of "incessant loquacity" in which he talked until he foamed at the mouth. Unable to sleep, he spoke out of turn, accusing his wife of adultery and making inappropriate advances toward her attendants. On one occasion, George even physically assaulted his oldest son, George, Prince of Wales.
Doctors had few explanations for George's sudden deterioration in health. (In the 1960s, a pair of historians attributed his behavior to a genetic blood disorder called porphyria, but more recent analyses suggest he had bipolar disorder.) Physician Francis Willis, a central figure in the 1994 film The Madness of King George, treated George with a combination of harsh methods, like coercion and physical restraints, and more humane strategies. "It's likely that the king recovered in a few months despite, rather than because of, his treatment (which included leeching and cold baths)," notes Historic Royal Palaces on its website.
George's illness took a toll on his wife and children, too. As novelist and court attendant Fanny Burney recorded in her diary, Charlotte repeatedly asked, "What will become of me?" Her "desponding" words "implied such complicated apprehensions," Burney wrote. By 1789, Charlotte's hair had turned white from stress. She clashed with Prince George as he rallied to be appointed regent in his father's stead and only reconciled with her son in 1791, by which point the king had recovered.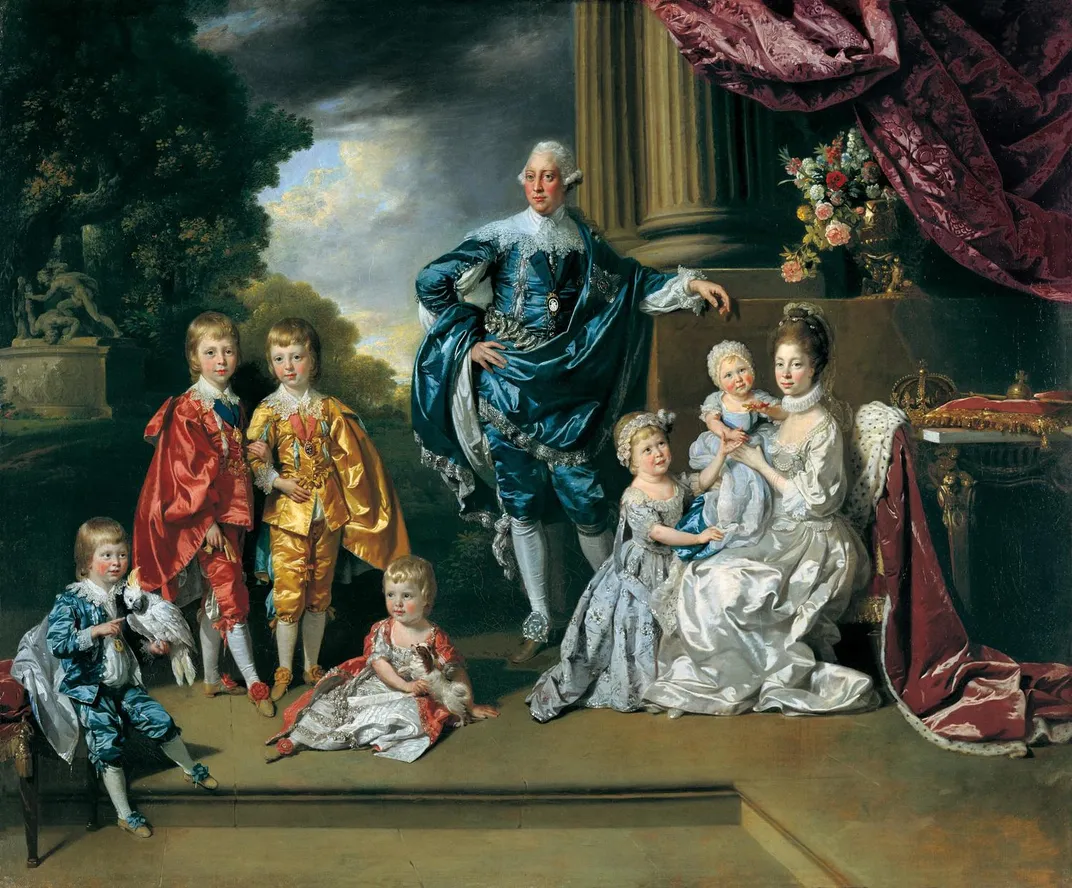 George's recovery wasn't permanent. He continued to suffer from periodic bouts of mental illness, and in 1811, his son officially took control of the kingdom, serving as regent for the next nine years. During this Regency period, Charlotte presided over court in place of her son's estranged wife, Caroline of Brunswick. She cared for the king faithfully but took care to never be alone with him. As Curzon writes, Charlotte "watched him fade away until he no longer recognized her." The queen died of pneumonia in 1818 at age 74, predeceasing her husband by two years. They are buried near each other in the royal vault at Windsor Castle.
Reflecting on the loss experienced by Charlotte, the wife of Philip Lybbe Poyse, who had watched the couple's coronation procession in 1761, remarked, "Never was anyone to be more pitied than her majesty, as no couple had ever been happier than they were before this greatest of all misfortunes."