Swiss Seniors Are Suing Over Climate Change's Threat to Their Health
Amid record-setting heat, the group of women argue that their government's failure to cut fossil fuel emissions has violated their human rights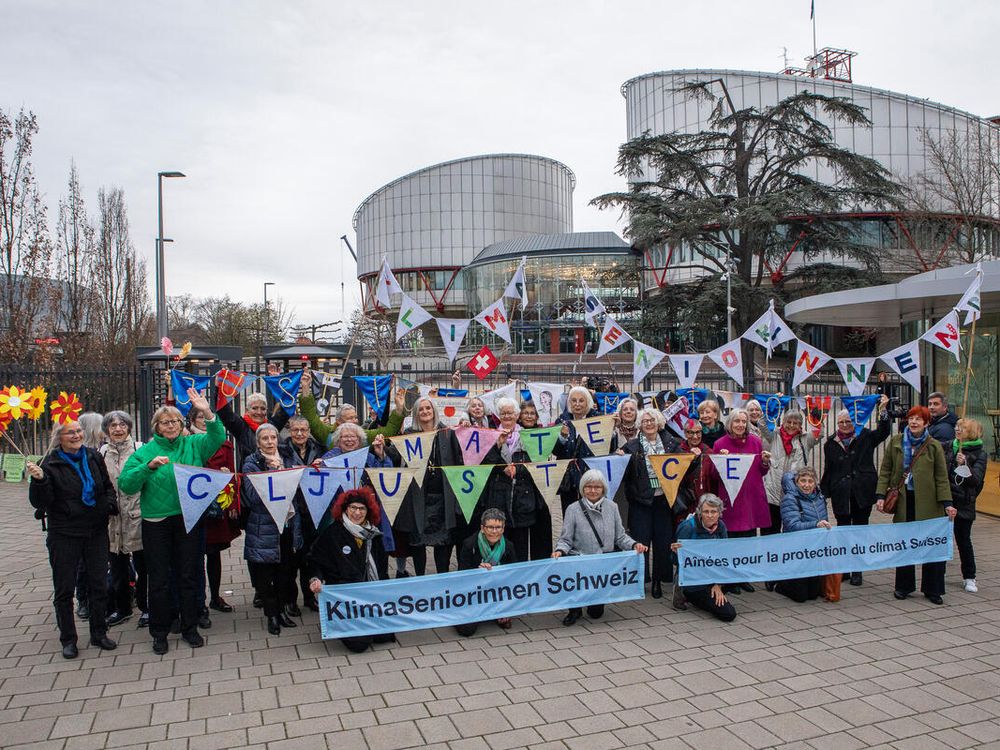 A group of senior women from Switzerland are suing their government over its climate change inaction, alleging the country's climate policies violate their human rights and health. KlimaSeniorinnen Schweiz, a Greenpeace-backed group of 2,400 women ages 64 and older, filed a lawsuit that was heard in Europe's top human rights court in March.
Now, with the court's decision pending, the recent extreme temperatures in Europe have called attention to the activists' claims once again, reports the New York Times' Isabella Kwai.
Last summer, for example, a heat wave killed 61,000 people across the continent. Overall—as well as in Switzerland, specifically—older women were affected the most. And this July, the World Meteorological Organization issued health warnings across Europe as the Earth clocked its hottest month on record.
"KlimaSeniorinnen is accusing the government of not doing enough against climate change," Elisabeth Stern, a retired ethnologist and member of KlimaSeniorinnen, told Anadolu Agency's Muhammed Enes Calli in May. "Climate change is happening, and it is the duty of the government to protect its citizens from such threats… and it's not doing enough." 
Starting in 2016, KlimaSeniorinnen filed cases with the Swiss courts, arguing that older women are particularly vulnerable to the effects of climate change—especially heatwaves. They were rejected at three levels of jurisdiction, including Switzerland's Federal Supreme Court, which ruled that the women's rights were not sufficiently violated and that their outcome should be achieved through political action rather than through the legal process.
News: https://t.co/0WZ2TukXQ0#Switzerland experienced heat waves in 2022, compelling Volkoff to stay mostly indoors, referring to the situation as a "climate lockdown". She described the situation as worse than #Covid pandemic & a violation of her human rights.
•#GlobalWarming pic.twitter.com/xpBBYD0jTf

— World News Live TV (@WorldNewsLiveTV) March 29, 2023
Following dismissals in Switzerland, the seniors launched their case with the European Court of Human Rights (ECtHR), an international court that rules on violations of civil and political rights, in 2020. In a win for the activists, the case was referred to the judges of the Grand Chamber, which hears cases on the most important legal issues, wrote Euronews' Rosie Frost in March.
Then, on March 29, 2023, Verein KlimaSeniorinnen Schweiz and Others v Switzerland became the first climate-related case ever heard by the ECtHR. It became one of three climate lawsuits pending in the court. 
"Ten years ago, this kind of case was unimaginable," Corina Heri, a researcher at the Institute of Law of the University of Zurich, told CNN's Ivana Kottasová in March. "The fact that they're being heard means they passed a preliminary admissibility check, and the fact that they're being heard directly at the Grand Chamber means they raise serious legal questions."
The lawsuit comes as temperatures rise drastically across the globe because of human-caused climate change. Last year was Switzerland's hottest on record, which led to unprecedented melting of glaciers in the Alps. The mountains are expected to lose more than 80 percent of their glacial cover by 2100 if greenhouse gas emissions continue to rise. Elsewhere in Europe, wildfires, heat waves and flooding are becoming more extreme, which scientists attribute to human-caused global warming.
As governments fail to curb greenhouse gas emissions, more senior citizens are engaging in climate activism. In March, for example, a group of protesters over 60 staged demonstrations in more than 90 locations across the United States against banks that finance new fossil fuel infrastructure.
Climate change litigation has also become increasingly popular across the globe as temperatures rise. Since 2015, the number of cases worldwide has more than doubled, with more than 2,000 total cases filed as of last year. The Swiss activists argue that their government is falling short of goals set in the Paris agreement of 2015.
"This will have a domino effect," Annalisa Savaresi, an expert in environmental law at the University of Stirling in Scotland who has studied climate change litigation, tells the New York Times. "It's the first of its kind to be heard, but there are many others in the pipeline."
The ECtHR is expected to reach a decision by the end of 2023 at the earliest, per a statement from Greenpeace. The court "is expected to define whether, and to what extent, States violate human rights by failing to mitigate the impacts of the climate crisis," per the statement. "This will have far-reaching consequences."