Melting Swiss Glacier Reveals Remains of Climber Who Disappeared in 1986
As climate change warms the planet, more discoveries of human remains and objects in ice are expected to occur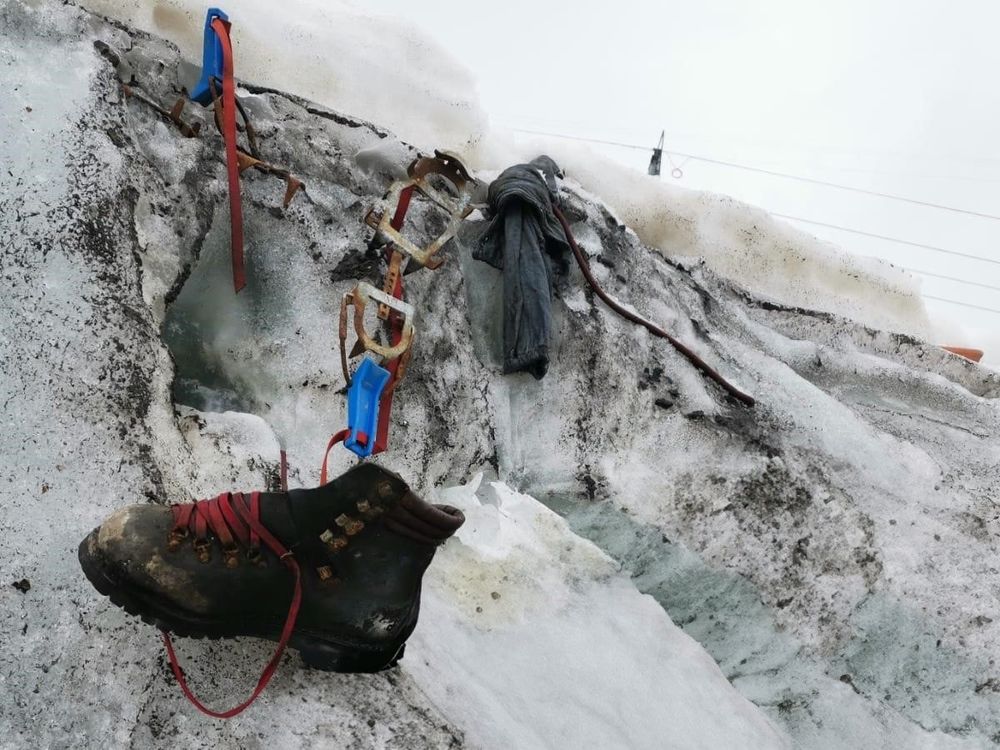 Mountaineers trekking along a glacier in Switzerland have made a surprising discovery: the body and equipment of a hiker who had been missing for nearly 40 years.
On July 12, the group was traveling across Theodul Glacier in Zermatt, Switzerland, not far from the famous Matterhorn mountain, when they stumbled upon pieces of gear and human remains, per a statement from the local police.
Authorities sent the remains for DNA testing at Valais Hospital, which revealed that the newly discovered body belonged to a German mountain climber who had gone missing in September 1986.
The police did not share the deceased individual's name, but they said the mountaineer was 38 years old in 1986. At the time, search teams tried to find the hiker but were ultimately unsuccessful.
It's not clear how or why the German alpinist died, nor the conditions that made it impossible for the person to return home safely. However, discoveries like this one may become more and more common amid rising global temperatures, as glaciers like Theodul continue to melt.
"The retreat of the glaciers brings to light an increasing number of missing alpinists who were reported missing several decades ago," police said in the statement.
Last summer was a particularly bad year for Swiss glaciers, which lost an estimated 6 percent of their remaining volume—a record-breaking figure that nearly doubled the previous highest melt rate set in 2003, as Reuters' Denis Balibouse, Cecile Mantovani and Emma Farge reported last year.
Some small glaciers nearly disappeared, while large ones lost so much ice that they exposed bare rock that had been covered for nearly 2,000 years. In August 2022, climbers discovered at least two sets of human remains, as well as the wreckage of an airplane that crashed in 1968, per the Guardian's Philip Oltermann.
All told, scientists estimate glaciers in Switzerland have lost more than half their volume since 1931.
It's too soon to tell how much volume the glaciers will lose this summer. But researchers are not optimistic. In April, when glacial snowpack should have been at its annual peak, scientists took measurements at 15 glaciers. They found that snowpack was roughly 30 percent below the ten-year average, per the Agence France-Presse's Agnès Pedrero.
And this summer's record-breaking hot temperatures have likely only made the situation worse. July was the hottest month ever recorded on the planet.
Switzerland is not the only part of the world experiencing rapid glacier shrinking. Scientists say one-third of glaciers located within World Heritage sites are on track to disappear completely by 2050 because of human-caused global warming.
"All glaciers are melting very fast and receding across the European Alps," Lindsey Nicholson, a glaciologist at the University of Innsbruck in Austria, says to CNN's Nadine Schmidt. "As the glaciers retreat, any material—including people who have fallen into or onto them and have been buried by subsequent snow—will emerge."