'Rocking Chair Rebellion' of Senior Citizens Joins Climate Protest
Thousands of retirees in 90 locations across the U.S. protested banks that finance new fossil fuel infrastructure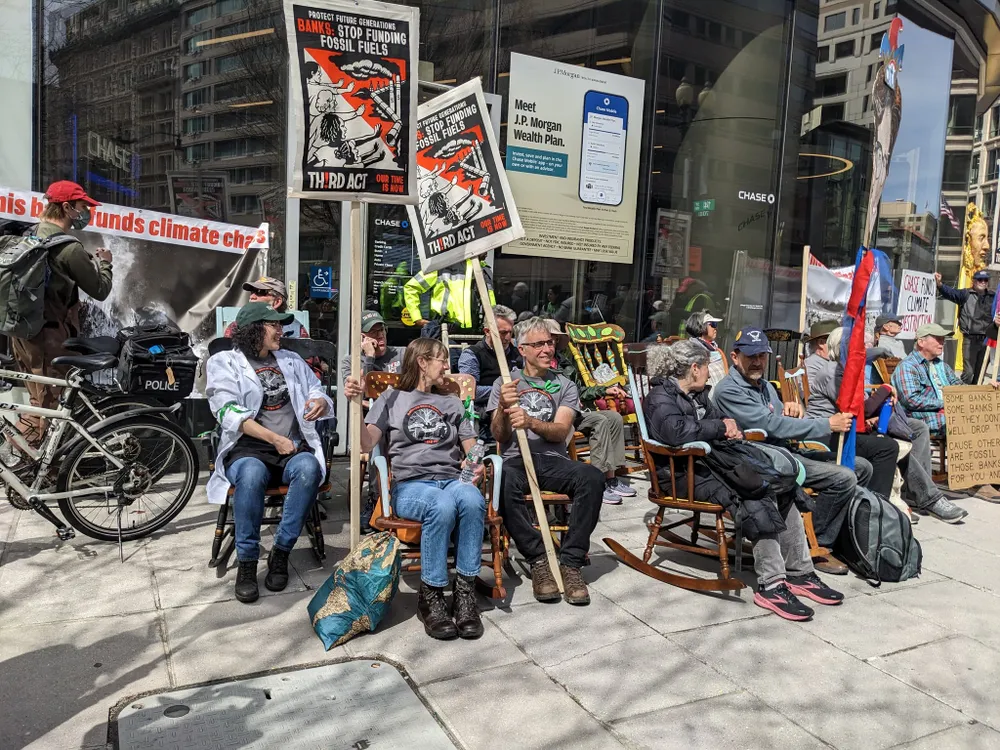 Thousands of senior citizens gathered for climate protests on Tuesday to demand big banks end the funding of new fossil fuel infrastructure. The demonstrations spanned more than 90 locations across the United States, led by Third Act, a group for activists over 60. 
In Washington, D.C., protesters who called themselves the Rocking Chair Rebellion sat in painted rockers outside the entrances of Chase and Wells Fargo banks, writes the Washington Post's Maxine Joselow. In other cities, activists held flash mobs, created street murals and a papier-mache orca, cut up credit cards, sang, marched and danced. 
Young people have often been at the forefront of climate activism, making news in recent months for controversial protests including throwing soup on a van Gogh painting, blocking roads and gluing themselves to artwork in museums. But this new action may be one of the largest-ever mobilizations led by retired activists, environmental nonprofit the Sierra Club says in a statement. 
"I've heard [a] few too many people say, 'It's up to the next generation to solve these problems,' which just seems stupid, unfair and impractical," Bill McKibben, co-founder of Third Act, tells the Independent's Louise Boyle. "Young people have endless energy and intelligence and idealism, but they don't have enough structural power by themselves to solve these problems in the time that we have."
Fossils against fossil fuels! Third Actors in Boston mobilizing to take on @Chase pic.twitter.com/4mn1UZKnjc

— Bill McKibben (@billmckibben) October 29, 2021
The protests came just one day after the United Nations released a new report calling for urgent climate action. It estimates that global average temperatures will rise 1.5 degrees Celsius (2.7 degrees Fahrenheit) above pre-industrial levels by the first half of the 2030s. Previous research has suggested that crossing the 1.5-degree threshold would bring the worst of climate change's impacts. Nations agreed to pursue this limit in 2015, but with carbon dioxide emissions breaking records in the following years, the likelihood of hitting it has become increasingly slimmer.
Per the U.N. report, industrialized nations now need to slash greenhouse gasses in half by 2030 and reach net-zero by 2050 to shape a livable future. But big banks are working against this goal by funding fossil fuels, activists say, through lending and underwriting companies working on new coal, oil or gas developments, per the Post.
The seniors focused their efforts on the four highest-funding banks—Wells Fargo, Bank of America, Chase and Citibank—which collectively contributed more than $1 trillion in the fossil fuel industry between 2016 and 2021, per a report from environmental groups that came out last year.
"For the banks, this is a very worrisome signal," Ben Jealous, executive director of the Sierra Club, tells the New York Times' Cara Buckley. "They can write off young people, they don't see them as having a whole lot of money right now. They know these folks do."
Sonoma County residents organized by Third Act @ThirdActOrg protest banks ties to the fossil fuel industry outside @BankofAmerica and @WellsFargo in Sebastopol @NorthBayNews pic.twitter.com/IXTlT0m0Sy

— Beth Schlanker (@BethSchlanker) March 21, 2023
Third Act currently has around 50,000 members on its mailing list, McKibben tells the Times. The group has led protests before, but this is its largest so far. 
"We're the activists, we're the boomers," 68-year-old retired electrician Susan Flashman told the Times as she sat in a rocking chair outside Chase. "People our age, we're just incensed that nobody's doing anything. So here we are."