This Swiss Grocery Will Soon Sell Mealworm Burgers
In the continued quest for sustainable proteins, another company is wriggling into the market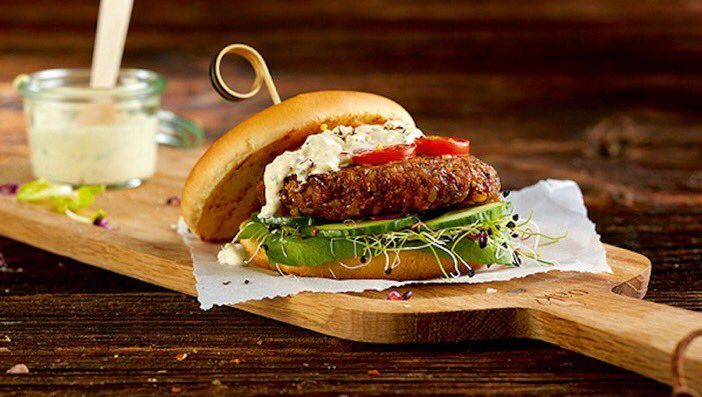 There was a time not that long ago when turkey burgers were considered a weird, exotic food. Now they're a staple at many restaurants. The next big thing in burgers, however, may take a little longer to get used to. In May, reports Alyssa Danigelis at Seeker, the Swiss grocery store chain Coop will begin carrying a new type of meat: mealworm burgers.
Danigelis reports that regulations prevented Swiss grocery stores from selling insects or insect-derived products without a special permit. But a rule change in December permits stores to sell insects as long as they follow normal food safety regulations, which paved the way for the mealworm meals. The new insect meat substitutes are produced by a company called Essento.
According to Leanna Garfield at Business Insider, Essento is a Swiss startup that uses the larvae to produce pre-packaged burgers and meatballs that will be sold in the fresh meat section of the stores. Spokesman for Coop, Roland Frefel tells The Local that carrying the mealy meat is completely in step with the grocery store's character.
"The secret of our success is due to our capacity to identify trends and innovate," he says and that carrying innovative insect products will allow customers to "discover a new world of flavors."
While eating insects may be a bit stomach churning to people used to a western diet, munching on arthropods makes sense, at least ecologically. Cows requires ten times as much feed and much more water to produce a pound of protein compared to mealworms.
Plenty of other companies are trying to normalize dining on some of the 2,000 available edible insects for western consumers. San Franciso based Bitty Foods, for example uses crickets to produce a high-protein flour and also sells cricket-flour cookies and snack chips. A recent documentary Bugs starring chefs from Nordic Food Lab, a collective that investigates new (and ancient) cooking techniques, shows how people around the globe use insects for food. In fact, in 2013, the UN issued a report urging researchers to look more deeply at insects as a food source to improve food security around the globe and to improve the environment.
But Kelly Goldsmith, assistant professor of marketing at Northwestern University's Kellogg School of Management tells Claire Martin at The New York Times that cricket cookies, mealworm burgers and other arthro-edibles have to be pretty good right out of the gate if they want to succeed.
"Obviously there's the gross factor, so you run the risk that no one's going to buy it," she tells Martin. "If you get just regular diners who are not foodies and not gluten-free to try these cookies, and they don't taste great, there will not be a repeat purchase."
Will these more sustainable alternatives bug consumers or will they be able to get over the ick in cricket? Essento and other companies are testing the waters.