Silicon Valley Owes Its Success To This Tech Genius You've Never Heard Of
Robert Noyce was one of the founders of Silicon Valley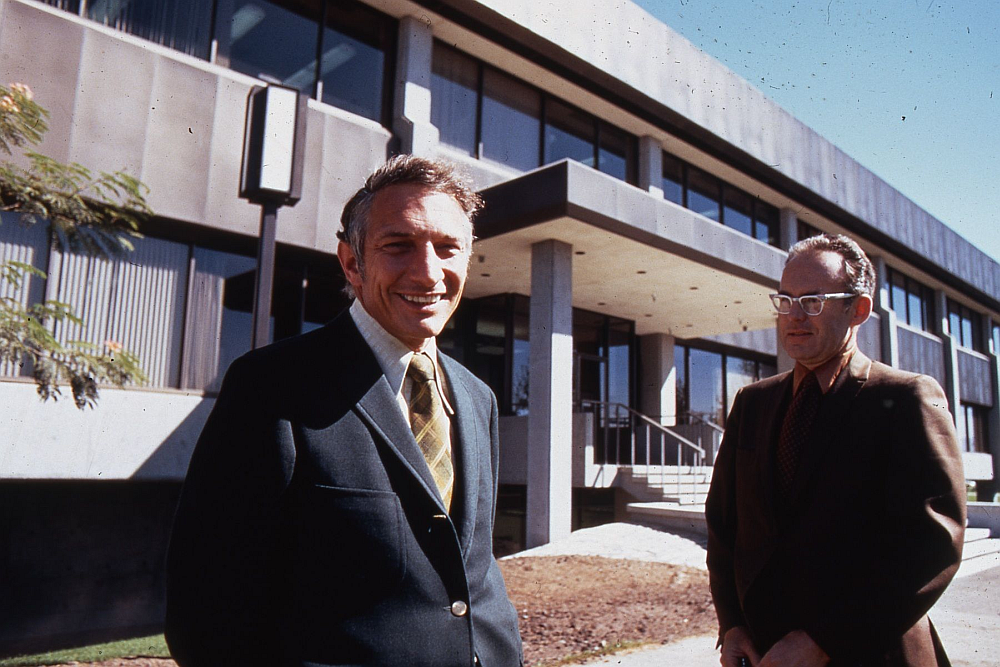 They called Robert Noyce the Mayor of Silicon Valley, but like many in public office, his work wasn't well known.
Born on this day in 1927, Noyce was responsible for a number of computer firsts: he was instrumental to inventing the microchip, he co-founded Intel and he played an important part in lobbying Washington on behalf of Silicon Valley. All this, and he even mentored Apple founder Steve Jobs, writes Leslie Berlin in The Man Behind the Microchip: Robert Noyce and the Invention of Silicon Valley.  Noyce's work was saluted by a Google Doodle in 2011 with an image of the tiny computer part that has shaped modern life.
"The integrated circuit, better known as the semiconductor chip, has unleashed change comparable to the Industrial Revolution by making the computer revolution and the digital age possible," writes Saswato R. Das for The New York Times.
Jack Kilby of Texas Instruments invented the first integrated circuit in 1958, he writes, a time when "electronics still meant mostly vacuum tubes." The problem standing in the way of advancement: the "tyranny of numbers"—that you could only create things up to a certain complexity before there were too many pieces. Kilby's innovation took all the different parts of a circuit and remade their functions in a single flat block of semiconductor material—in his case, germanium. Six months later, Robert Noyce came up with the same idea. The concept he patented, however, used silicon, which was cheaper and easier to mass manufacture.
Texas Instruments and Fairchild Semiconductor, where Noyce was working, fought in the patent courts for several years. But in 1964, Berlin writes, the patent office split its decision, awarding Kilby the bulk of the claims. It meant that each company needed a license from the other if they wanted to manufacture microchips. They negotiated an agreement, which meant "each side acknowledged the other's claim to some part of the invention of the integrated circuit," she wrote.
Noyce was exposed to computer-style thinking early in his career, wrote Constance L. Hays for The New York Times in her 1990 obituary of the Silicon Valley luminary. When he was a physics major at Grinnell College in Iowa, he ad the opportunity to see one of the first transistors in a physics course.
After earning a doctorate in physics from MIT, in 1957 Noyce went on to found the Fairchild Camera and Instruments Corporation's semiconductor division. While there he did his groundbreaking work on the microchip. But he left with Gordon Moore to found Intel in 1968. The company, which is familiar to most people who own a computer, "grew to become one of the nation's leading semiconductor companies and a pioneer in the development of memory chips and microprocessors," Hays wrote. It was because of his wide-reaching involvement that Intel began to call him the "Mayor of Silicon Valley."
Noyce didn't stay at Intel, just as he hadn't stayed at Fairchild Semiconductor or Shockley, the corporation he worked for before. Beginnings fascinated him, Berlin writes. After leaving Intel, he went on to work with young tech entrepreneurs like jobs and to found Sematech, which was and may still be the leading Silicon Valley lobbying group. "He could imagine things few others could see," she writes.
"In 1965, when push-button telephones were brand new and state-of-the-art computers still filled entire rooms, Noyce predicted that the integrated circuit would lead to 'portable telephones, personal paging systems, and palm-sized TVs.'"
Noyce was awarded 17 patents in his lifetime, Berlin writes. If he wasn't part of Jack Kilby's 1921 Nobel Prize win for the integrated circuit, he was there in spirit. And he helped shape both the careers of tech innovators like Jobs and, with Sematech, the political climate in which their innovations were received. His may not be a household name, but he had a memorable life.