In varied habitats around the world, from icy lakes in China to Indonesian coral reefs, wildlife photographers pull back the curtain on animal behavior, providing a glimpse into the creatures' usually secretive lives.
The Wildlife Photographer of the Year contest, developed and produced by the Natural History Museum in London, spotlights these rare sights. Last week, the museum released the first gallery of images from this year's contest, featuring see-through fish swimming among coral, a hungry possum grabbing a late-night snack and a diligent mason bee constructing its nest.
An international panel of judges whittled down the contest's initial pool of 49,957 entries to 100 highly commended images, selecting some of the most creative, original and technically impressive compositions that tell stories about wildlife conservation. The museum will announce the competition's grand prize and category winners on October 10.
"We are facing urgent biodiversity and climate crises, and photography is a powerful catalyst for change," says Doug Gurr, the museum's director, in a statement.
Nature photography can highlight fascinating behaviors of animals that most people never encounter in the wild. But it also can call attention to tense interactions between predators and prey, as well as the grim consequences of human actions on so many species. In their selection of commended images, the judges showcased the range of emotions that wildlife photography can evoke.
"We felt a powerful tension between wonder and woe that we believe came together to create a thought-provoking collection of photographs," says Kathy Moran, chair of the judging panel, in the statement.
This year's competition marks the 59th iteration of the annual award. An accompanying exhibition featuring the top 100 images will open at the museum on October 13. After the show closes on June 30, 2024, it will travel to institutions across the United Kingdom and abroad.
Below, explore ten highly commended images that offer a sneak peek of the exhibition.
Coral Connections by Alex Mustard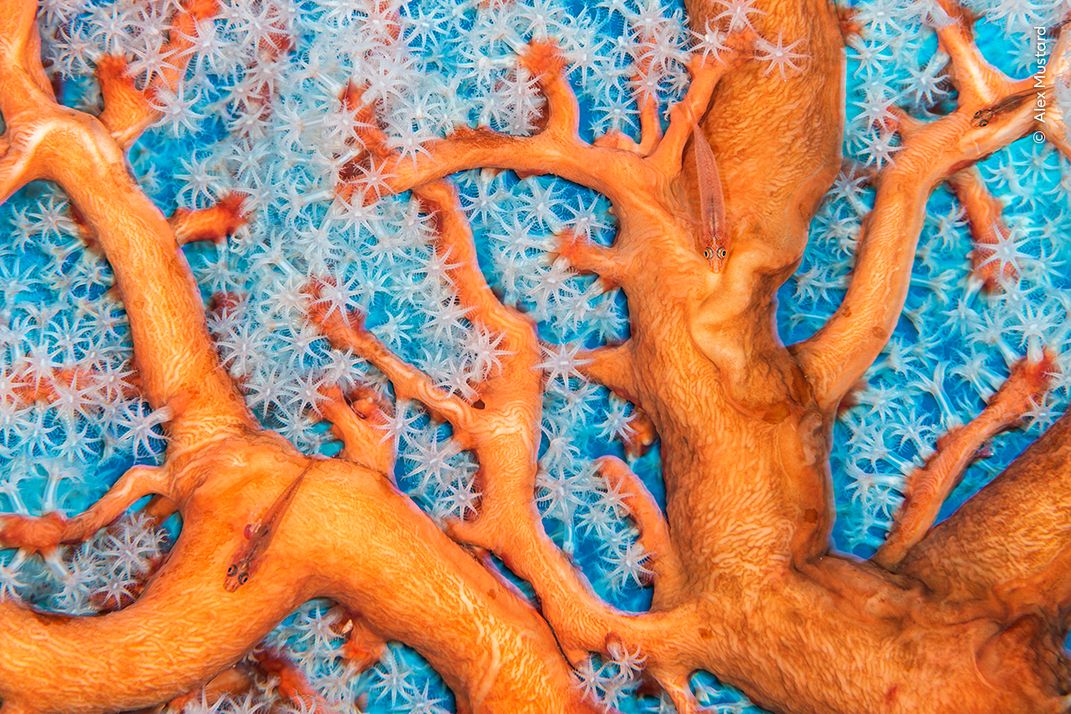 Two semi-transparent ghost gobies swim among the branches of a fan coral in the Lembeh Strait of Indonesia. U.K.-based photographer Alex Mustard is "particularly fond" of these fish, according to a second museum statement, so he wanted to capture more than one of the skittish animals in a single image. When he finally achieved this feat, he was surprised to discover that one of the gobies had a parasitic copepod on its side.
Mustard's view of a healthy reef calls attention to the fragile state of these valuable ecosystems, which are growing increasingly imperiled as climate change raises ocean temperatures.
The Catwalk by Shashwat Harish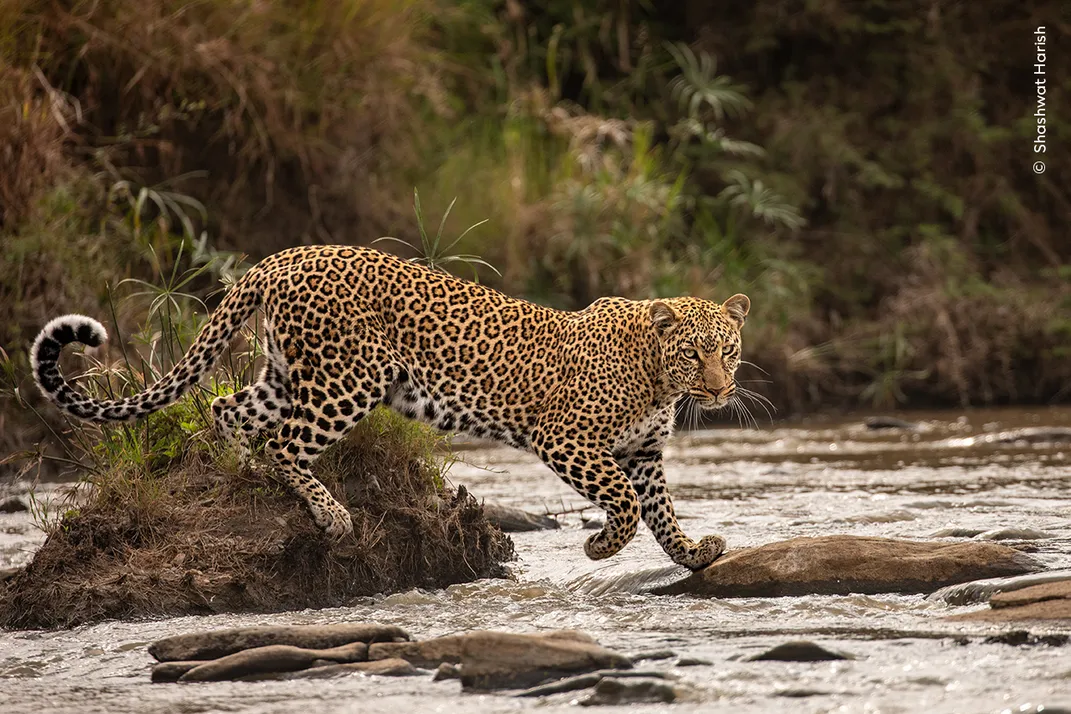 While on a trip to the Maasai Mara National Reserve in Kenya, youth photographer Shashwat Harish heard a leopard had been spotted in the area. The smallest of the big cats, leopards' numbers are declining due to habitat loss, hunting and depletion of their prey. The reserve has a strong population of leopards, but they remain elusive.
After hours of waiting in a vehicle, Harish, who submitted this photo in the 11- to 14-year-old photographer category, spotted the animal. He quickly changed lenses, then captured this shot of the leopard curling its tail and looking into the camera.
Mushroom Magic by Agorastos Papatsanis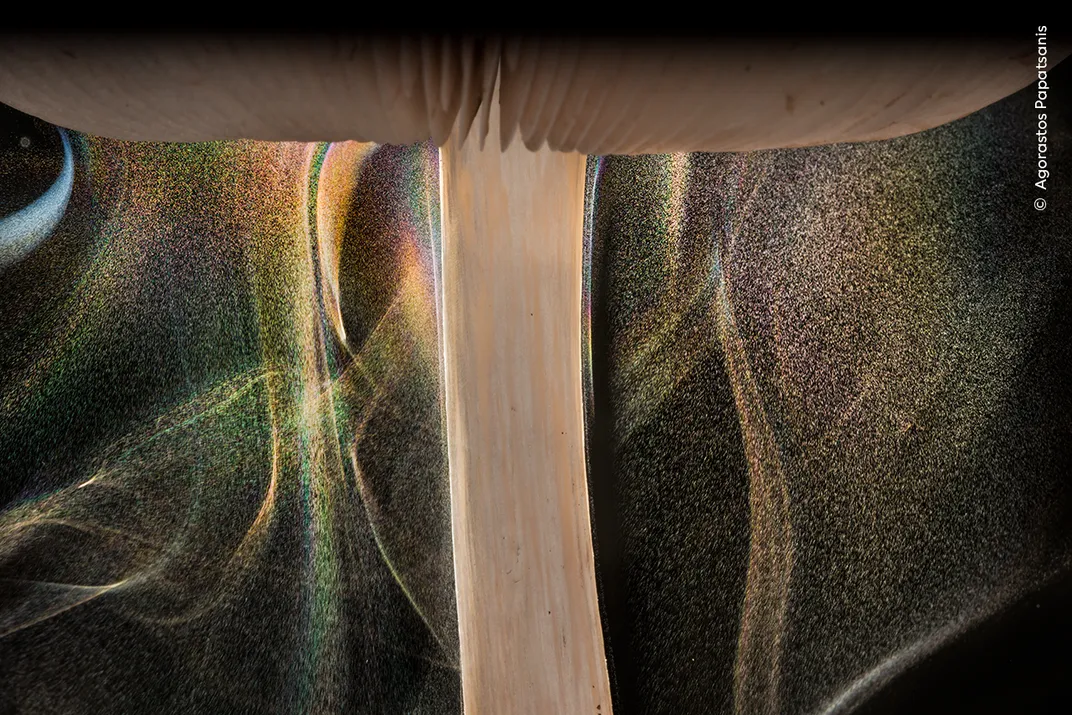 With a careful setup, Greek photographer Agorastos Papatsanis immortalized a moment when a deer shield mushroom released billions of spores.
Usually, these tiny, single-celled containers of genetic material disperse along air currents. But Papatsanis set up umbrellas around the fungus to minimize the wind. With a light, a reflector and a careful camera angle, he captured this scene that few people get to witness.
Snow Bison by Max Waugh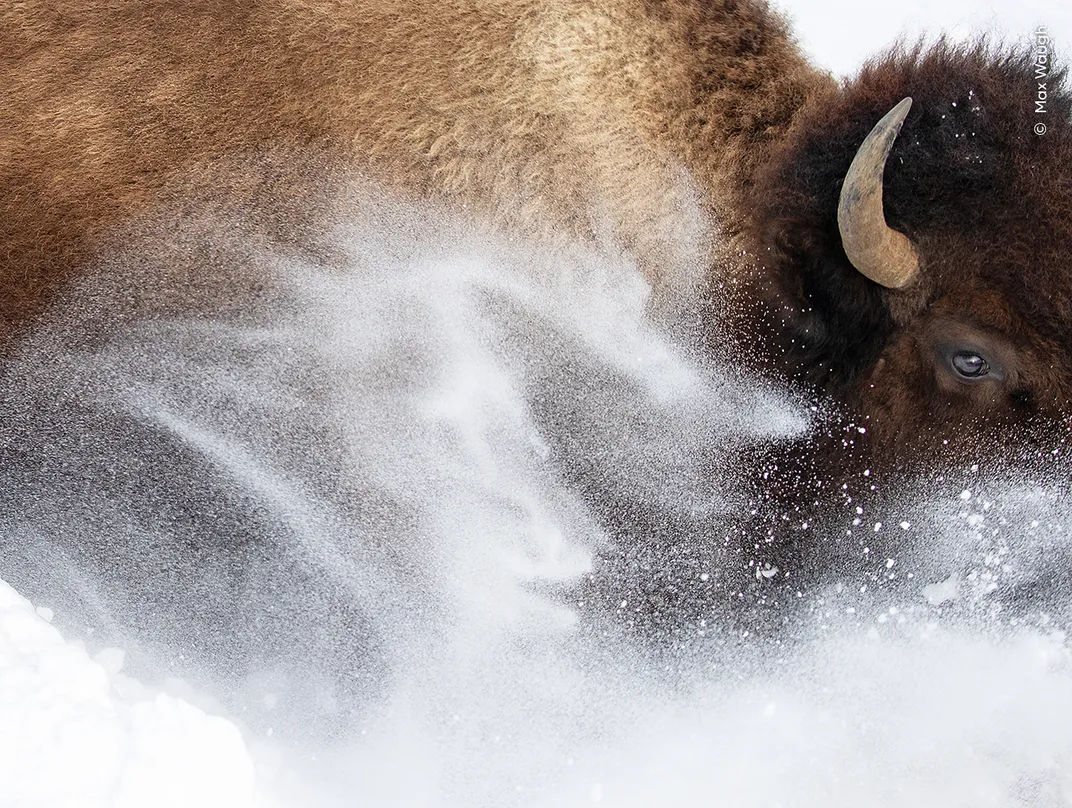 At Yellowstone National Park, a bison treads downhill toward a road, kicking up clouds of snow as it gathers speed. In a tight shot, American photographer Max Waugh captures an intimate portrait of the once-threatened animal.
Bison, which previously ranged widely across North America, from Alaska to northern Mexico, were nearly hunted to extinction by the end of the 19th century. Today, the rebounding species is carefully managed and contained to certain fenced-in areas, parks such as Yellowstone and Grand Canyon National Park, or tribal lands. Hunting is still used as a controversial management practice for the massive, iconic mammals.
The Face of the Persecuted by Neil Aldridge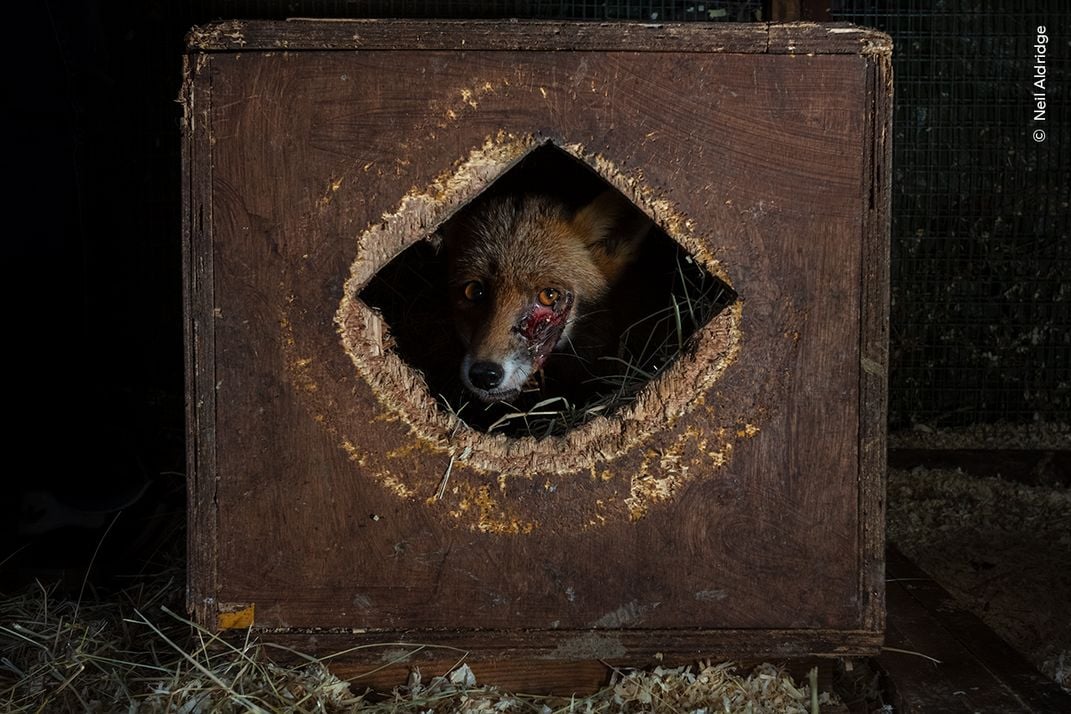 A red fox with a wound on its face sits in a crate meant to be a makeshift den at a rehabilitation center in England. The animal was likely attacked by a dog in an illegal attempt to drive it out of its real den.
For nine years, South African photographer Neil Aldridge has tried to capture the fraught relationship between humans and red foxes in Great Britain. The creatures are "heavily villainized" in popular culture, said Dawn Scott, who researches human-wildlife interactions at Nottingham Trent University in England, to the Guardian's Andrew Anthony last year.
In 2005, England and Wales made it illegal to poison foxes, destroy their dens or use dogs to hunt them. A 2013 report estimated that the U.K. hosted 1 fox for every 150 people.
Mason Bee at Work by Solvin Zankl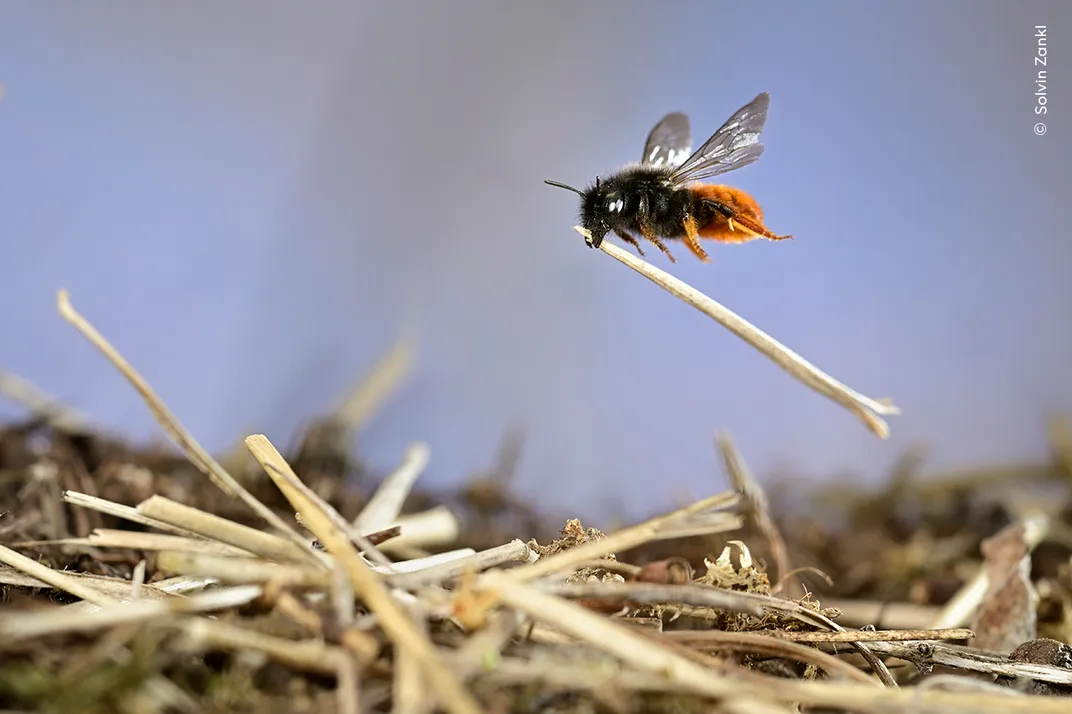 German photographer Solvin Zankl watched as this two-colored mason bee constructed its nest in a snail shell.
The bee repeatedly left and returned to its nest with materials such as grasses in tow. As these insects do, it used landmarks to memorize where its nest was located. Each time the bee left, Zankl inched his equipment nearer to the nest. By the time two hours had gone by, the bee was using the photographer's equipment as a landmark.
Coot on Ice by Zhai Zeyu
A coot wobbles as it tries to stand upright on the surface of a frozen pond while trying to capture a fish. Zhai Zeyu, a youth photographer from China who entered this photo in the 10 years old and younger category, watched a group of these birds awkwardly move across the icy expanse.
Though it may look like a duck, a coot is more closely related to the secretive marsh-dwellers known as rails. They rely on access to wide areas of water, with nearby brush cover for nesting. While the common coot pictured here and the American coot are species of least concern on the International Union for Conservation of Nature Red List, certain other rails are highly threatened.
Race for Life by Donglin Zhou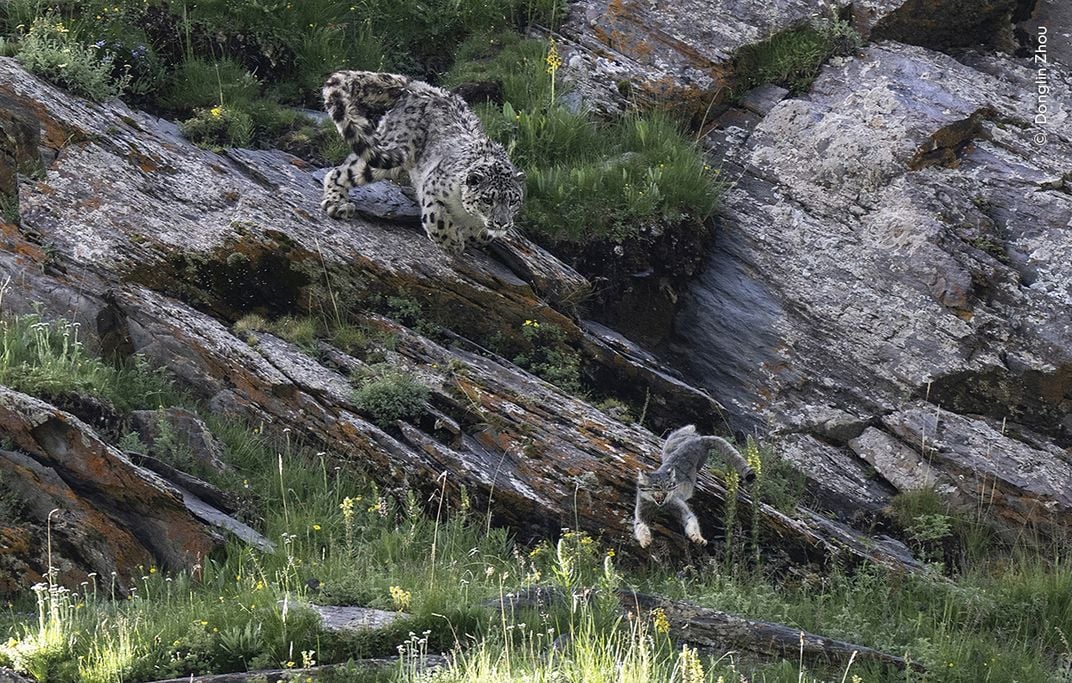 When Chinese photographer Donglin Zhou spotted this snow leopard lunge at prey, the animal it was chasing wasn't immediately apparent. Zhou assumed the victim was a marmot rather than a Pallas's cat, since the animal "blended in so well with the rocks," according to the statement.
Seeing a Pallas's cat hunted by a snow leopard is a "rare sight," the statement notes. Usually, the secretive, furry wild cats are pursued by large birds of prey and wolves.
Firebirds by Elza Friedländer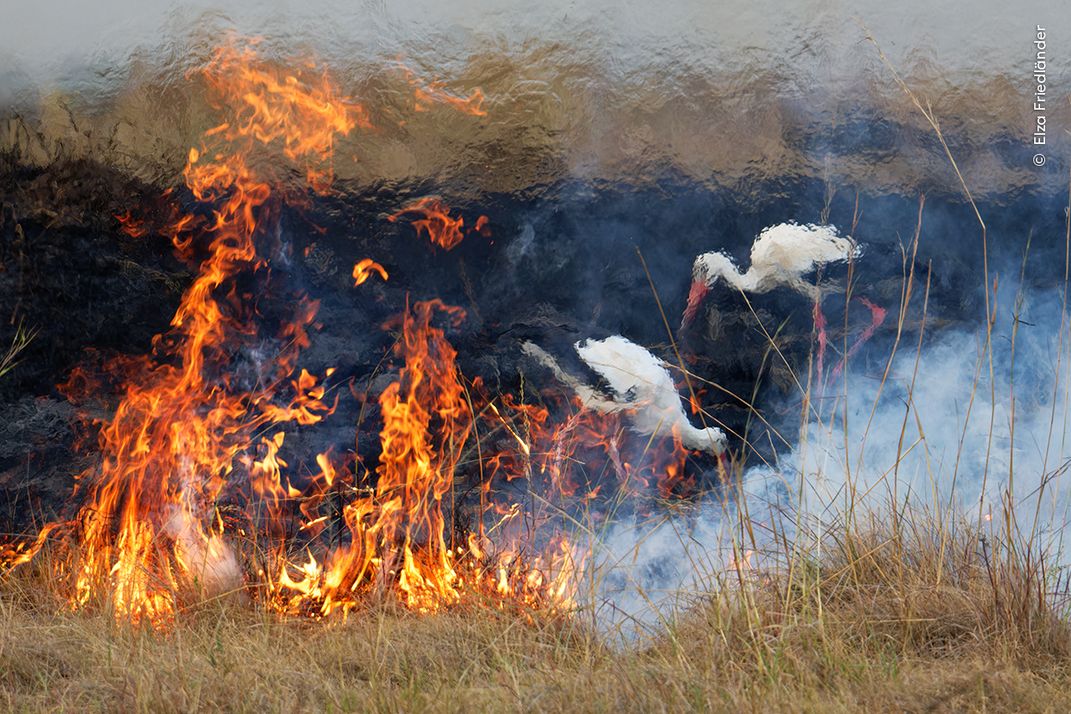 German photographer Elza Friedländer knew that when a controlled burn lights in Kenya's Maasai Mara National Reserve, birds come to the site in search of an easy meal, as small prey is disturbed by the fire. In this shot, Friedländer captures two white storks behind the blaze, their appearances blurred as heat rises from the flames in the foreground.
Controlled burns can help encourage new plant growth in grasslands, but the management practice remains controversial, as the blazes can spread to dry vegetation and get out of hand.
Possum's Midnight Snack by ​​Caitlin Henderson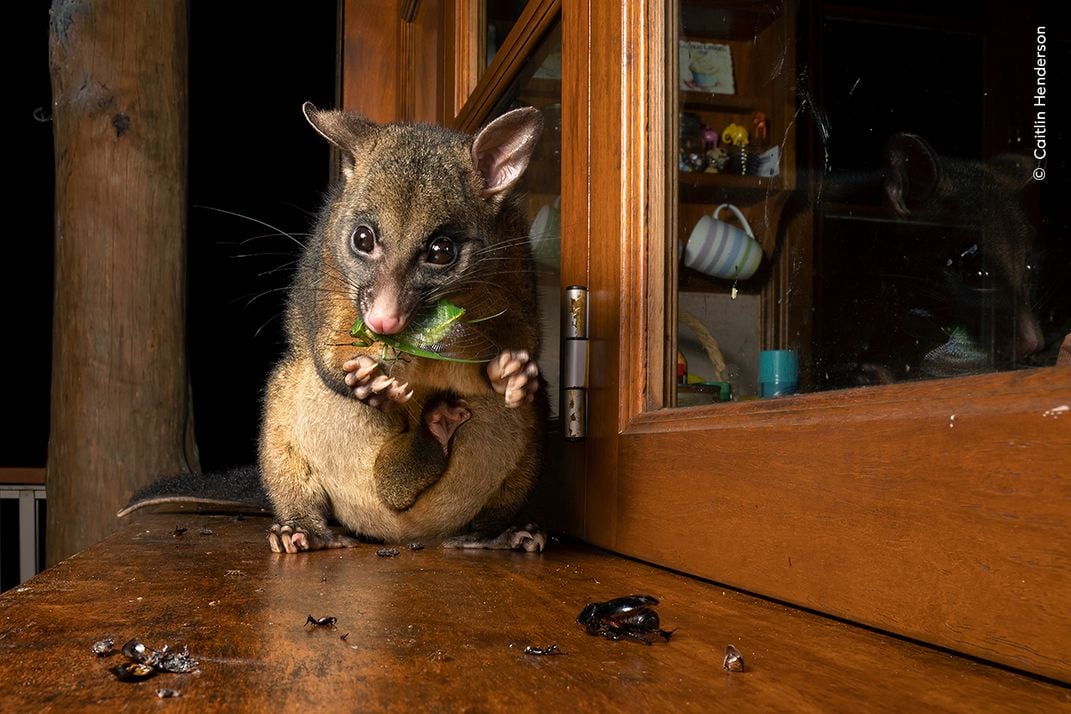 Australian photographer Caitlin Henderson noticed signs that an animal had been snacking on insects on her balcony. "There were heads here, wings there," Henderson says in the statement. When she looked outside, she spotted a common brushtail possum feasting on a cicada on her windowsill, toting a baby in its pouch.
Expanding cities have been encroaching on these nocturnal marsupials' natural habitat. As a result, possums are adapting to life closer to humans, sometimes taking up residence between the roof and ceiling in houses. In some cases, this can bring possums and humans (or pets) into conflict. But the New South Wales government recommends a solution: "Make friends with local possums," perhaps by building them a nest box.