Controversial Yellowstone Hunt Kills More Than 1,100 Bison
The hunt is an effort to control the animal's population and protect cattle outside the park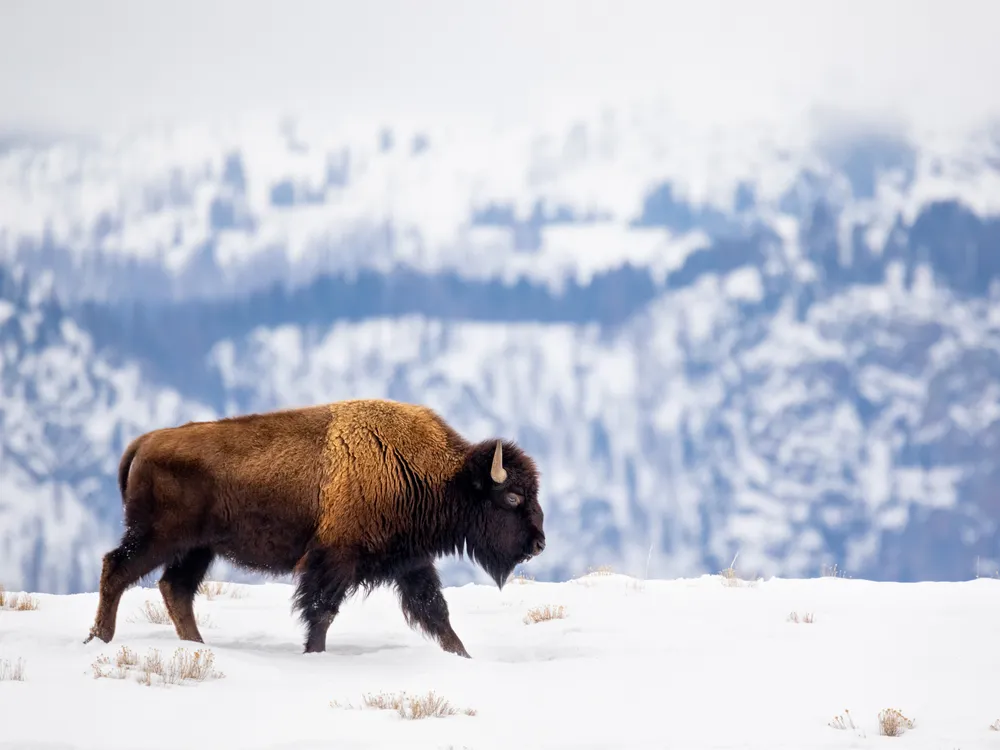 More than 1,100 bison were killed in a controversial hunt that took place near Yellowstone National Park throughout the last four months.
After an unusually harsh winter, a large number of the park's nearly 6,000 bison were forced to find food and more temperate climates elsewhere. Many of the large mammals instinctually migrated west of the park or north to Montana's Paradise Valley.
But after crossing the Yellowstone National Park boundary, the bison are subject to being hunted, except in a few designated zones. Some hunts are managed by Native American tribes exercising their treaty rights, while state wildlife officials oversee others.
"This year, we've seen a substantial number of hunters exercising their treaty rights," Cam Sholly, the Yellowstone National Park superintendent, says to the Daily Montanan's Darrell Ehrlick.
The hunt is intended to prevent Yellowstone's bison population from growing too quickly and keep the herd from inadvertently infecting cattle with brucellosis, a disease that could also sicken other livestock and humans. Brucellosis may cause abortion in pregnant cows or lead to the birth of weak calves.
This winter, more than 1,100 bison from Yellowstone's herd were killed in hunts, including many pregnant females. Roughly 90 were sent to slaughterhouses, and around 285 got taken to a quarantine site, where they will stay for up to three years as officials determine whether they carry brucellosis. By expanding hunting and giving bison to Indigenous tribes, Yellowstone officials were able to reduce the number of bison sent to be slaughtered.
Members of eight Indigenous tribes were main participants in the hunt. For many, hunting is a way to stay connected to their culture. Around 20 to 60 million bison once roamed the North American continent, writes Dennis Zotigh for the Smithsonian's National Museum of the American Indian. Indigenous people relied on these bison for their survival and well-being, using bison for myriad purposes, including food, shelter, ceremonies, transportation and weapons. However, western expansion and hunting led to a mass slaughter of bison from approximately 1820 to 1880. Climate change and disease might also have played a role in the bison's decline. The species is no longer threatened with extinction, but only a handful remain from the once ample species.
Some Indigenous hunters traveled with their families to partake in the hunt. Kola Shippentower-Thompson, a member of the Confederated Tribes of the Umatilla Indian Reservation in eastern Oregon, tells the New York Times' Jim Robbins that she has shot 13 bison since December. After hunting a large male, she took a ceremonial bite out of the animal's heart.
"That is a sign of respect," she tells the Times. "Everything we carry is within our heart. A big bull like that has made it through all the different seasons and territorial fights with other bulls, and you are taking on its spirit and the different teachings it has within it."
But this year's hunt has faced more pushback than recent ones, given the "record-breaking" number of removed bison, per the Times. In a statement, advocacy group Roam Free Nation calls the hunt "firing-line style," as hunters wait to shoot bison after they cross the park boundary.
Opponents say the hunt violates "fair chase"—in other words, it puts the bison at an unfair disadvantage, since they migrate through a limited area and have not developed a fear of humans.
"There is no hunt. It's slaughter!" reads a billboard in Helena, Montana, put up by Roam Free Nation and the Alliance for the Wild Rockies.
James Holt, executive director of the conservation group Buffalo Field Campaign and a member of the Nez Perce Tribe, also decried the number of bison killed. "Today, the goal continues to be slaughter as an acceptable management tool, with every sovereign entity participating in the demise of the only continuously wild herd of buffalo in the contiguous United States," Holt wrote, per the Billings Gazette's Brett French. "This is an abject failure by every decision maker."
Other critics have pointed to the inadvertent dangers to humans that hunting poses. Some residents have experienced hunters shooting near their homes, and in January, Jackson Wak Wak, a hunter from the Nez Perce Tribe, was hit by shrapnel from a stray bullet while exercising his treaty hunting rights.
However, Jeremy Red Star Wolf, a member of the Confederated Tribes of the Umatilla Indian Reservation, tells the Times the hunt is culturally meaningful and a reliable food source for his family. "We would certainly love to hunt them out on the natural landscape that once existed, but that natural landscape doesn't exist anymore," he says to the publication. "Instead of being trapped and sent to slaughter, let us practice our treaty rights and provide bison, which has a very storied history within our tribe."
In March, Interior Secretary Deb Haaland announced an order calling for the government to utilize Indigenous knowledge to restore bison on tribal lands. She also unveiled $25 million in federal spending dedicated to conserving the animals. Currently, about 82 tribes have more than 20,000 bison in 65 herds, per the Times.
"This holistic effort will ensure that this powerful sacred animal is reconnected to its natural habitat and the original stewards who know best how to care for it," Haaland said while announcing the order, reports Matthew Brown of the Associated Press. "When we think about Indigenous communities, we must acknowledge that they have spent generations over many centuries observing the seasons, tracking wildlife migration patterns and fully comprehending our role in the delicate balance of this Earth."