Seattle's Famous 'Gum Wall' Is Getting Scraped Clean
An estimated 1,000,000 pieces of chewing gum are stuck to the quirky attraction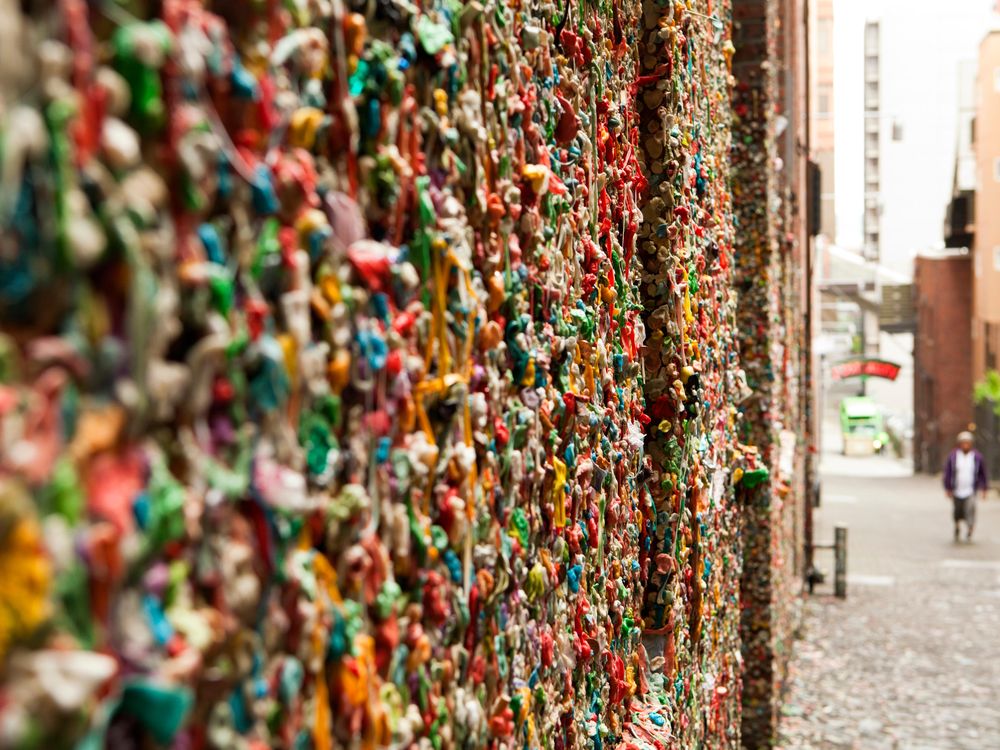 For 20 years, passersby have stuck freshly-chewed wads of gum on the side of Seattle's Pike Place Market. Later this month, though, the quirky attraction will be scrubbed completely clean, Evan Bush reports for The Seattle Times.
Ever since people began sticking old gum to the walls of the market's Post Alley, the "Gum Wall" has attracted tourists—and, of course, their chewed-up gum. When the trend first began, workers regularly scraped the wall, but soon stopped trying to keep it clean. Today, Bush writes, the Gum Wall has grown to cover much of the brick alleyway at the market. According to estimates, the walls are coated with more than 1 million wads of gum, layered as much as six inches thick.
"This is probably the weirdest job we've done," Cascadian Building Maintenance's Kelly Foster, whose company was hired to clean the wall, tells Bush.
Foster says they'll remove the gum with an industrial machine that blasts 280-degree steam, "like a pressure washer," Bush reports. A crew will then collect the sticky drippings, which the Pikes Place Market Preservation and Development Association hopes to weigh. All in all, the whole job is estimated to cost roughly $4,000 according to Emily Crawford, a PDA representative.
Though the Gum Wall seems gross, it's not being scrubbed for health reasons; after all, it's regularly sanitized with hot steam. The two decades' worth of gum had begun to damage the bricks beneath the wall, as Crawford tells Bush. "It was never part of the charter or the history of the market to have the walls covered with gum," she says. "Gum is made of chemicals, sugar, additives. Things that aren't good for us. I can't imagine it's good for brick."
The Gum Wall isn't the only one of its kind—there's also San Luis Obispo's Bubblegum Alley—but it's certainly one of the most famous. In 1999, Seattle officially declared the Gum Wall an attraction and it consistently appears on lists of the grossest tourist sites in the world, alongside Ireland's Blarney Stone. In the meantime, Mary Forgione reports for The L.A. Times, Pike Place Market is encouraging people to add their last pieces of gum to the wall before November 10, when the cleaners will get to work. After that, though, the clean bricks may not stay bare for too long. "We're not saying it can't come back," Crawford tells Bush. "We need to wipe the canvas clean and keep (it) fresh."