The Rise and Fall of PBR
How Pabst Blue Ribbon lost its cool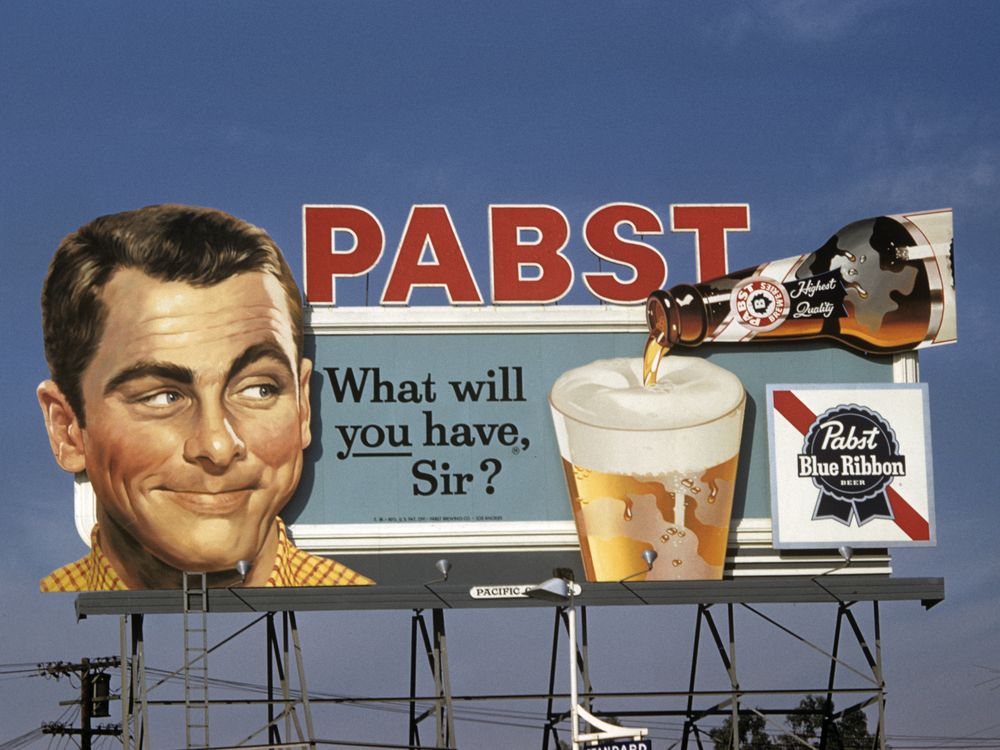 The moment booze-loving, cash-poor hipsters have been dreading seems to have arrived: Pabst Blue Ribbon beer is mainstream. 
As Outside writes, whether or not PBR was ever cool is a matter of opinion. Marketing professor Margaret Campbell took a close look at the brand's success and found its secret: it all comes down to perceived autonomy. Seeming independence from the established corporate culture, she found, is key for a brand's generally agreed upon level of cool. And PBR had a genius knack for creating an illusion of autonomy, which made it a favored option for hipsters.
The company had great success with non-traditional marketing tactics, Outside reports—it favored events like "bike messenger rodeos and DJ competitions" when looking for sponsorship opportunities. The result: a shortcut into the heart of hipsters with "counterculture tendencies." Here's the New York Times Magazine, back in 2003, on PBR's rise:
Pabst Blue Ribbon -- P.B.R., as fans call it -- is currently enjoying a highly unlikely comeback. In 2002, sales of the beer, which had been sinking steadily since the 1970's, actually rose 5.3 percent. From the start of 2003 through April 20, supermarket beer sales are up another 9.4 percent. It is endorsed in ''The Hipster Handbook,'' a paperback dissection of cool, and is popping up in trendy bars from the Mission District to the Lower East Side. Sales in Chicago are up 134 percent. But the growth started and is most pronounced in Portland -- a city best known in the cosmology of beer as a haven for fancy microbrews -- where most agree that bike messengers have been in the P.B.R. vanguard. The lowbrow brew has risen to the No. 5-ranked beer in town and is still the fastest-growing of the top-50 domestic beer brands. In local supermarket sales it trails only Coors Light, Budweiser, Bud Light and Corona.
Earlier this year, when the company was put up for sale, it had grown so much that its worth was pegged around $1 billion. But as Campbell told Outside, "Consumers are very aware of the concept of true cool versus trendy cool. They're very aware that at some point it's too much and then it's going to stop being cool at that point."
After PBR became engrained in hipster drinking culture, more and more people caught on to the trend, until not only fixed gear bike-riding hipsters but also yuppies living in high-rises were picking up six packs of PBR. Hipsters might have made PBR cool, but that popularity might be the beer's undoing as well. 
PBR's brief place in the counterculture spotlight, however, was an anomaly, Outside points out. The company, after all, belongs to the same guy who owns Hostess and Twinkies.