Rare 1,000-Year-Old Brooch Goes on Display in England
A metal detectorist unearthed the silver and copper artifact on a farm in Somerset in 2020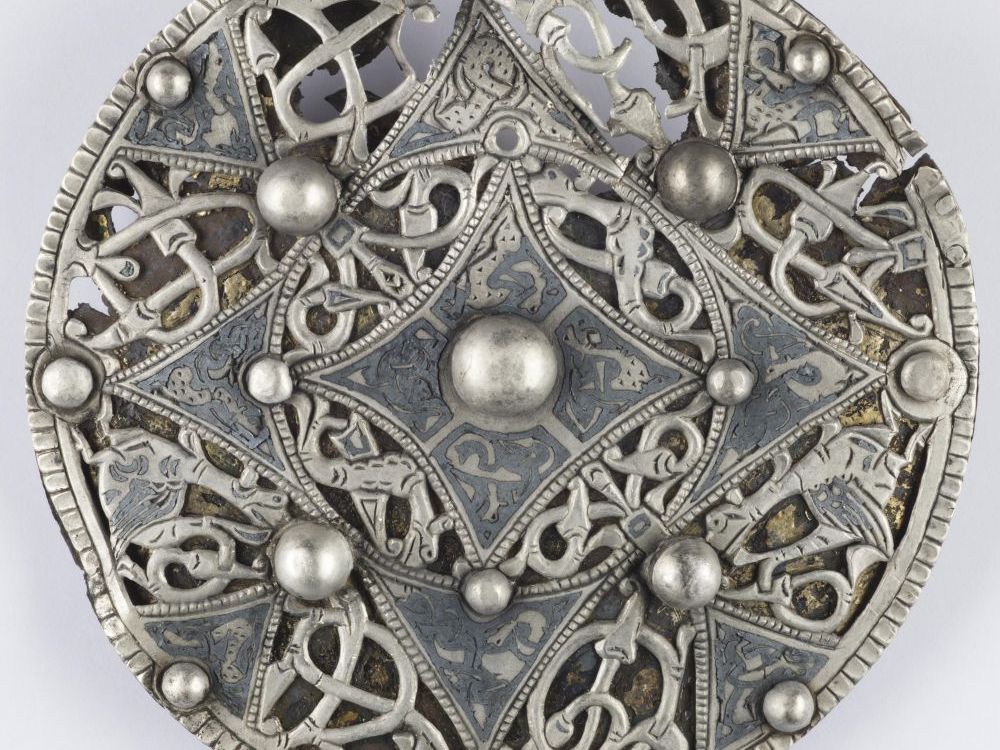 A rare early medieval brooch will go on display at the Museum of Somerset in Taunton, England, later this month.
Known as the Cheddar brooch, the 9-centimeter (roughly 4.5-inch) silver and copper artifact dates to between 800 and 900 C.E. Thanks to conservator Pieta Greaves, who carefully removed centuries of corrosion, the restored artifact now clearly depicts a dragon-like creature known as a wyvern, one of the symbols of Wessex.
"Conservation has transformed this fascinating brooch and revealed the intricacies of its design," says Amal Khreisheh, curator of archaeology at South West Heritage Trust, in a statement from the organization. "The fascinating details uncovered include fine scratches on the reverse, which may have helped the maker to map out the design." She adds that a tiny mend on the beaded border suggests that the brooch's owner cherished the item, wearing it so much that it eventually needed to be repaired.
The brooch was found in 2020, when metal detectorist Iain Sansome unearthed it on a farm in the village of Cheddar. In a 2021 statement from South West Heritage Trust, Sansome said it was "in a different league" compared to all of his previous finds.
"When I first saw the brooch, I wasn't exactly sure what it was, but I knew it was something special," he said. "The fact that the last person to handle it was probably someone of extreme importance and high status over 1,000 years ago is just incredible."
Experts aren't sure how the brooch ended up at the site. They say that because it wasn't surrounded by any other objects, its owner likely lost or discarded it, rather than deliberately burying it.
The brooch came from "a turning point in English history," says Tom Mayberry, chief executive of South West Heritage Trust, in the group's statement. "In 878, Alfred the Great rallied his forces in Somerset and defeated the invading Danish army. Wessex was secure, and the foundations had been laid for the creation of a unified English kingdom."
Metal detectorists have stumbled upon several other rare artifacts in the United Kingdom in recent months. Over the summer, three men found 15 Iron Age gold coins in a field in Wales. Just last month, officials announced the discovery of two 1,800-year-old Roman cavalry swords in the North Cotswolds, a region in southern England.
The Museum of Somerset acquired the Cheddar brooch under the terms of the Treasure Act, which requires treasure hunters to report their findings to authorities within 14 days. If an artifact is deemed a treasure, the item becomes the property of the state and is often displayed at a national or local museum.