Metal Detectorists Discover 2,000-Year-Old Gold Coins in Wales
The 15 artifacts are the first Iron Age gold coins ever found in the country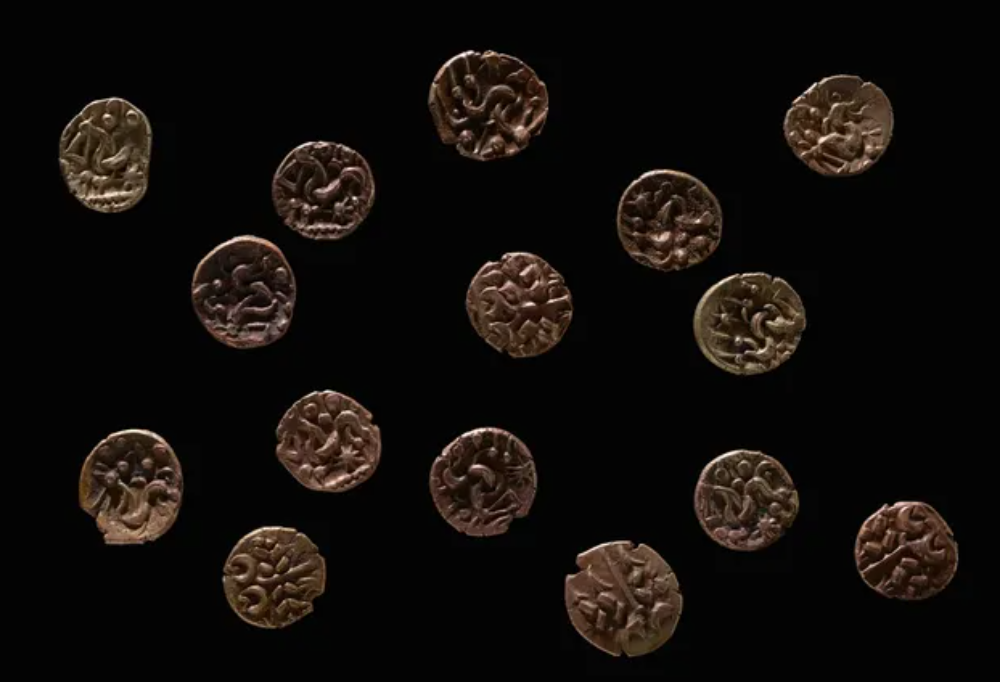 For the first time ever, a trove of Iron Age gold coins has been discovered in Wales. 
Metal detectorists found the 15 rare artifacts in a field on the island of Anglesey, which sits off of Wales' northwest coast, between July 2021 and March 2022, according to a statement from the Museum of Wales. Now, authorities have designated the discovery as a "treasure." 
The coins, known as staters, date to between 60 and 20 B.C.E. One side depicts the god Apollo, while the other features a horse surrounded by symbols. Their style is influenced by the Macedonian gold coins of Phillip II, per the researchers.
Two friends, Peter Cockton and Lloyd Roberts, unearthed five of the coins. "Having been searching for history for over 14 years, finding a gold stater was always number one on my wish list," says Roberts in the museum's statement. When he located the first coin, he was thrilled. "That one coin alone," he adds, "would have made my year." Soon after, he found a second coin, and Cockton found three more.
Tim Watson, who located the other ten coins, was new to metal detecting. "[I] was encouraged to give it a go by my dad during lockdown," he says in the statement. "I'd been over this field a few times and not found much of interest and then one evening literally struck gold." After deciding to upgrade his metal detector, he found nine more in the area.
As the Greek Reporter's Nisha Zahid writes, "This sequence of events underscores the importance of vigilant individuals in unearthing and preserving valuable pieces of history."
Following the discoveries, experts with Gwynedd Archaeological Trust, which does archaeological work for Wales, surveyed the site in hopes of learning more about why the coins were there.
"This hoard is a fantastic example of the rich archaeological landscape that exists in northwest Wales," says Sean Derby, the historic environment record archaeologist at the organization, in the statement. "While the immediate vicinity of the find did not yield any clues as to the find's origin, the findspot lies in an area of known prehistoric and early Roman activity and helps increase our understanding of this region."
According to the researchers, the coins were used by the Corieltavi tribe, a group that lived in the area now referred to as England's East Midlands during the Iron Age. The coins likely didn't function as traditional currency; instead, they may have been used "as gifts between elites to secure alliances" or as offerings to the gods.
The Art Newspaper's Gareth Harris reports that Oriel Môn, a museum in Anglesey, is interested in acquiring the coins and placing them on public display.