Monument to a Historic Black Woman Will Replace Racist Statue in Pittsburgh
A city task force is asking the public to help decide who should be honored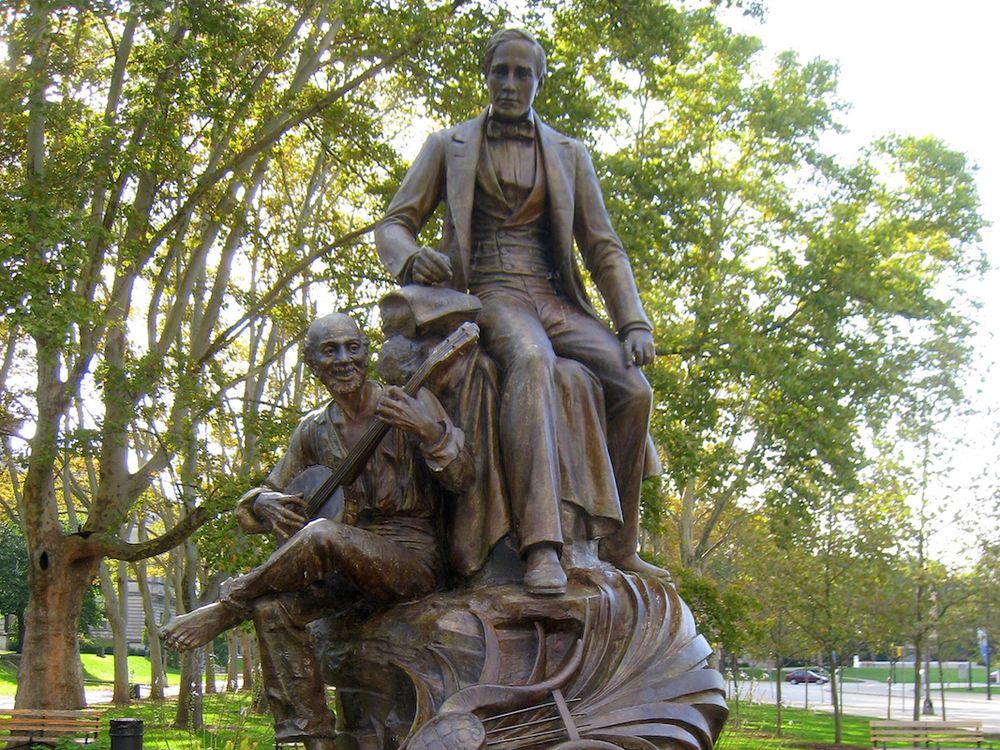 Across the country, in cities like Baltimore and New Orleans, controversial monuments to historical figures are being torn down.
Now Pittsburgh is next. As Claire Voon reports for Hyperallergic, the city is taking down a statue depicting Pittsburgh composer Stephen Collins Foster​ and a shoe-less, enslaved black ma​n sitting near his feet while playing the banjo. He is believed to represent "Uncle Ned" who is the title character in a Foster song. In its place, the city will erect a the statue of an African American woman who had an impact on Pittsburgh.
The city announced the decision in a press release last week. The new statue will be the city's first to honor a black woman.
In a statement, Pittsburgh mayor William Peduto says: "The City of Pittsburgh believes in inclusivity and equality, and ensuring that all can see themselves in the art around them. It is imperative then that our public art reflect the diversity of our city and that we accordingly represent our diverse heroes."
As the Pittsburgh Post-Gazette reports, the Foster statue is set to be removed from Schenley Plaza, a public park near the University of Pittsburgh, next month. The city's art commission first recommended its removal in October of 2017.
Known as "America's first composer," Foster's contributions to music include composing the songs "Oh! Susannah" and "My Old Kentucky Home."
Foster died in 1864. The 10-foot-tall monument in his honor was sculpted in 1900 and was moved to its current location in 1944, Voon reports. It has long been criticized for depicting the black banjo player in a condescending and racist way.
Pittsburgh is now asking for the public's help in nominated a black woman to commemorate in place of the Foster statue.
"As the Stephen Foster statue is set to be removed from its current site in April, the city has a unique opportunity to build something in its place honoring the legacy of African American women and their impressive leadership in Pittsburgh," Peduto says in the press release.
Community meetings will be held and and a survey on the city's website has been set up to gather residents' input.
Catherine Delany (1822-1894), who made important contributions to the abolition effort, and was "vital" to Pittsburgh's abolitionist newspaper, The Mystery, which was founded by her husband, Martin, and The North Star newspaper, which was co-authored by Frederick Douglass and Martin; and Madam C.J. Walker (1867–1919), an entrepreneur whose line of hair care products for African Americans created a beauty empire, are among the women being considered for the statue.
While the movement to remove or replace controversial monuments has been growing, the issue is a hot topic. A New York City task force chose to add plaques with historical context next to the statues of polarizing figures such as Christopher Columbus, after months of debating whether to remove them.
According to the Post-Gazette, the Pittsburgh Art Commission members recommended that the Foster statue be relocated to a private location that can provide proper context to the monument and Foster himself. That location has not yet been announced.