Baltimore Quietly Removes Four Confederate Monuments
Mayor Catherine Pugh said the statues "needed to come down"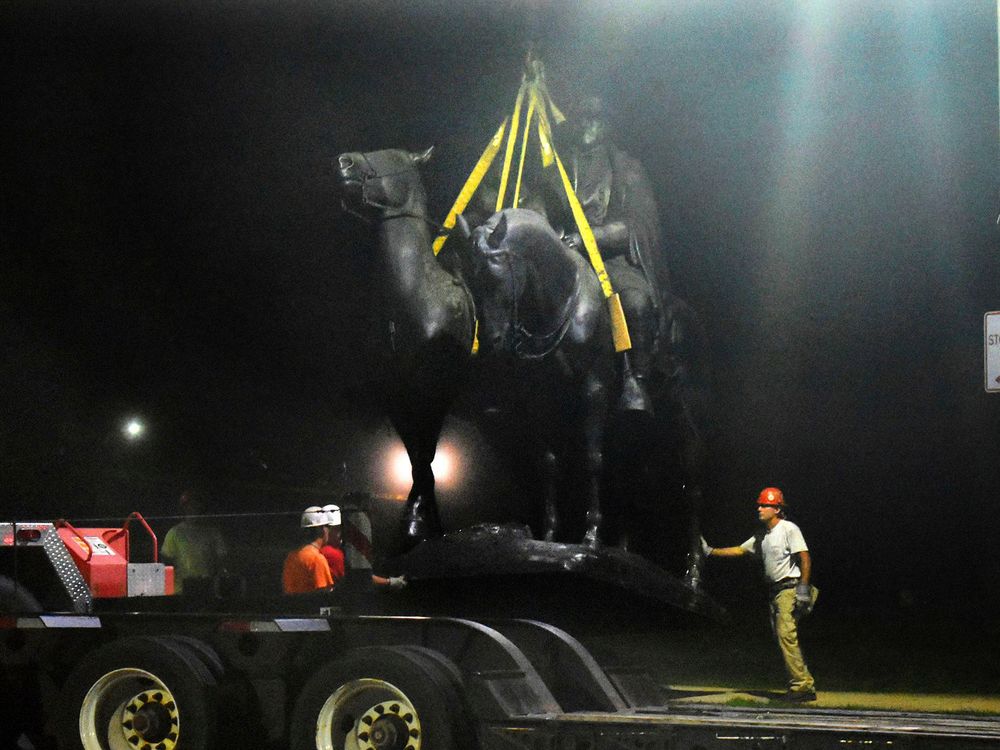 In the dark hours of Wednesday morning, a towering statue of Thomas "Stonewall" Jackson and Robert E. Lee was dislodged from its pedestal, loaded onto a flatbed truck, and carted out of Baltimore's Wyman Dell Park. As Colin Campbell, Talia Richman and Luke Broadwater report for the Baltimore Sun, the statue was among four Confederate monuments that were quietly taken down in the city during the night.
On Monday, the Baltimore City Council voted unanimously to remove the controversial statues. According to Nicholas Fandos and Russell Goldman of the New York Times, the city had been "studying the issue" since 2015, when a self-described white supremacist shot and killed nine people at a church in Charleston, South Carolina. The council finalized its decision in the wake of the deadly white nationalist rallies that took place in Charlottesville, Virginia, last weekend.
"It's done," Baltimore Mayor Catherine Pugh said Wednesday morning, according to the Sun. "They needed to come down. My concern is for the safety and security of our people. We moved as quickly as we could."
In addition to the double statue dedicated to Confederate heroes Jackson and Lee, Baltimore removed the Confederate Soldiers and Sailors Monument, the Confederate Women's Monument, and the Roger B. Taney Monument. Taney, a Supreme Court Chief Justice, wrote the majority opinion in the notorious Dred Scott case, which ruled that black people did not have any claim to U.S. citizenship, even if they were free.
Pugh told Greg Ng of Baltimore's WBAL-TV that some of the statues might be rehomed in Maryland's Confederate cemeteries.
Maryland was not part of the Confederacy during the Civil War, but as the Times reports, there was considerable support for the Confederacy in Baltimore and southern parts of the state. Baltimore is now among several cities that have made the contentious decision to remove monuments that pay tribute to a thorny chapter of American history.
Back in April, New Orleans removed a Confederate statue in the dead of night, with police snipers stationed on nearby rooftops to ensure that the scene did not turn violent. The city has now taken down three other Confederate monuments.
Officials in Lexington, Kentucky, are planning to remove two Confederate statues that sit on the lawn of a former county courthouse. On Monday, in the aftermath of Charlottesville, a woman in North Carolina took matters into her own hands; she was arrested for helping topple a statue of a Confederate soldier in Durham.