Controversial Statues in New York City Will Remain in Place With Added Historical Context
The J. Marion Sims statue is the only one the Mayor de Blasio task force recommended to be moved. It will go to the Brooklyn cemetery where he is buried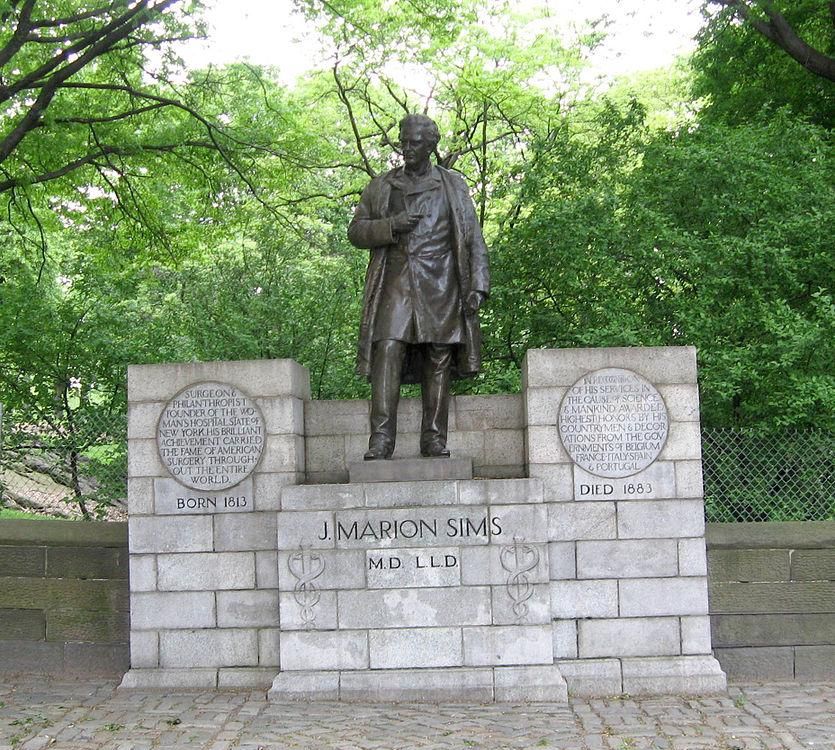 Update, January 12, 2018
: On Thursday, Mayor Bill de Blasio's task force assembled to consider the future of controversial statues and monuments on public property announced its recommendations. The council recommended only for the statue of J. Marion Sims to be moved. It will go to the Green-Wood Cemetery in Brooklyn where he is buried. The monuments of Christopher Columbus, Henri Philippe Petain and Theodore Roosevelt will remain in place with added historical context. In the case of Columbus, specifically, a large-scale monument to indigenous peoples will also be erected, possibly in Central Park.
Read the Associated Press' full coverage of the story
.
J. Marion Sims—a 19th-century doctor who performed the first successful artificial insemination, invented the speculum and developed a surgical technique for treating a severe childbirth complication—is widely known as the "father of gynecology."
But this August, protesters defaced a statue of Sims in Central Park, spray painting the word "racist" on the monument and covering its eyes in red paint. The reason behind the vandalism? Sims' test subjects were enslaved women who underwent experimental surgery without their consent—or anesthesia.
Amid widespread debate over the role of public monuments in contemporary America, New York City is asking its residents for input on controversial statues like the one of Sims. Artnet's Brian Boucher writes that a new online survey, launched as part of the Commission on City Art, Monuments and Markers, asks New Yorkers to consider how the city can approach the contentious issue while promoting openness and inclusivity in public spaces.
Mayor Bill de Blasio created the commission this August in response to the white supremacist rally over the proposed takedown of a Robert E. Lee statue in Charlottesville, Virginia,​ which resulted in deadly violence.
Commissioner of the New York City Department of Cultural Affairs Tom Finkelpearl and Ford Foundation President Darren Walker are serving as the commission's co-chairs. Additional members include Ron Arad, designer of the World Trade Center Memorial, and Harry Belafonte, a civil rights activist and performer.
"Responses will play a critical role in shaping [the] commission's work of developing guidelines that can be applied broadly to art on City property, with the ultimate goal of putting forth a thoughtful way to promote more inclusive, welcoming public spaces for all New Yorkers," Finkelpearl says in a statement.
The seven-question survey, which is open for submissions until 11:59 p.m. on November 26, includes questions such as: 
"What do you think is the role of public monuments in our city's public spaces?";
"How might you best add context and tell a more complete story of a particular monument?";
"If a particular monument is preserved, altered or removed, what do you think the effect will be in the future?"
The survey does not refer to specific monuments, but respondents can propose the re-contexualization, relocation or removal of an existing monument. Enterprising individuals can also suggest an entirely new monument for the city.
According to Hyperallergic's Claire Voon, commission members will read all survey submissions as part of their 90-day review.