Come On, Is Starbucks Really That "Dumb"?
People love to hate on Starbucks. But are those sentiments misplaced?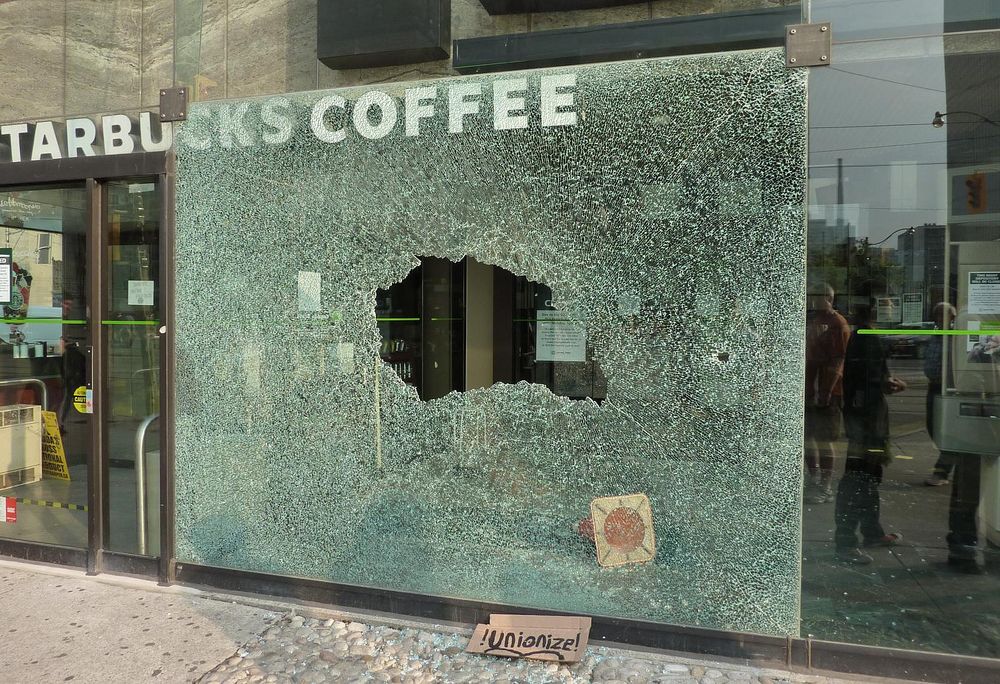 In December, a local Missouri bartender became an overnight hero after Starbucks sent him a cease-and-desist order over his "frappucino" beer and he publicly posted the sarcastic response he sent to the company, along with $6 for the profits from the beer. Now there's a new candidate for anti-'Bucks folk hero. The Wall Street Journal reports that a "parody Starbucks" opened in Los Angeles.
It looks much like a regular Starbucks, except the word "dumb" is inserted before all menu items. You can order "dumb coffee," "dumb chai latte" and "dumb venti." Even the sign reads "Dumb Starbucks."
In a FAQ handout, the shop owners write that they're getting away with this by labeling the story "parody art." The store, the say, is an art gallery and the beverages are the artworks. A Starbucks rep told the Journal that they are aware of the Dumb store and are "looking into it."
Since the Starbucks' rise in the 1990s, the corporation has morphed from trendy West Coast cafe to world's-largest-coffee-selling monolith. As such, it has inspired an avid culture of Starbucks-bashing. Disgruntled customers complaining about the profit-first atmosphere. ("Something always seems false in a Starbucks. Most coffeehouses encourage people to stay as long as they want, but most Starbucks near me have 15-minute limits on all parking spaces. Most coffeehouses encourage people to hang out and play board games. Starbucks will sell you a board game.") Small coffee shop owners who claim they have been elbowed out of the market. ("[A] 2006 lawsuit...claimed Starbucks 'illegally maintains its monopoly by barring other coffeehouses from prime downtown high-rises in Seattle and Bellevue through exclusive leases with property owners.'")
Serious Eats pleads, "Can't we all just get along...and focus on drinking better coffee, while we're at it?" There is some evidence that Starbucks helps promote widespread availability of good coffee and has helped out small coffee shops by creating a market for coffee-on-the-go. And, with more than 20,000 stores worldwide, the company's ubiquity guarantees that most coffee drinkers tuck into at least the occasional Starbucks beverage. Even if they're thinking, while they're sipping their latte, "Man, this is a dumb venti."