New Letters Show Alan Turing Wasn't a Fan of the U.S.A.
The groundbreaking mathematician and computer scientist who spent 2 years at Princeton wrote that he 'detests America' in newly found documents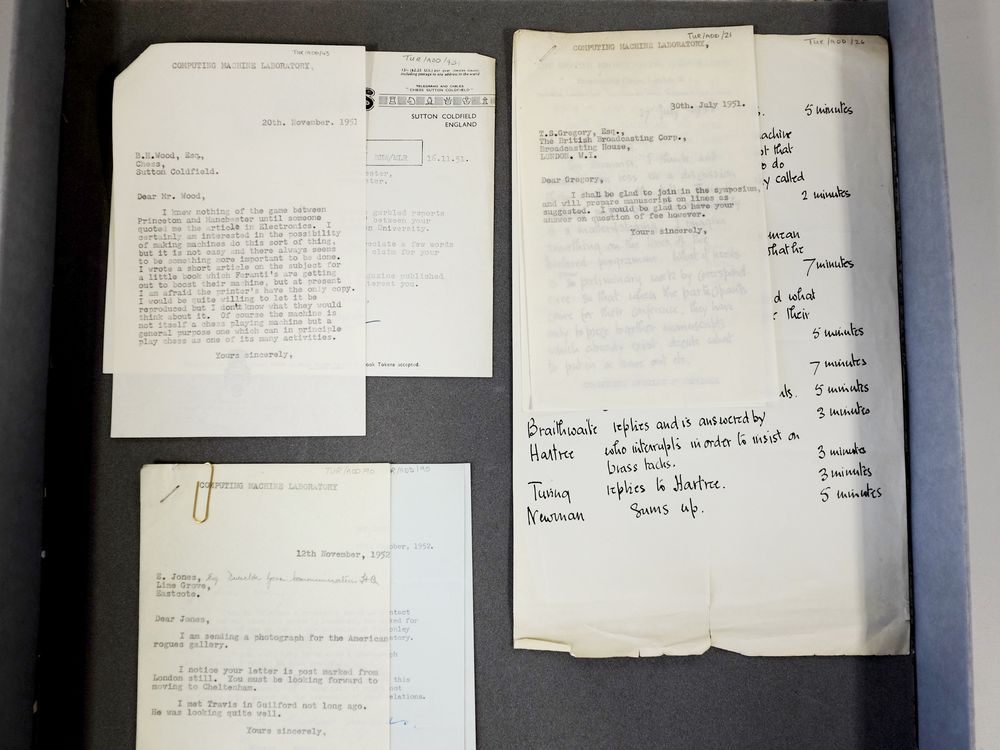 A computer scientist at the University of Manchester has found a previously unknown cache of 148 letters written by Alan Turing, the famed mathematician, codebreaker and godfather of the computer age, reports Josh Halliday at The Guardian.
Professor Jim Miles discovered the documents while cleaning out a filing cabinet in a university storeroom. There, a red folder with the word "Turing" written on it caught his eye. "When I first found it I initially thought, 'that can't be what I think it is', but a quick inspection showed it was, a file of old letters and correspondence, by Alan Turing," Miles says in a press release. "I was astonished such a thing had remained hidden out of sight for so long. No one who now works in the School or at the University knew they even existed. It really was an exciting find and it is mystery as to why they had been filed away."
The correspondence dates from a period when he was deputy director of the University's computing laboratory, from early 1949 to the time of Turing' death in 1954. According to Halliday, most of the letters are work-related, including communications about his projects in artificial intelligence, computer science and math. Only one letter relates to his service in World War II, in which he worked on the famed code-breaking team at Bletchley Park, which helped crack the German Enigma machine, an event depicted in the Oscar-nominated The Imitation Game. That letter was a 1952 request for a photograph to be included in a history of Bletchley Park.
The most insightful letter, however, is his simple response to an invitation to speak at a conference in the United States: "I would not like the journey, and I detest America."
That letter and none of his other existing correspondences elaborate on his dislike for the U.S. of A. However, Turing spent enough time in the U.S. to develop an informed opinion. The mathematician lived several years in New Jersey, where he was a graduate student in the Department of Mathematics at Princeton between 1936 and 1938. He again spent some time Stateside in late 1942 and early 1943, serving as a liaison between the American and British cryptanalyst community during the early years of World War II. That visit may have been a bit strained; according to David Cox at The Guardian, Turing was officially supposed to share British breakthroughs in breaking the Enigma code with the Americans. In reality, he was under orders by British intelligence to reveal as little information about their secret code-breaking operation as possible to prevent any leaks.
It's unclear whether his work with the U.S. military, his time in New Jersey or maybe just a bad hot dog soured his view of America.
Whatever the case, the new documents are an important find. Turing's reputation has grown exponentially during the computer age, but biographical information has not. "This is a truly unique find. Archive material relating to Turing is extremely scarce, so having some of his academic correspondence is a welcome and important addition to our collection," University of Manchester Library archivist James Peters says in the press release. "There is very little in the way of personal correspondence, and no letters from Turing family members. But this still gives us an extremely interesting account and insight into his working practices and academic life whilst he was at the University of Manchester."
In 2015, researchers found three personal letters in which Turing discusses his homosexuality, his love life and his relationship with his mother. The letters were written in 1952 to a friend after Turing was arrested for "gross indecency" for admitting his homosexuality and was forced to undergo chemical castration. Turing committed suicide in 1954 at the age of 41. Almost 60 years later, in 2013, Elizabeth II pardoned Turing posthumously.