Listen to the Pig Music Box Titanic Survivors Played While Waiting for Rescue
This was the song that those on Lifeboat 11 heard while the Titanic sunk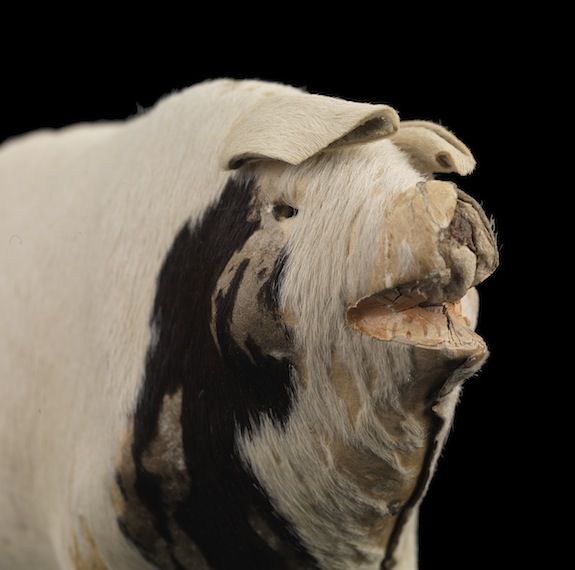 When the Titanic sank, it took with it over 1,500 people. It also sank with a whole ship's worth of gold, jewelry, chandeliers and expensive accouterments. But some people and objects did manage to escape. Including this strange little pig toy.
The pig belonged to Edith Rosenbaum, a 32-year-old American woman who had become successful in the fashion world. Apparently Rosenbaum didn't want to leave the Titanic. She had locked up her 19 trunks and was ready to stay until a sailor came by, grabbed the pig from her and tossed it into a lifeboat. So, Rosenbaum followed. The Royal Museum of Greenwich explains:
Edith followed the musical pig into the crowded Lifeboat 11 and, during the seven hours before being picked up by the passenger liner Carpathia, she comforted children on board with the tune, thought to be the Maxixe, from her lucky pig. Played by Theresa Thorne, Edith and the pig appear briefly in William MacQuitty's film of Lord's book, which shows her leaving her jewellery behind in favour of her lucky toy.
The toy has been in the museum for a while now, but it wasn't until last year that they took could really take a look inside. Using x-rays, they found the little music box:
They were also able to record the song from the pig. It goes like this. You can also see a 3-D rendering of the pig, and hear its song here:
This was the song that those on Lifeboat 11 heard while the Titanic sunk.
But the museum couldn't figure out what song it was. It was their visitors and commenters who figured out that it was "La Sorella"—a song composed in 1905 by Charles Borel-Clerq.
More from Smithsonian.com:
Footage of the Titanic Days Before the Disaster
Titanic Replica Will Aim to Retrace Ill-Fated Ship's Voyage