Listen to Alan Turing's First Computer-Generated Christmas Carols
In 1951, the BBC played two carols from Turing's computer, which have now been recreated by New Zealand researchers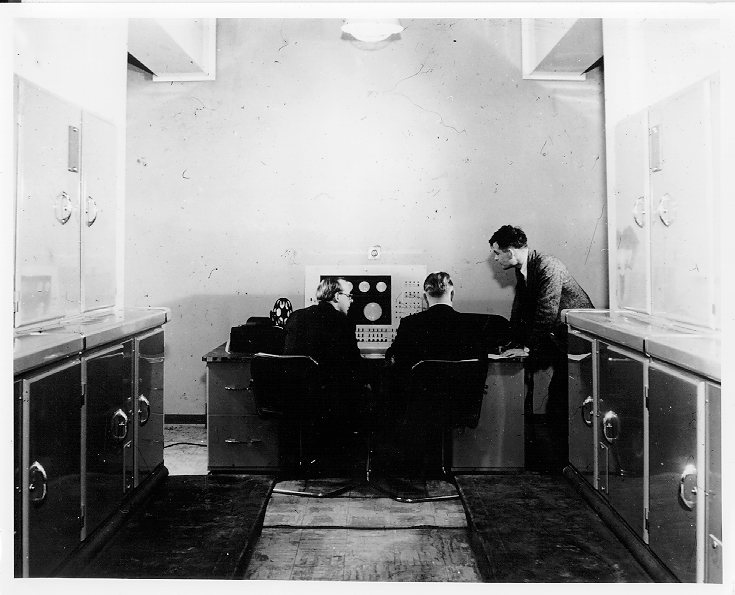 In the United States in 1951, people were humming the tune of a brand new Christmas hit, "It's Beginning to Look a Lot Like Christmas." Across the pond, however, listeners were treated to something even more spectacular, if a little less in tune: Natasha Frost at Atlas Obscura reports that in a broadcast lost to time, BBC once played two Christmas carols generated by a computer in Alan Turing's legendary Computing Machine Laboratory at the University of Manchester. Now, researchers at the Turing Archive for the History of Computing at the University of Canterbury in New Zealand, have recreated those tunes for the people of the future to listen to.
UC professor Jack Copeland and composer Jason Long are no strangers to Turing's computer-generated music. According to a press release, just last year, the team restored a recording of the earliest surviving computer music ever produced. That included snippets of "God Save the King," "Baa, Baa Black Sheep," and Glenn Miller's "In the Mood" recorded on an acetate disc by a BBC crew also in 1951.
This year, they decided to try and recover the 1951 Christmas broadcast. "The idea started when I found a reference in old material to the BBC doing a Christmas broadcast in 1951 containing some carols played by Turing's computer in Manchester," Copeland says in the release.
According to the British Library's "Sound and Vision" blog, the team was able to isolate 152 individual computer-generated notes from the previous recordings produced by Manchester's Ferranti Mark I computer. Using that palette and a few notes they manufactured to mimic as closely as possible the tones the Ferranti Mark I was able to produce, they rebuilt Turing's two droning Christmas carols, "Good King Wenceslas" and "Jingle Bells."
Frost reports that Turing did not appear to be so interested in training his computers to play music. He did program the first musical notes, but a schoolteacher named Christopher Strachey was allowed to program the tunes in the Ferranti. The machine was not initially designed to play music—rather, the audible tones were produced to let users know what was going on with the machine. As the story goes, when Turing heard Strachey's first composition, the notoriously taciturn computer scientist simply said, "Good show."
According to the British Library, the history of computer-generated music is a little messy, but recently Copepland and Long have begun piecing the sequence together. According to their research, a Turing prototype machine at Manchester was producing notes possibly as early as 1948 ("In the notebook the Mark I's 5-digit instruction code for 'hoot'—11110—is listed in an October 1948 entry but is not yet matched up with any instruction," they note in a piece for IEEE Spectrum.) A machine called BINAC in Philadelphia played "For He's a Jolly-Good Fellow" the following year. A machine in Sydney (known then as the CSIR Mark 1 but later known as CSIRAC) was playing tunes by 1950 or 1951.
Jump forward to today, artificially intelligent neural networks are writing their own Christmas Carols, which in their own ways are just as weird and grating at Turing's "Wenceslas."
Turing, for one, never got to see how far computer music would come. The World War II hero who helped crack the German Enigma code was convicted of gross indecency for having sex with another man in 1952. He was stripped of his security clearance and was given hormone injections to "chemically castrate" him over the course of a year. He poisoned himself with cyanide in June 1954.